Setting sail for the Bay
Share - WeChat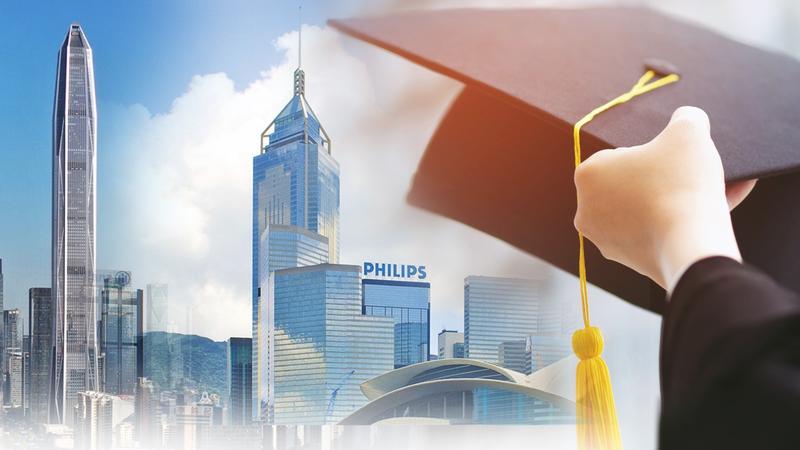 Hong Kong and the Chinese mainland have stepped up efforts to help young people develop their careers in the Greater Bay Area. But job-seeking graduates have found the going rough amid stiff competition. Su Zihan reports from Hong Kong.
The Guangdong-Hong Kong-Macao Greater Bay Area projects itself as a magnet for professionals and fresh graduates, particularly those from Hong Kong and Macao seeking greener pastures on the Chinese mainland.
But with more than 10,000 fresh graduates out of work in Hong Kong in the first quarter of this year, and more than 9 million students having graduated from universities on the mainland in 2021 alone, it has been a rough ride for job seekers due to fierce competition.
Lu Singyu, a graduate of the City University of Hong Kong with a master's degree in global business management, said she submitted her resume to a number of companies through the Greater Bay Area Youth Employment Scheme over the past few months, but only a handful of replies from prospective employers have come through so far. "After learning about the scheme in January, I had applied for some positions at companies of my choice but received just two or three replies. It wasn't until March that I got the first call to attend an interview," Lu said.
Lu came to Hong Kong in her teens and completed her undergraduate studies at Jinan University in Guangzhou, Guangdong province. She had aimed to pursue a career on the mainland as she found it hard to get an ideal job in Hong Kong following the outbreak of the pandemic. Eventually, she was hired by Yuzhou Group, a Hong Kong-listed property developer, as an assistant human resources officer and started working across the border.
The Greater Bay Area Youth Employment Scheme, launched by the Hong Kong Special Administrative Region government in early January, intended to provide 2,000 jobs, of which 700 are reserved for scientific and innovative positions, as a stimulus for youths to develop their careers in the vibrant mainland markets.
To support young Hong Kong residents to relocate and work across the border, the HKSAR government decided to subsidize prospective employers with HK$10,000 (US$7,800) a month for every graduate they hire at a monthly salary of no less than HK$18,000 under the program. The Guangdong provincial government has also introduced supportive measures for graduates, with local governments in some cities providing a living allowance of up to 1,000 yuan per month for each employee.
Over 3,000 job vacancies were offered by over 390 enterprises under the program. A recent survey of the participating companies showed they have received more than 18,000 job applications so far. But only 520 preliminary applications for allowances had been received from enterprises by the end of July, the Labour Department told China Daily. The application period was closed on Tuesday, and more applications are expected to be confirmed by the employers.
There is a misconception that young people in Hong Kong hesitate to work in the Greater Bay Area for reasons like the difference in culture and lifestyle between the HKSAR and the mainland. But many Hong Kong youths are keen to seize the opportunities on offer. However, only a small number of them have since been hired, according to Manpower, a human resources company.
'Gap in expectations'
"There is a gap in expectations between prospective employers and employees. Everyone is competing for talents, especially for science and innovation professionals," said Lancy Chui Yuk-shan, senior vice-president for ManpowerGroup Greater China.
Long Tech Network, a game developer, which is participating in the employment program, has offered two types of posts — technological and innovative positions such as unity development engineers and unreal engine development engineer, as well as general positions in operations and publishing.
The company said it has received more than 150 applications for general positions. It has hired only three graduates, mainly in charge of online game customer services, while for positions that require game industry experience, only a few were called up for interviews as most of them failed to meet the requirements.
About 10 applications came from Hong Kong graduates for the scientific and innovative posts, but their qualifications did not meet the positions' requirement, the company said. "We suppose this may be due to the fewer relevant majors offered by Hong Kong universities, or because there are fewer related internship opportunities at local enterprises."
The same dilemma prevails in Hong Kong's job market. Hong Kong Science and Technology Parks Corporation had more than 1,100 vacancies for innovative jobs on offer at its job fair last year, but only 200 of the 70,000 applicants were successful, reflecting the wide gap between the skills desired by the industry and the training students had received on campus.
Tsoi Ka-lun, also a graduate of the City University of Hong Kong, was taken on as a digital media and event manager by Shenzhen-based tech giant Tencent Holdings under the program in June.
Although Tsoi majored in Chinese and history — a world of difference from science and innovation — he had accumulated work experience in his junior and senior years. He had not only worked as a choreographer intern for a television station and an event planning intern for another company, but also acquired marketing experience with an advertising agency.
Tsoi had waited for more than three months before the good news came from Tencent. He didn't leave for Shenzhen to undergo quarantine and start working with the company until he had completed a month's training at the group's affiliate in Hong Kong.
The mainland technology behemoth, which set up the Tencent Finance Academy (Hong Kong) in the HKSAR in 2018, has drawn an overwhelming response from young people. It receives more than 1,400 job applications from university students in Guangdong, Hong Kong and Macao each year.
With the launch of the youth employment program, the academy organized a forum entitled "Setting Sail — Soaring in the Bay Area" in May to forge a dialogue between youth representatives with working experience in the 11-city cluster and fresh graduates interested in starting their careers there. Tsoi participated in the forum and the activity sparked great interest for him to work in the Greater Bay Area.
Tsoi said he could feel the stiff competition among graduates for the scientific and innovative positions up for grabs, with many applicants possibly more qualified than himself. But the experience Tsoi gained from previous internships and other activites boosted his confidence. "I had ventured into college entrepreneurship before, and I deserve a position in technology and innovation with my eagerness to face and explore the challenges."
In response to the Hong Kong government's initiative to encourage young people from the city to develop their careers in the Greater Bay Area, Tencent increased the opportunities for the group this year, covering technology fields like programming, game development and testing, and also general fields like finance and human resources management, according to James Li Tsz-shu, senior director of Hong Kong, Macao and cross-border financial affairs at Tencent.
"We will consider the overall quality of candidates when sourcing talent. Besides excellent professional skills, a strong willingness to learn and being pragmatic and enterprising, honesty and integrity are also highly valued," Li said.
Further exploring needed
As one of the nation's most economically vibrant regions, the Greater Bay Area is uniquely placed in terms of technology, finance, industry and policy, offering a wider scope for career development.
As long as young people are willing to step out of their comfort zone with an open and positive attitude, the region can be considered abundant with opportunities and great potential, the director added.
There are abundant job opportunities on the other side of the Shenzhen River. Shenzhen's Qianhai zone launched the Qianhai, Hong Kong and Macao Youth Recruitment Scheme in January, offering more than 100 jobs a month to young people from Hong Kong and Macao. As of late August, 144 companies had posted 864 jobs and 313 internship positions — most of them highly compatible with the professions, curriculum vitae backgrounds and interests of Hong Kong and Macao youths.
Hong Kong graduates have found it difficult to find jobs in the city, especially in industries that have been hardest hit by the pandemic, such as tourism, entertainment, dining, hospitality and aviation, Chui said. Amid a bruised economy and a tightening job market, companies have been more cautious in hiring, leaving young inexperienced job seekers in the lurch.
Chui said the opportunities offered under the two programs can help young people gain work experience wherever they are. The mainland's low cost of living, with some employers providing free accommodation, also helps them to work in a relatively cost-effective environment.
She encouraged young people from Hong Kong to take advantage of the resources and possibilities via the programs and seize the opportunity to gain exposure to the mainland's economy, in particular the Greater Bay Area, of which Hong Kong is a core city.
For youths who are uncertain of their interest and career trajectory, short-term contracts and internships are great opportunities for them to try out a job and the employer. That may help them choose a career, Chui said.
However, not all youngsters will be interested in pursuing a career in the creative or innovative sectors, Chui noted, but she hopes the government and enterprises can roll out summer internship programs on the mainland or overseas to enable youths to understand the opportunities in new fields, while young people may also accumulate work experience and gain a solid understanding of the industry and career prospects.
"Different industries are embracing digitalization and possessing knowledge in science and innovation is crucial," she stressed.