'Elephant canteens' open up to keep giants from wandering
Share - WeChat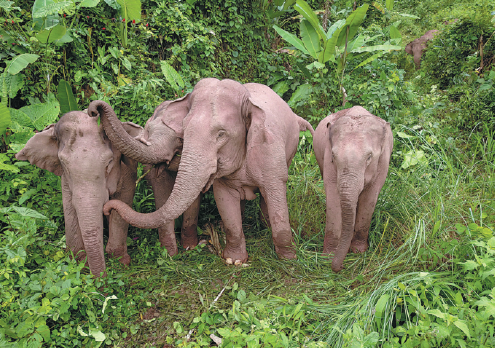 KUNMING -- Several "elephant canteens" have been created in Jinghong City, Southwest China's Yunnan province, by growing the giants' favorite plants to keep them from wandering into villages.
The "elephant canteens" built in three former state-owned forest areas in Jinghong have a total area of 1,000 mu (about 66.7 ha.) and are ready to serve their oversized guests, according to the forestry and grass department of Jinghong City, Xishuangbanna Dai Autonomous Prefecture, on Tuesday.
The project started in three townships administrated by Jinghong in December 2020 with a total investment of 1 million yuan (about $154,700). Wild elephants can now be seen eating reed leaves and bananas in the areas.
"If elephants have ample food in their habitat, they are less likely to roam into villages or steal crops planted by local farmers," said Zha Wei, deputy director of the Jinghong county nature reserve management bureau.
He said in addition to the "elephant canteens," five ponds were created in the areas, with salt added to meet the elephants' physiological needs.
With the improving protection of wild animals, the number of wild Asian elephants in Jinghong has increased from about 80 at the end of the last century to about 185 at present, and their distribution and activity range now reaches 3,500 square km. In some areas, the living space of Asian elephants overlaps with that of local people.
Zha said that an adult elephant needs about 200 kg of food a day. The bureau plans to designate more areas for growing elephant-friendly plants if the "canteens" work in keeping the wild elephants' activity within the sphere of the forest areas.
Asian elephants are under first-class state protection in China. There are currently 300 wild Asian elephants in Yunnan and the population continues to grow.
In August, dozens of heavy trucks were connected front to back with their lights off, forming an iron wall guiding a herd of 14 wild Asian elephants onto a bridge over the Yuanjiang River in Yunnan in order to push them to return to a suitable habitat.
The herd caught global attention during more than 110 days of wandering. Yunnan authorities have evacuated more than 150,000 residents to avoid the conflict between them and the herd.