The route to triumph
Share - WeChat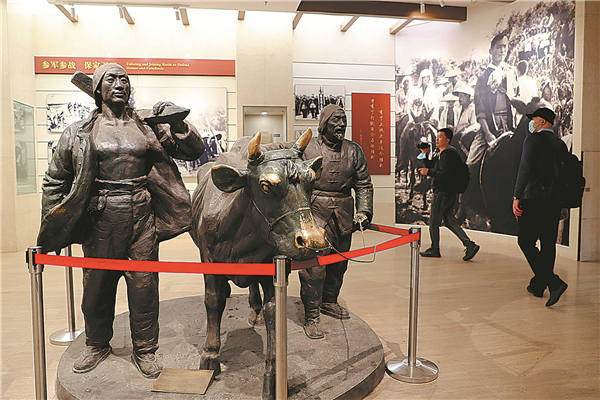 A once anonymous Hebei village, thrust into the spotlight of history with the arrival of the Communist revolutionaries in 1947, is now reaping the rewards of red tourism, Wang Ru reports.
Xibaipo was once an unknown mountainous village in North China's Hebei province, about 350 kilometers from Beijing. But after playing a key role in China's revolution, it has become a beacon, burning brightly in the history of the Communist Party of China.
"Xibaipo witnessed the CPC marching from one victory to another. Although Chairman Mao Zedong only stayed here for 10 months, each of the battles he commanded, and each reform the CPC Central Committee carried out here achieved victory, and a prototype for a New China was established," says Zhang Rong, chief of Xibaipo town.
Today, Xibaipo is a popular tourist destination attracting several million people every year.
Back in 1947, Kuomintang troops attacked the CPC leadership's settlement in Yan'an, Northwest China's Shaanxi province. Considering that the Kuomintang had many more soldiers and more advanced equipment, the CPC Central Committee decided to retreat from Yan'an, dividing into three parts, each responsible for a different task. The first, the Central Working Committee led by Liu Shaoqi, arrived at Xibaipo in May that year.
"Xibaipo was chosen as the settlement mainly because Party branches were established earlier in the area, and many local people supported the Party. Also, it is a good location from which to either launch an offensive or to easily defend in battle. It was also rich in resources and food supplies," says Peng Li, a tour guide at Xibaipo Memorial Hall.
The first task of the Central Working Committee was to hold the National Land Conference, and issue the Outline of Land Law of China, which overthrew the feudal exploitation of land ownership, fulfilled people's dream of providing "land to the tiller", and started a campaign of land reform in liberated areas.