The people's war
Share - WeChat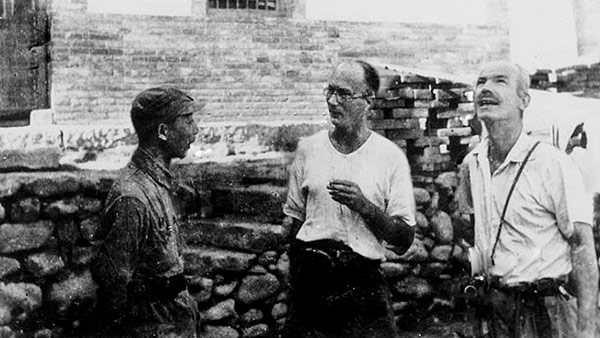 "It's a period of time that decided the destiny of China," says Xia Meng, director of the documentary who is also a member of the 13th National Committee of the Chinese People's Political Consultative Conference.
According to Xia, Shanhe Suiyue, with a total length of more than 41 hours, is the largest documentary production on the Chinese revolution.
He says it was essential to include the stories of these foreign legends for this key production celebrating the centennial of the founding of the CPC.
"These foreign friends joined Chinese people's struggle for liberation during the toughest time of the war," Xia tells China Daily. "They won the respect of the Chinese people, indefinitely."
For example, Lindsay managed to run away from Yenching University in Beijing, which was, at the time, run by American and British churches following the start of the Pacific War in 1941. He went to the Shanxi-Chahar-Hebei revolutionary base area and supported the Party, running a radio station during the war in spite of the poor facilities available. Chahar was then a province in northern China.
Bethune is even more of a household name in China. The Canadian doctor spared no effort attempting to cure Chinese soldiers, once completing a staggering 115 operations in 69 hours, before finally dying on the front line. Chairman Mao Zedong once said about him: "His utter devotion to others without any thought of self was shown in his great sense of responsibility in his work and his warmheartedness toward all comrades and the people."