Differing ingredients for Unilever ice cream in China and Europe generate controversy
Share - WeChat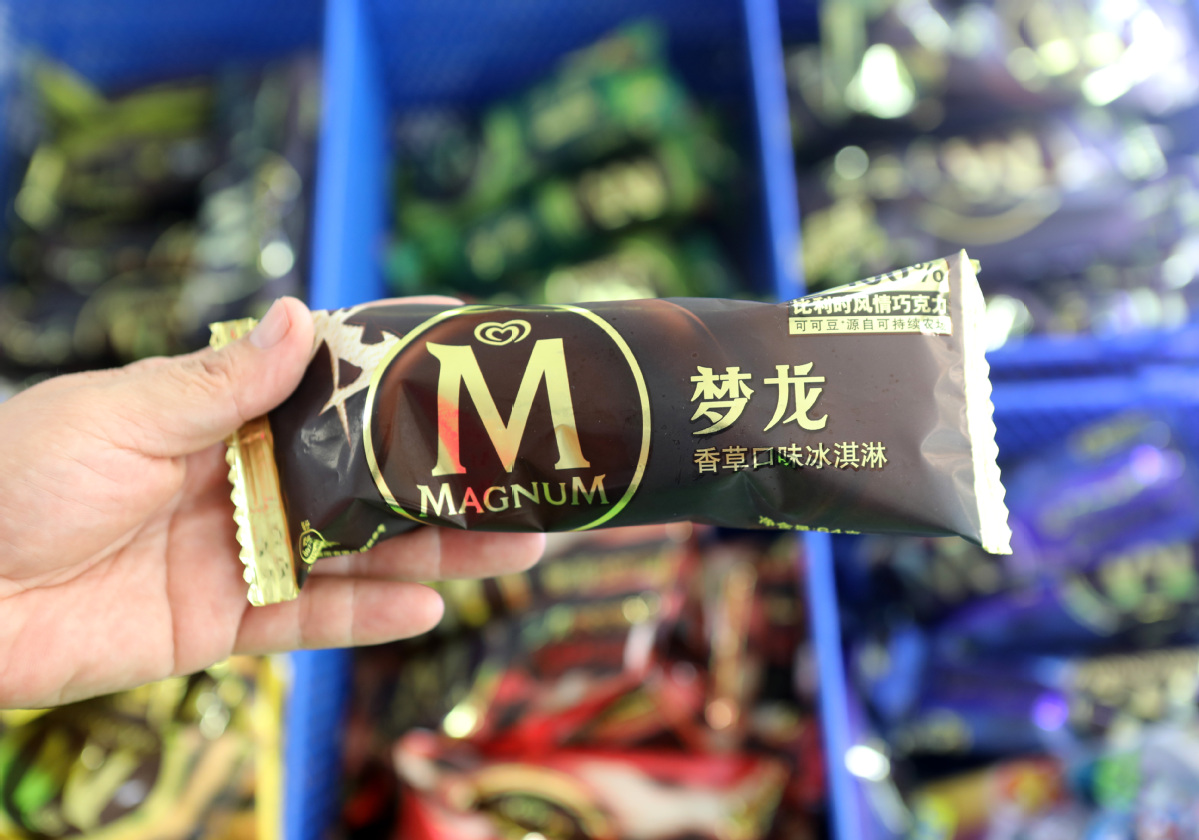 Magnum, a well-known ice cream brand owned by consumer products company Unilever, offers a different list of ingredients for China and Europe, with the former using milk powder and the latter containing condensed milk, according to a recent report from China Central Television.
Magnum's different ingredients lists in China and abroad was first discovered by Chinese internet users, and soon triggered heated discussion on Chinese social media platform Weibo. Some netizens regard this act as proof of a "double standard", and said they would exclusively purchase Chinese ice cream brands.
In response to this, Zeng Xiwen, global vice-president of Unilever, accepted a video interview with CCTV, and admitted the company does use different ingredients in China and Europe. Zeng said the transportation difficulties of condensed milk from Europe to China, as well as supply issues with local milk, led to the company making the change for its Magnum ice cream in China.
According to the ingredients list of a China-made Magnum ice cream bar, water and vegetable oil are listed ahead of milk powder. However, milk remains the major ingredient of Magnum ice cream in Europe, along with other ingredients such as cream, sugar, and corn syrup.
Chinese experts said cost might be an important factor in Unilever's decision.
According to Song Liang, an economic expert at China State Farm Dairy Alliance, recombined milk, which is the liquid milk obtained by adding water to skim milk powder and adding milkfat separately, is priced at around 8,000 to 10,000 yuan ($1,231-$1,539) per ton, however, the price of condensed milk with the same protein content could reach 13,000 to 14,000 yuan per ton.
The proportion of vegetable oil, or coconut oil in China-made Magnum ice cream, is also higher than its European counterpart, as Song said coconut oil in China is mostly imported from Malaysia and is typically priced at 12,000 yuan per ton. However, cream or milk fat imported from New Zealand or European countries can be priced at over 40,000 yuan per ton.
Song believes the Magnum case is not unique, and many foreign brands entering China have similar problems.
The current industrial standards for ice cream in China are relatively broad, which enables enterprises to seek solutions to reap the largest profit, Song said, adding the country could release more specific standards for ice cream to ensure quality.