Plan outlines development of integrated region
By Oswald Chan in Hong Kong, Chai Hua and Zhou Mo in Shenzhen | China Daily | Updated: 2019-02-19 09:51




Share - WeChat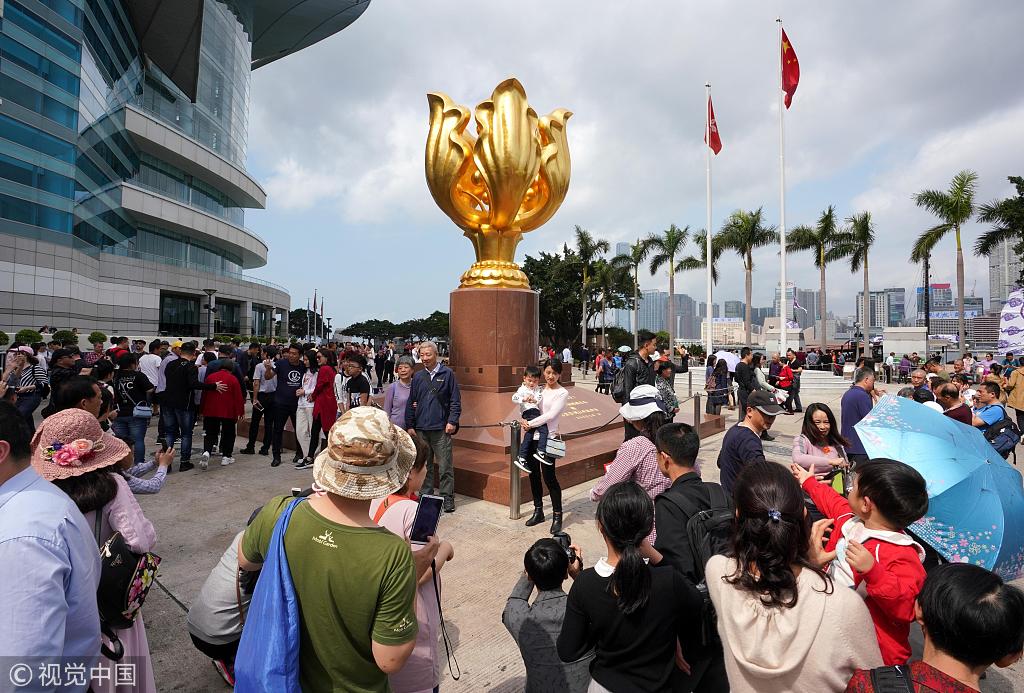 Greater economic power envisioned through cross-border connectivity, infrastructure
Business and technology professionals in the Guangdong-Hong Kong-Macao Greater Bay Area said the newly released blueprint would fuel the region's economic growth and consolidate Hong Kong's pivotal role in the national master plan.
"The outline sets out key directions guiding the development of the Greater Bay Area," the Hong Kong Monetary Authority, the city's de facto central bank, said on Monday. "The HKMA will proactively follow up with mainland authorities to implement the related policy initiatives."
Peter Wong Tung-shun, deputy chairman and chief executive at Hongkong and Shanghai Banking Corp, sees positive prospects.
"With the direction given by this policy, cities and regions in the Bay Area can develop plans to leverage those complementary strengths in technology, financial services and tourism more effectively," Wong said.
The Outline Development Plan for the Guangdong-Hong Kong-Macao Greater Bay Area supports consolidating and enhancing Hong Kong's status as an international financial center, as well as strengthening its status as the global offshore renminbi business hub and its role as an international asset management and risk management center.
It also supports the establishment of a platform for investment and financing to serve the Belt and Road Initiative and assist mainland enterprises in establishing capital operations and corporate treasury centers in Hong Kong.
Shen Minggao, chief economist at GF Securities, believes a connected funding market will help the region give full play to its advantages.
"One of the difficulties for the region's development is tying the local economy to the international finance market. I suggest setting up more connection channels in the secondary capital markets in the region, other than the current stock and bond connect programs," Shen told China Daily.
Besides financial services, the outline also projects that the Bay Area will develop into a global innovation and technology hub.
Kelvin Lei Chunran, founder and chief executive of robo-adviser startup Magnum Research, said that his demands could be met by some Hong Kong-and Macao-oriented incubators of technology enterprises, as the outline states that these incubators will be developed in nine cities across Guangdong. They could assist higher education institutions and research and development institutes in the two SARs to transfer and apply their advanced technological achievements.
The outline also strives to improve connectivity to facilitate reciprocal flows of labor and production inputs.
For further integration between Hong Kong and Shenzhen, a major item that needs to be improved is border infrastructure, said Guo Wanda, executive vice-president of China Development Institute, a think tank in Shenzhen.
Guo said more efforts have to be made renovating borders and improving services - for example, introducing facial recognition technology to enhance efficiency and including more ports with 24-hour services.
"Hong Kong should strengthen cooperation with other Bay Area cities at the government-to-government level to help Hong Kong enterprises better facilitate their businesses in the mainland and expand the market in the Greater Bay Area," said Dennis Ng Wangpun, president of the Chinese Manufacturers' Association of Hong Kong.
Measures such as the establishment of a mutual recognition mechanism for trademark registration in the region, a coordination system for intellectual property protection, and an open product testing and certification market could certainly bring benefits to the region, Ng said.
Dai Kaiyi and Edith Lu contributed to this story.
Contact the writers at oswald@chinadailyhk.com