Village cleanup helps to attract tourists
Share - WeChat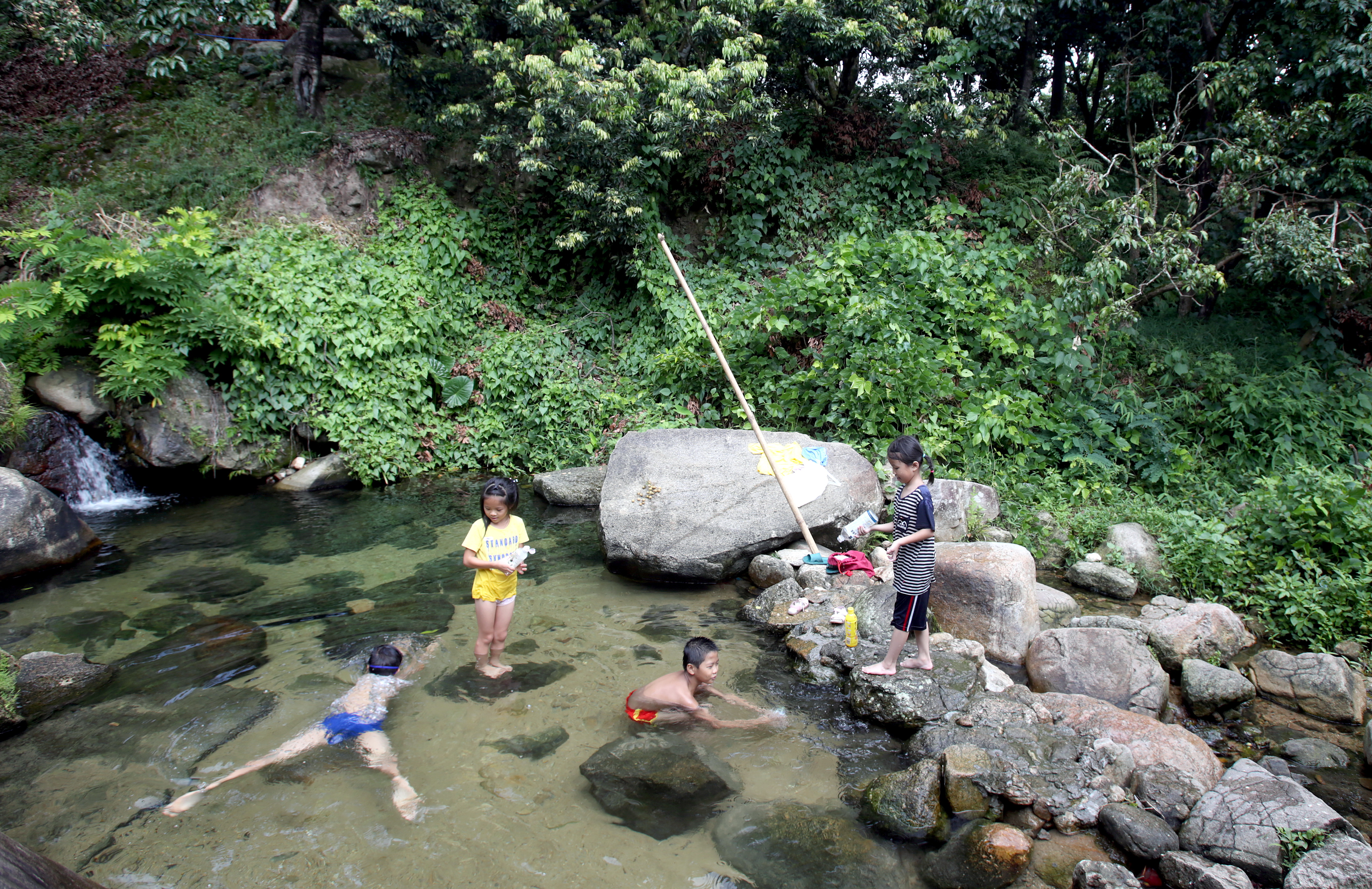 Zhu Zhiping and his wife run a three-story guesthouse in Nanping village in the north of Guangzhou, Guangdong province, that caters to the increasing number of tourists visiting the area.
"We invested more than 200,000 yuan ($31,000) to renovate this building last year. My mom is old and my kids are small. It's better to work at home," said the 40-year-old, who used to work in restaurants away from Nanping, as did his wife.
Located in Conghua district and surrounded by mountains on three sides, Nanping used to be poverty-stricken, relying on income from selling fruits such as litchi and longan.
The 5-square kilometer village of 1,237 residents received hundreds of thousands of tourists last year. Over 20 families in Nanping operate guesthouses, said village Party secretary Zhang Guohua.
The fresh air, fruit trees in the village and on the mountain slopes and the crystal-clear stream running through the village are the main attractions for tourists. About 97 percent of the land of Nanping is covered by trees, Zhang said.
New roads, tourist facilities like a 4-kilometer boardwalk along Fengxi Stream and face-lifts for buildings, funded by the government and a cooperative, have made the village more accessible, comfortable and tourist-friendly.
The collective income generated by village projects grew from 312,000 yuan in 2016 to 1.5 million yuan last year, with villagers' annual per capita income up from 16,200 yuan to 38,000 yuan, leading them to moderately prosperous, or xiaokang, lives.
"It has become a tourist site. Wherever you go, it is clean," Zhang said. "Many tourists come back. It's quite comfortable to spend some time in this rural place. There is no pollution around."
He said the environment has improved steadily thanks to efforts in garbage collection, sewage treatment and public toilet building.
Years ago, villagers used to throw garbage outside their homes or into the stream and burn mounting piles of trash. More than 10 years ago, garbage collection trucks came every two or three days but they now collect garbage every day at five sites in the village managed by the district's urban management bureau.
The villagers' awareness of the need to dispose of garbage properly has been heightened.
They are required to dump the garbage at the five sites and keep the immediate surroundings of their houses clean. Eight villagers are paid by the Wenquan township government to clean public areas in the village.
Education on garbage sorting and disposal is carried out in various ways, including among children in schools and in the village by its women's organization.
With better sewage treatment, the stream has become cleaner and tourists, especially children, like to have fun in the water.
Eight sets of sewage treatment facilities have been installed in Nanping, mainly using anaerobic technology and artificial wetlands.
"Decades ago, when we felt thirsty, we drank water directly from the stream. Now the stream is almost as clean as before," said 69-year-old villager Zhang Qiupei.
"At the source of the stream, you can still drink the water. Villagers are required and educated to dispose of pesticide bottles and fertilizer bags properly.
"The key is more investment by the government, the trucks and people doing cleaning."
Seven public toilets with flushing water have been built with funding from the city and district governments to serve villagers and tourists.
Wu Yiying contributed to this story.