Garbage man by day, reproduction artist by night
Share - WeChat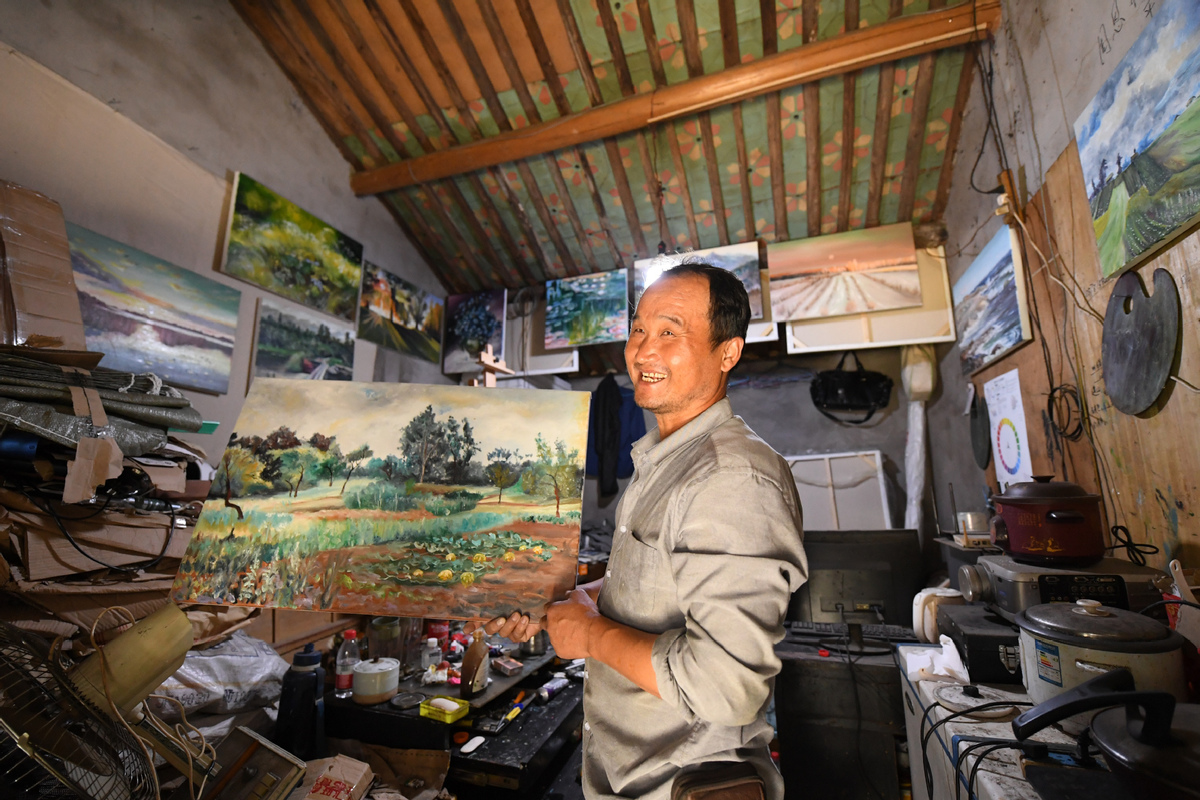 HANGZHOU-Wei Guangming paid his monthly electricity bill by selling a reproduction of Claude Monet's Sunflowers and bought fuel for his motorized tricycle with three replicas of Gustave Courbet's The Wave.
Wei, who works as a garbage collector, paints replicas of famous artworks in his spare time. With the money he's earned, he's been able to decorate his new home and pay school expenses for his four sons, creating a better life for his family.
The self-taught painter works in a cramped studio in Shaoxing city, East China's Zhejiang province. The dimly lit 20-square-meter room, where he also cooks and sleeps, is piled with cartons, scrap metal and discarded home appliances retrieved around the neighborhood, which he sells to make his living.
Catapulted to online fame after sharing his classic reproductions, the 48-year-old is viewed as special for the way he seamlessly switches from his grueling daytime job collecting recyclable materials to his sedentary evenings contemplating layers, colors and composition.
Netizens inspired by Wei's drive and paintings have responded with outpourings of support, and dozens of journalists have beaten a path to his door, which has a frame so low that in the artist's own words, even a noble soul must bow before entering.
He never tires of telling the story of well-known French painter Jean-Francois Millet.
"His conditions were worse than mine," Wei said. "He painted in a tiny room for 27 years with no income."
After buying an easel last year, he wrote three sentences on it: "I would rather starve than surrender; I would rather starve than steal; I would rather starve than scrounge."
Wei had received a message online after uploading photos of his paintings, implying that he collected and sold recyclable materials by day but stole by night.
"I was so angry that I wrote the three sentences as a response," he said.
Wei once did any odd job he could for money. He made 30 yuan a day smashing gravel by hand for an infrastructure project and dug trenches in the mountains to bury cables.
He became interested in painting at an early age and used to draw portraits for passersby in South China's Guangdong province. He later stopped, settling in Shaoxing in 2003 in exchange for a stable income to support his family.
Things began to turn around five years ago. A human resources manager at a plastics plant requested a copy of a landscape Wei had posted to his WeChat Moments, which earned him a little money.
Wei bought picture albums and watched videos on a used computer to improve his painting. After he went viral online, orders flooded in.
He is able to copy three famous oil paintings a day when he feels inspired, each of which sells for between 300 and 500 yuan ($46 and $77). Sometimes, he sends an extra painting to the customer if he is unsatisfied with what he has done because he believes that what he gives them should be worth the price.
Wei lives a simple life on his own, sending most of his income to his wife and sons back in his hometown in Central China's Hubei province. He does little in his free time except for reading books and exchanging ideas with art lovers through an online forum.
The forum has more than 100,000 members, including retirees, rural teachers, greengrocers and art students.
After discovering that Wei had recently become an internet celebrity, many sent their congratulations.
Wei's sudden fame hasn't changed his daily routine. "I can't rely on orders from the curious," he said. "I must keep learning and practicing to improve my skills, so for now, I'll continue collecting recyclable materials to earn a steady income."
The overnight sensation has his own understanding of his online popularity.
"When more young people who have enough to get by prefer to 'lie flat' (a Chinese term that refers to young people who choose not to work hard), people are attracted by gorgeous, colorful paintings of things that are often considered commonplace," he said.
Xinhua