Sweet melons make Minqin ripe for profit
Share - WeChat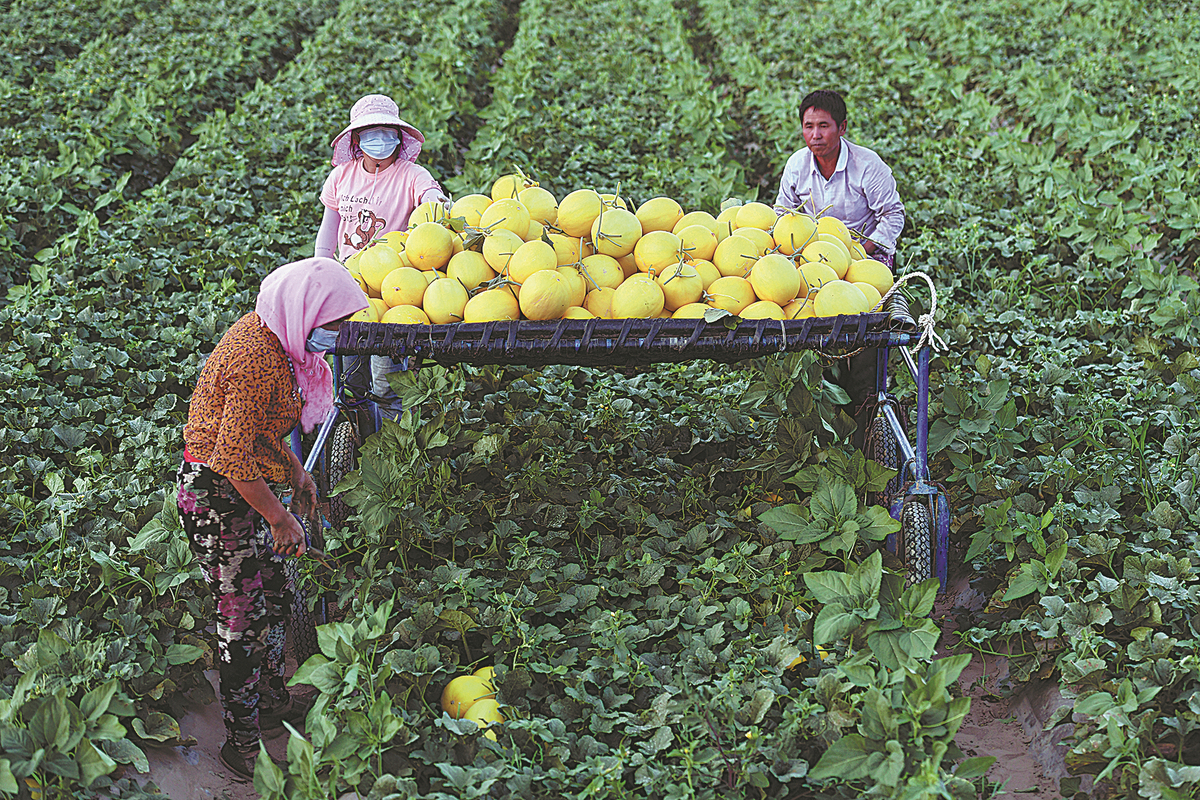 LANZHOU-Harvest season has brought an abundance of honeydew melons to Li Minzhong, a farmer in Minqin county, an artificial oasis located between the Badain Jaran and the Tengger, two of China's largest deserts, which together cover 85,000 square kilometers.
Thanks to its hot, dry desert climate, the county in Northwest China's Gansu province has the best soil for honeydew melons, which are highly prized for their sweetness, crisp texture and rich aroma.
Currently, there are more than 13,000 hectares of honeydew melons planted in Minqin, and farmers in major production areas can earn around 30,000 yuan ($4,640) annually.
However, residents were not originally accustomed to growing melons but got used to it through decades of effort.
Minqin was once known as "sand town", thanks to the raging sandstorms that plagued residents year-round. Sometimes they were so intense, they blocked out the sun.
Li still remembers the dark days when the winds' fury regularly uprooted his melon seedlings, condemning him to replant over and over again.
To make money from melons was a task that was almost impossible, Li recalled.
Starting in the 1950s, the race to conquer Minqin's harsh environment and battle worsening desertification began.
Massive straw checkerboard barriers were erected, and forest belts were planted.
As corresponding water-saving efforts were made, the county's forest coverage has risen from a mere 3 percent in the 1950s to 18.21 percent today.
Over the seven decades of this race against the desert, a shelterbelt 300 km in length running parallel to the 408-km-long desert storm-front has been created, protecting residents from extreme weather and making the cash bonanza of sweet melons.
On July 20, Minqin held its annual ceremony to celebrate the harvest of honeydew melons, signaling the beginning of peak selling season to national fruit merchants.
More than 30 internet celebrities were invited to the remote county to promote products via livestream, while dozens of e-commerce businesses have opened up in Shoucheng, Li's home village.
"We are growing new varieties and improving planting standards on a trial basis. For example, trenches beside the melons are designed to save more water, which has helped reduce original water consumption by 40 percent," said Chen Fang, deputy director of the county's agriculture and rural affairs bureau.
Liu Xianghai, a wholesaler from North China's Shanxi province, lauds the Minqin melon.
"Thanks to more scientific planting standards and more convenient logistics, the melon harvest in recent years has been excellent, and the melons have become more popular on the market," Liu said.
He added that the 30-odd metric tons of honeydew melon transported each day from Minqin to Taiyuan, capital of Shanxi, sell out on the same day.
The county will produce an estimated record total of around 400,000 tons this year, bringing in about 1.44 billion yuan.
"A bumper harvest that will bring good fortune to local farmers is in sight," Chen said.
Xinhua