Rural folk in Weihai on path to prosperity
Share - WeChat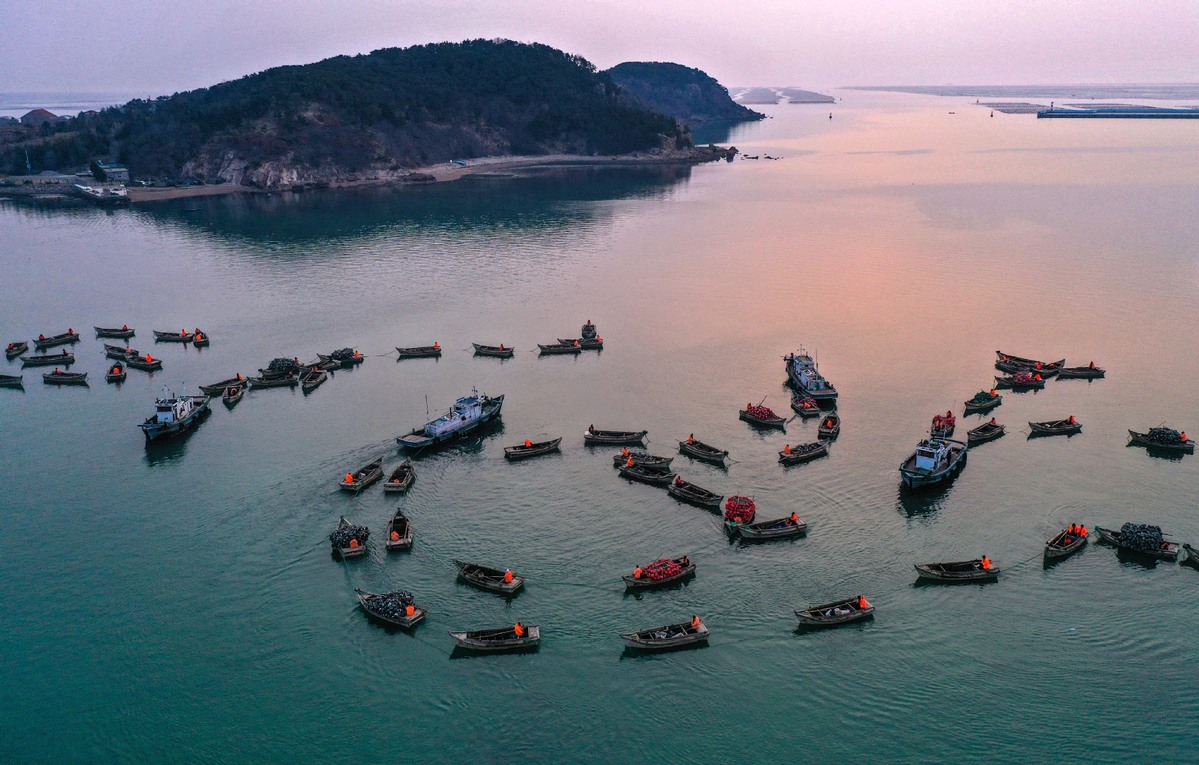 People in rural parts of Weihai, a city on the eastern tip of the Shandong Peninsula, are taking advantage of their environment to live better lives following years of local government effort aimed at creating a xiaokang-moderately prosperous-society.
In the town of Naxianghai, now a popular scenic spot featuring forests and beaches, security guard Li Jiajun was busy on patrol late last month.
"The number of tourists who come to our town to escape the summer heat is increasing, and I notice from the license plates that there are more tourists from cities outside Shandong province," he said.
Li has taken photos of the town over the years that chronicle its development.
"Great changes have taken place in the town," he said. "Narrow, bumpy roads have been replaced by wide ones with trees on both sides. Hospitals, libraries, supermarkets and gardens built in recent years make our lives very convenient."
The livable coastal environment attracts over 1.5 million tourists to the town every year, generating income for residents.
Li and his wife, who makes cakes at the town's dining hall, can earn 7,000 yuan ($1,080) a month between them. With that money, they've bought a new house just a 10-minute walk from their workplaces.
Weihai, which has a population of 2.9 million, has been upgrading infrastructure in rural areas for the past five years to lay a foundation for further development. The roads in its 2,254 villages have been hardened to improve access and tap water is available in every village.
Shandong's provincial government has bestowed the title "best livable environment in Shandong" on Weihai in recognition of its achievements.
Belgian Filip Esprit, who runs a chocolate shop in Sunjiatuan, a town in Weihai, said he has been impressed by the huge changes he has seen in rural parts of China over the past two decades.
"When I first came here more than 20 years ago, it was so difficult to get into the villages by car, and the road was difficult to travel," he said. "I often heard of robbery and fraud. At that time the people were so poor.
"Now it's different. It is convenient for me to take a bus. The roads have changed. Every village is very accessible now, and the villages have transformed into green gardens. There is beautiful scenery all around, with reforestation and greening, architecture all renewed."
Esprit said the environment provides strong support for mental wellbeing and gives people the opportunity to refresh themselves physically. "In the countryside, sitting on the balcony, when breathing the rural atmosphere, thoughts drift away and inspiration comes to develop new products, new flavors, new designs for our chocolates," he said.
The rural areas, now equipped with good infrastructure, are attracting young people eager to establish lifestyles that are financially, mentally and physically beneficial.
In Dashuipo, a town at the foot of Sanqi Mountain, the second phase of a "design valley" is under construction. Surrounded by forests and rivers, it will help inspire young people to set up businesses in the countryside that offer good incomes and a sense of well-being.
"More than 50 design workshops run by top-class architectural designers will set up facilities in the valley," said Liu Jiutai, 41, who started the design valley project three years ago.
More than 30 people have followed in his footsteps, moving to Dashuipo to rent abandoned houses and renovate them into ones with modern features. They are now considered new residents of the village.
During the past two years, Li Jiutai and his friends have also designed tourism packages for the village and have registered brands for the sweet potatoes grown by villagers. The agricultural produce is sold to major cities, bringing income to those running the business and local farmers.