Collector helps Yugur culture stay alive
Share - WeChat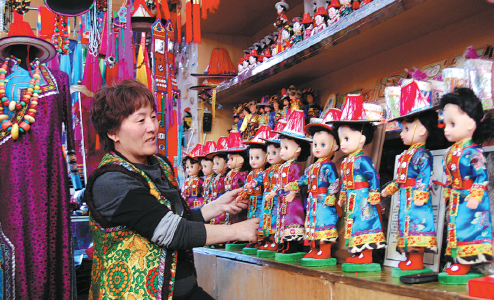 Ke Cuiling, one of China's best-known collectors of traditional artifacts related to the Yugur ethnic group, owes about 1.7 million yuan ($262,000) after building a traditional village to preserve her indigenous culture.
The 60-year-old from Zhangye, Gansu province, amassed her collection to help preserve the group's traditions, which she feels are disappearing rapidly.
"The Yugur reside mainly in Gansu. We have no written language, so it isn't easy to record or maintain our customs. This group of only about 10,000 people doesn't have too many traditional items left, and as time passes, they will disappear if they aren't protected," she said.
Although Ke has collected thousands of items, she refuses to sell any of them, despite her debts. "If I sell them, how will our descendants learn about their culture?" she said.
As the Yugur increasingly swap their nomadic, herding lifestyle for an urban one, they are also relinquishing their traditional skills, tools and other items.
"The younger generation doesn't know how to make a tent or yak butter. Some outdated things should be discarded, of course, but the unique Yugur culture must be retained," Ke said.
She began collecting traditional items at the age of 14, but later she intensified her efforts and sank all her income and savings into protecting relics.
"I realized that these things might vanish some day, and they deserved to be preserved," she said.
Ke recalled that she initially began collecting old pieces of embroidery because her mother had taught her how to sew and embroider, and she loved the artifacts those skills produced.
Later, she realized that her peers were gradually replacing traditional wooden utensils with plastic ones. In response, she began collecting other discarded items such as teapots, wardrobes and horse saddles because they were unique to the Yugur, she said.
In the past, many members of the group lived in tents on the grassland. They made a living by herding, so they had to move during summer and winter when their cows and sheep needed new grazing grounds.
"As a result, our wooden storage boxes are narrow and short, because they needed to be convenient for transportation by horse during our frequent moves. They are different from the boxes used by people whose lives are settled in one place," Ke said.
She continued to collect the items even though she didn't know how to take care of them.