Visually impaired teen enrolls at dream school
Share - WeChat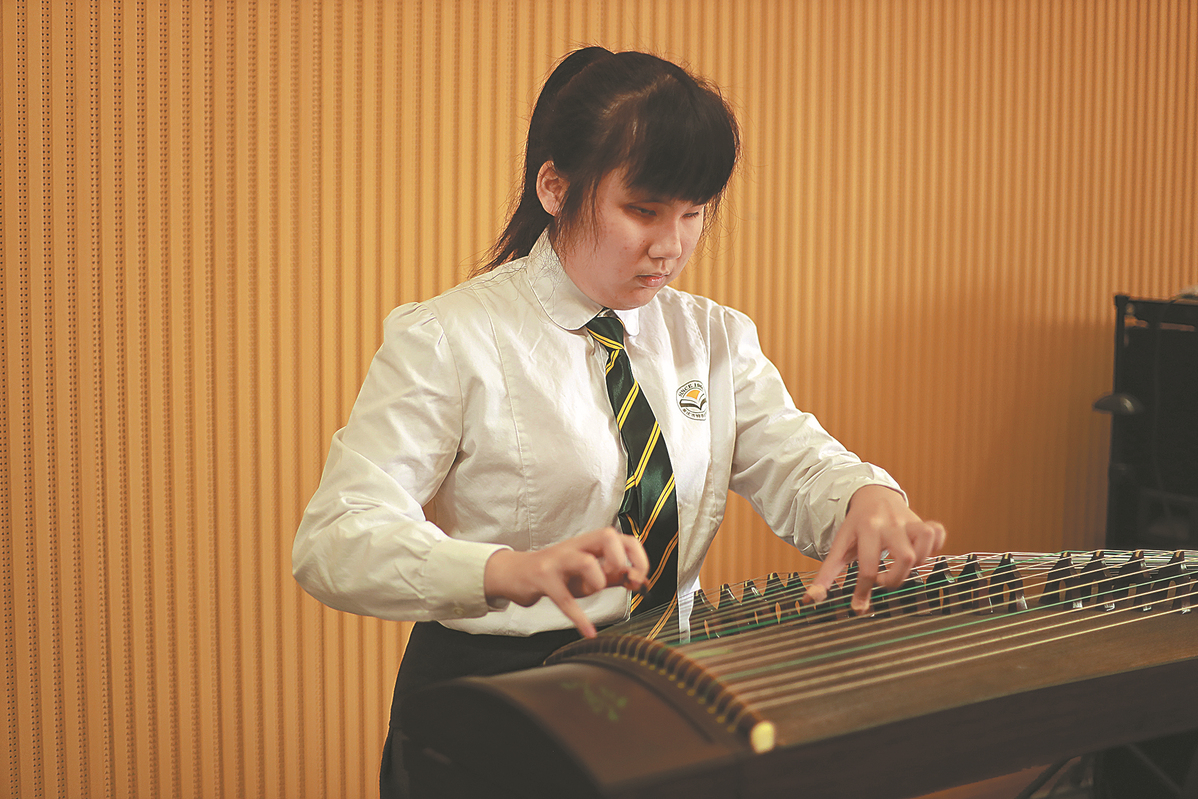 "I can't see, but I live like everyone else. My world is colorful," said Cai Dantong, a visually impaired high-school senior at the Chongqing Special Education Center, who recently enrolled at her dream college.
In April, Cai received admission to the musical performance department at the Special Education College of Changchun University, which noted her accomplishment at playing the guzheng-a Chinese zither-and academic performance in music.
Dubbed the "Peking and Tsinghua universities for hearing and visually impaired students", Changchun University, which was established in 1987 in Changchun, Jilin province, is the first in Asia to provide higher education to students with these impairments.
Born prematurely in Jieyang, Guangdong province, in 2002, Cai lost her eyesight during early infancy as the result of a medical accident.
"My family never treated me like I was disabled," she said, crediting her parents' service in the army for their conviction never to give in. They often took her cycling, skateboarding, swimming and surfing, giving her more opportunities to explore the world, sometimes by taking a tough stance toward her training.
When she was 6, Cai heard guzheng music on her father's car radio and developed a keen interest in the instrument, whose sound is compared to gurgling water.
Her parents found her a guzheng teacher, Lin Lina, who was the first to tutor the visually impaired in Guangzhou, capital of Guangdong.
"Lin taught me Braille for the guzheng, along with music theory and solfeggio, and I gained admittance to the Chongqing Special Education Center," she said. The center, located on a mountain in Chongqing's Nan'an district, is among the first institutions in the country to provide education for the disabled and has attracted many students from other provinces.
Cai still remembers her strict teacher's reply when she asked Lin to make the musical score easier: "You have both hands, so I won't change the score. It is your heart and hands that play the guzheng, not your eyes."
Lin also told Cai that she advised all students to close their eyes during the later stages of playing, and encouraged the young girl to think of herself as no different from any other student.
Inspired, Cai dedicated more time to mastering the instrument than others.
"At first, it took me a month to learn a three- to four-minute piece, and three months to learn a seven- to eight-minute piece, depending on its difficulty," she said. "The biggest challenge was memorizing the score. Sighted people can read and play at the same time, but I have to learn the score by heart first."
In addition, she had to memorize the location of each of the instrument's 21 strings, as well as the gaps between them. Through much practice and talent, Cai finally developed the muscle memory needed and gradually mastered the instrument. She earned a grade 10 guzheng certificate at 16, the highest level for the instrument, and has won several national competitions in recent years.
To prepare for the college entrance examination, Cai practiced for more than four hours a day, and her hard work finally paid off. She looks forward to college life this coming fall. "It is my dream to study with sighted students," Cai said happily. "I am confident they will like me."
In her spare time, she hangs out with friends and spends time on video-sharing app, Douyin. The eloquent young woman said she can do everything herself apart from one thing-making sure her clothes match.
"She is the most cheerful student I've ever seen," said Zhou Yuanqi, the center's principal assistant, who accompanied Cai to the exam at Changchun University earlier this year.
Zhou said the visually impaired are more likely to be able to concentrate, have greater empathy, better memory, and are more sensitive to touch and sound, which gives them advantages in some fields.
Zhang Hongjie, dean of the Special Education College of Changchun University, said that studying and living with sighted students on campus helps the visually impaired engage better with society.
Currently, the college has three majors for the visually impaired-massage, rehabilitation therapy and music.
Over the years, great progress has been made in improving higher education, career opportunities and living conditions for the country's disabled, as well as protecting their rights and interests.
"I feel blessed to have been born into a nice family like mine, to study at such a good school and to have teachers and friends who have given me so much love and support," Cai said.