Globe-trotting senior visits five continents, says travel an 'attitude'
Share - WeChat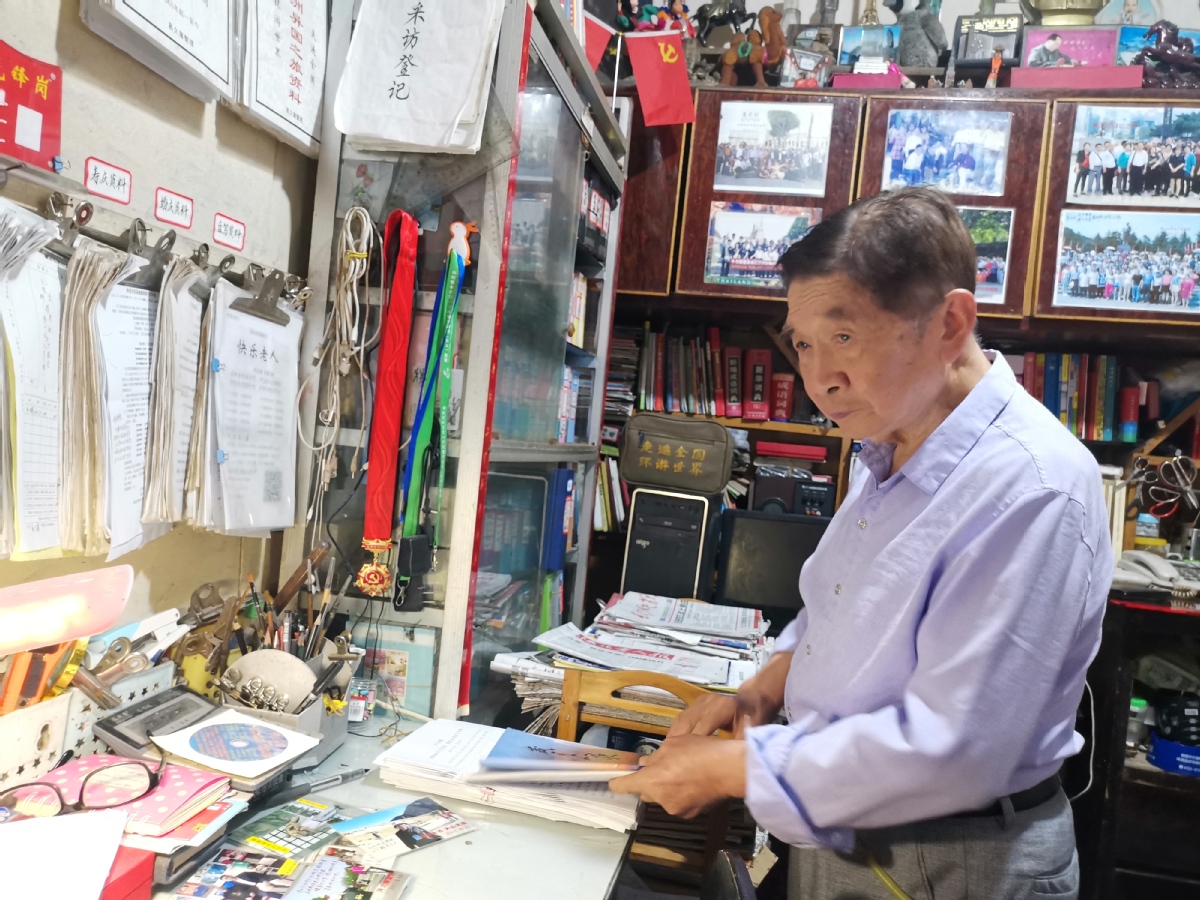 Have you ever thought of traveling around the world? Yi Jiufan will tell you it can be more than a dream.
Over the last 27 years, the 87-year-old from Changsha, Hunan province, has visited 27 countries on five continents, including Singapore, Russia, South Africa, the United States and the Netherlands. The total cost was about 400,000 yuan ($61,900).
Three of the four walls of his living room are studded with his travel photos, each bearing labels like "Africa", "Oceania", "Europe", "America" and "Asia". His travel diaries are more than 300,000 words long, and he has about 7,000 photos and 150 compact discs recording his trips.
Yi's experiences had received about 120 million views on Sina Weibo by last month. One netizen commented that he has done something that many young people have always wanted to do. Others said he was lucky to have spent most of his retirement traveling, instead of staying at home and taking care of grandchildren like many older people in China.
For Yi, travel is just an attitude. "Some retired people play mahjong and drink alcohol every day, but I don't like that. Travel broadens my horizons and allows me to make friends. It's also a form of exercise. It has a lot of benefits," he said.
Yi retired as a grassroots community worker at the age of 53.
After that, he opened a store with his wife selling and renting books and videotapes. Now the store sells stone carvings instead. He said that he always wanted to see famous world attractions, learn new things and meet new people, but he didn't have time when he was younger.
In 1994, Yi made his first journey, a trip to Beijing, and discovered the pleasure of travel. In 2008, he went abroad for the first time, visiting Singapore, Malaysia and Thailand for 11 days. Following trips to Asian countries, he took a 15-hour flight to South Africa when he was 80.
"Some thought I was a wealthy Chinese person, but I'm just a farmer," he joked, adding that he never bought expensive items, but brought back souvenirs-miniature versions of the Statue of Liberty, the Eiffel Tower and Big Ben are among his collection.
Yi knew no English but did not find that was a problem.
"We can communicate with gestures. Besides, the tour guide helped," he said. If he wanted to take photos with people he met on the way, he would show them travel photos on his phone and they quickly understood what he wanted. He said he has made hundreds of new acquaintances on his trips.
Special tips
He said his most impressive travel experience was to Vietnam in 2013 with a group of special friends: a visually impaired massage therapist, a disabled man and a recently recovered lung cancer patient. Yi himself lost his spleen after a fall while hanging a banner over a stage when he was 35.
The massage therapist, Zhou Yunhui, said he liked to travel, too, but few people were willing to go with him because of his impairment. Yi was different, he said.
The four friends visited major attractions in Vietnam and looked after each other during the six-day trip. They became closer afterward, he said.
There have also been difficult moments. In 2014, Yi was on a package tour to Hawaii. When he finished a tour at a museum, he suddenly discovered that everyone else had gone. "I had to go to the next stop, Pearl Harbor, by myself, but the tour guide soon found me," he said.
"I carried a card every time I went abroad. On it, in both Chinese and English, was my name, the name of the travel agency and the telephone number of the tour guide, so people could help me," he added.
For Yi, the most important part of travel is learning about different cultures, and sharing what he's learned with friends, so he always asks a lot of questions and is always busy taking photos or filming.
While looking through one thick travel diary, Yi stopped at a page written about his first overseas journey to the Grand Palace in Thailand, Chinatown in Singapore and the Petronas Twin Towers in Malaysia. He pointed to photos of parasailing. "It was so much fun! I shot videos for everyone. But when it was my turn, it was too dark to go," he said.
He usually spends a week writing his diaries after returning from a trip. He also invites neighbors to watch his videos. "It's great to share beautiful memories," he said.
When he was younger, his family supported his wish to travel. Now approaching 90, his children don't want him to go anymore, but Yi is determined.
His wife, Zhang Yuqing, said that she has traveled with him to Jiangxi, Sichuan and Hubei provinces but has not been abroad because of poor health. "I remember that we had fun wherever we went. How can I ask him not to travel? He wouldn't listen anyway," she said.
Because of the COVID-19 pandemic, Yi's last overseas trip was to Myanmar in 2019.
Zhu Youfang in Changsha contributed to this story.