China to provide 2 billion COVID vaccines globally
Share - WeChat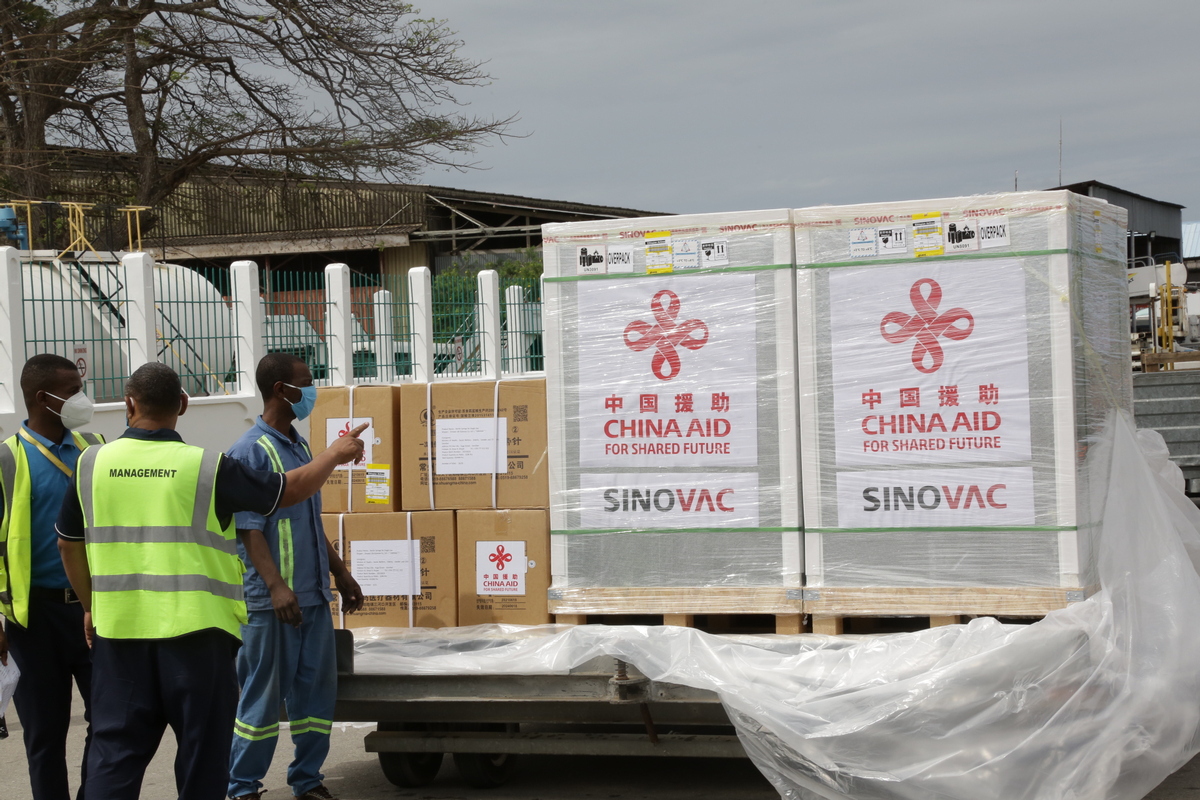 Nation also to donate $100 million for efforts to ensure access to affordable inoculations
President Xi Jinping said on Thursday that China will provide a total of 2 billion doses of COVID-19 vaccines to the world this year, in the latest effort to honor its commitment to make vaccines a global public good by ensuring vaccine accessibility and affordability.
He also said that China will donate $100 million to the COVAX global vaccine initiative for the distribution of vaccines to developing countries.
Xi made the announcements in a written speech delivered to the first meeting of the international forum on COVID-19 vaccine cooperation.
State Councilor and Foreign Minister Wang Yi hosted the meeting on Thursday via video link. About 30 parties, including nations' ministers and representatives of the United Nations, other international organizations and enterprises, participated.
As one of the five measures announced by Xi at the Global Health Summit in May to further support global solidarity against COVID-19, the forum aims to provide a platform for countries that develop and produce vaccines, as well as companies and other stakeholders, to explore ways of promoting fair and equitable distribution of vaccines around the world.
Noting the repeated resurgence and frequent mutations of the coronavirus, Xi said in his written address to Thursday's meeting that he expected the forum to make new progress in promoting fair access to vaccines, inject new momentum into cooperation and solidarity among developing countries, and contribute to mankind's early victory against the virus.
China will continue to help developing countries deal with the pandemic to the best of its ability and will work with the international community to advance international vaccine cooperation and build a community with a shared future for mankind, the president said.
Since Xi vowed at the virtual opening of the 73rd World Health Assembly last year to make China's COVID-19 vaccine development and use a global public good, Chinese vaccines have gained increasing recognition across the world and have been granted approval for emergency use by the World Health Organization and more than 100 countries.
According to the Foreign Ministry, China has provided more than 750 million doses and concentrates to over 100 countries and international organizations so far. China has provided more doses to developing countries than anyone else and has vaccine cooperation partners all over the globe.
With the support of the Chinese government, Chinese vaccine companies have started joint production in many countries, including the United Arab Emirates, Indonesia, Malaysia, Egypt, Brazil, Turkey, Pakistan and Mexico, with production capacity exceeding 200 million doses.
Ruan Zongze, executive vice-president of the China Institute of International Studies, said that Thursday's meeting helped to address the biggest challenge now facing global cooperation-the uneven accessibility and affordability of vaccines.
"While poor countries struggle to find vaccines, rich countries have pre-purchased more vaccines than they will ultimately need. Such inequality of vaccine distribution has hindered global cooperation on jointly fighting the virus," Ruan said.
By promoting international vaccine cooperation, China is playing a leading and active role in building a global community of health for all with practical actions, he said.