Govt gears up to contain COVID
Share - WeChat Gene sequences of recent samples from Nanjing consistent with imported case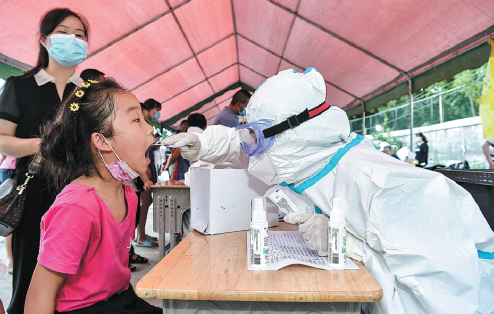 Health authorities in Nanjing, Jiangsu province, confirmed that gene sequences from samples collected from recent COVID-19 patients in the city were consistent with those of an imported case from Russia.
Ding Jie, deputy director of the Nanjing Center for Disease Control and Prevention, said the samples were collected from aircraft cabin cleaning staff at Nanjing Lukou International Airport, who were among the first to be confirmed with COVID-19 in the latest outbreak.
They had cleaned flight CA910, which had arrived in Nanjing from Russia on July 10 and carried a passenger who has been confirmed with the virus, Ding said.
"We have finished sequencing the viruses collected from 52 local transmissions," Ding said at a news conference on Friday. All the infections were confirmed as the Delta variant.
"The sequencing showed that they were highly homologous, which implies that these people were infected in the same transmission chain," Ding said.
Evidence indicated that the reasons aircraft cabin cleaners were infected might be due to their not following proper protocols when removing protective gowns.
The infected cleaners then likely transmitted the virus to others. Airport workers from other departments were also infected by the cleaners or the contaminated environment, because the cleaners dealt with trash on both domestic and international flights, she said.
Nanjing reported 13 new locally transmitted confirmed COVID-19 cases on Thursday. A total of 184 local confirmed cases, including eight people who were in serious condition, have been reported since July 20.
The provincial capital launched a third round of nucleic acid testing for its 9.3 million residents on Wednesday. A total of 15 people have tested positive among the 6.43 million who participated in the tests as of 7 am on Friday.
Nanjing urged local companies to allow staff to work from home and arrange more online work, and encouraged residents to avoid public gatherings as much as possible.
Also in Jiangsu province, Yangzhou reported four locally transmitted cases while Huai'an registered one on Thursday.
Three asymptomatic carriers were found in Huai'an and one in Wuxi on Thursday.
To contain the virus, Jiangsu blocked 22 highway entrances and exits on Friday and placed all transportation entering and leaving Nanjing under strict control.
A number of cities across China have reported locally transmitted cases, with many that could be linked to Nanjing's COVID-19 outbreak, including Zhangjiajie, Hunan province.
Eleven areas in Zhangjiajie have been classified as medium-risk zones for the virus, local health authorities said in a notice on Friday morning. The city reported a new local confirmed case on Thursday.
Based on the recent jump in confirmed cases linked to Zhangjiajie in various cities-including Chengdu, Sichuan province, and Huai'an-Zhangjiajie was listed as a hot spot for the potential spread of the current infections, local authorities said.
Access restrictions have been enforced in all of Zhangjiajie's residential communities since Friday to curb the spread of the virus, the city's headquarters for COVID-19 prevention and control said.
Residents have been ordered not to go outside unless absolutely necessary. All scenic spots and places where people congregate, including theaters and KTVs, have been shut down.
The city has suspended all mass gatherings and urged to delay on-site meetings.
Facilities supporting people's daily lives, including agricultural produce markets, supermarkets and restaurants, were ordered to adopt strict measures for safety, including disinfection of their premises and ensuring proper air circulation.
In Zhuzhou, Hunan province, four asymptomatic carriers were reported by health authorities on Friday. These carriers had shared a sightseeing boat in Changde, also in Hunan, with three previously confirmed cases that were reported on Tuesday in Chengdu. The three Sichuan patients had traveled to Zhangjiajie before going to Changde.
In addition, Xiangtan, Hunan province, reported a new confirmed case on Friday. That person had also shared the same boat with the three confirmed cases from Sichuan, authorities said.