Student Yang makes the grade
Share - WeChat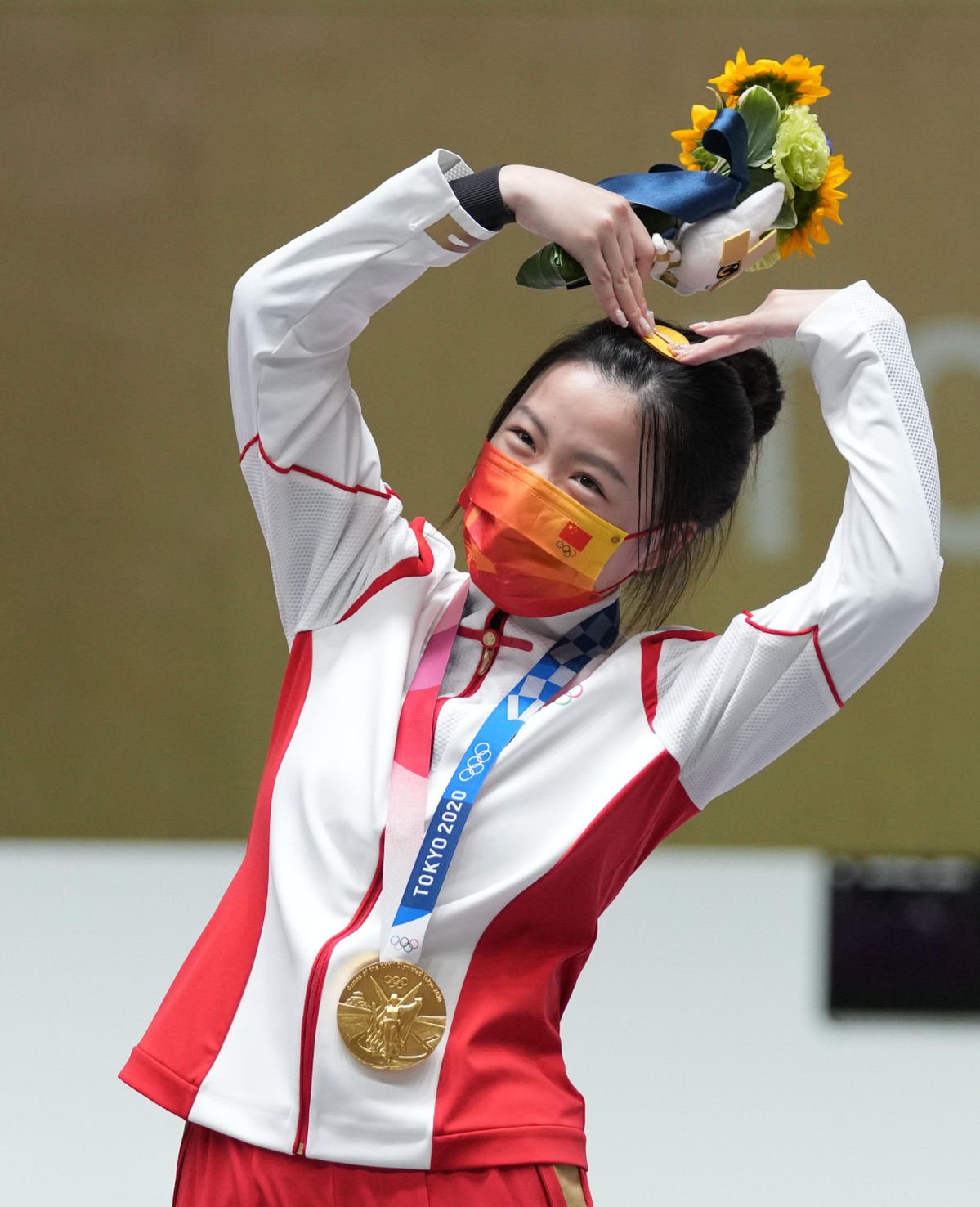 Shooting roots
Tsinghua's roots in the sport date back to the 1950s when the university first formed a shooting team. After a long hiatus, shooting was reestablished on campus in 1999 and has since flourished.
With student athletes recruited from its affiliated high school, ordinary schools and sports academies, the program has consistently churned out sharpshooters for the national team, including Yi Siling, who delivered China's opening gold of the 2012 London Olympics, also in the women's 10m air rifle.
A senior schoolmate of Yang's, Shi Mengyao, is tipped to earn more Olympic glory for Tsinghua's program, with the 23-year-old Henan native locked and loaded for the 50m three position competition on Saturday at Asaka Shooting Range in Tokyo.
In addition to the development of top-level athletes, Tsinghua's shooting program also offers a 16-week entry-level course for students with more modest skills.
Since opening in 2002, the course has become highly coveted on campus with about 1,000 seats for each semester usually being snapped up within hours of the selection opening.
"There is a saying in Tsinghua for freshmen that you have to be lucky enough to succeed in signing up for this course once before your graduation," said Dong Zhi, who manages the program.
To better promote the sport, Tsinghua built a new shooting range at the basement of the university's sports hall in 2009 with funding raised by its alumni, and is taking pride in the program's broad educational value.
"Shooting works well as a supplement to classroom teaching in helping hone young people's mental toughness, concentration and resilience … virtues that may play a big role in their future careers of whatever jobs they choose," said Dong.
Cradles of success
As the action continues in Tokyo, Team China is expected to enjoy more success from its ranks of university talent.
Higher-education institutes, such as Chongqing-based Southwest University and Beijing Sport University, have been cooperating with provincial sports training centers to jointly develop promising talents.
The two universities have provided tailor-made education programs for 53 athletes in China's Tokyo 2020 delegation, including women's 3m synchro diving champion Shi Tingmao, women's epee gold medalist fencer Sun Yiwen and men's taekwondo star Zhao Shuai.
As the country continues to reform its sports talent cultivation system, the teamwork between the General Administration of Sport of China and the education department is expected to help diversify the talent supply from grassroots to elite level.
"We've realized that it's equally important to provide enough education to athletes while providing ordinary students with more opportunities to exercise and learn sports skills," Wang Dengfeng, director of physical education, health and arts at the Ministry of Education, said during a meeting earlier this month.
"By promoting sports participation and expanding beginner-level training programs, we can grow a stronger and deeper talent pool in ordinary schools for more success at the elite level."