Student Yang makes the grade
Share - WeChat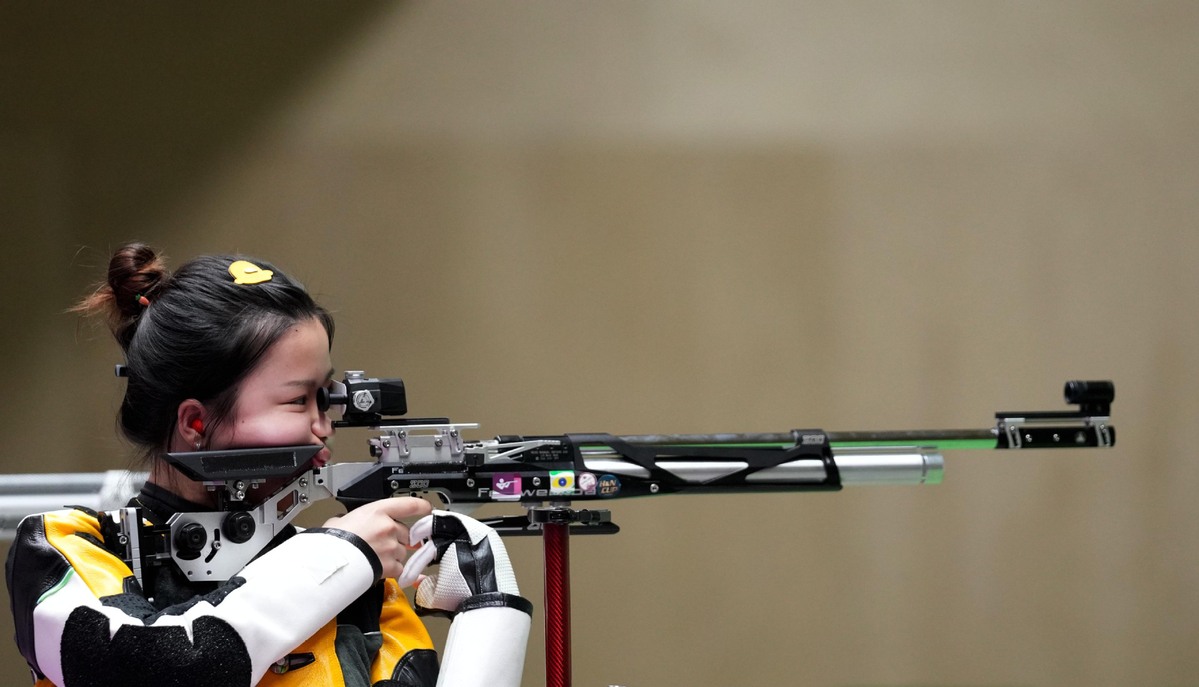 Prestigious Tsinghua University adds another Olympic champion to its growing list of gold-medal winners
Tsinghua University's production line of shooting champions hit the target once again after junior student Yang Qian won the first gold of the Tokyo Olympics on Saturday.
Yang, 21, belied her young age to hold her nerve in Saturday's women's 10-meter air rifle final and claim the title with a total of 251.8 points in her Olympic debut.
Trailing Russia's Anastasiia Galashina by 0.2 points after 23 shots, Yang's final effort scored 9.8 points, which proved enough to fend off Galashina, who crumbled under pressure to register only 8.9 points with her last pellet. Switzerland's Nina Christen took bronze.
The morale-boosting performance made Yang a darling of social media back home, with her personal Weibo account attracting roughly 650,000 new followers over the course of a few hours since her win.
The triumph earned yet more kudos for Tsinghua's collegiate sports program, which combines higher education and athletic training to develop student athletes in the likes of track and field, shooting, and basketball, outside the country's traditional State-run sports system.
"We trained how to perform under pressure," Yang, a junior who majors in business administration at Beijing-based Tsinghua, told reporters. "The coaches would actually create a nerve-wracking atmosphere in order to simulate the pressure."
"The competition was really tight today, but I'm so happy that I could win," she added.
Gao Jing, an air rifle coach at Tsinghua, said Yang's mental strength is a combination of her own innate talent and her on-campus training.
"My first impression of Yang was that this is a quiet little girl, but she could shoot quite stably with calm beyond her years," Gao said of Yang's performance during a trial for admission to the shooting program at the end of 2015.
"I think over the years of keeping up with the rigorous academic study in Tsinghua while managing to train and compete consistently on my team, Yang has grown much stronger inside," added Gao, who won bronze in the women's 10m air rifle at the 2000 Sydney Games.
A product of the State-run program herself, Gao reckons Tsinghua's route to athletic excellence is particularly advantageous in the sport of shooting.
China traditionally drafted potential Olympians to the State-run system, where they would train full-time, isolated from ordinary schools.
"It's critical for a shooting athlete to be able to stay at ease under whatever circumstances and to regroup quickly," said Gao.
"Being able to strike that delicate balance between study and athletic pursuits helps a lot in self-management mentally and psychologically, which keeps a shooter calm when needed."