New railway route creates tourism opportunities in Tibet
Share - WeChat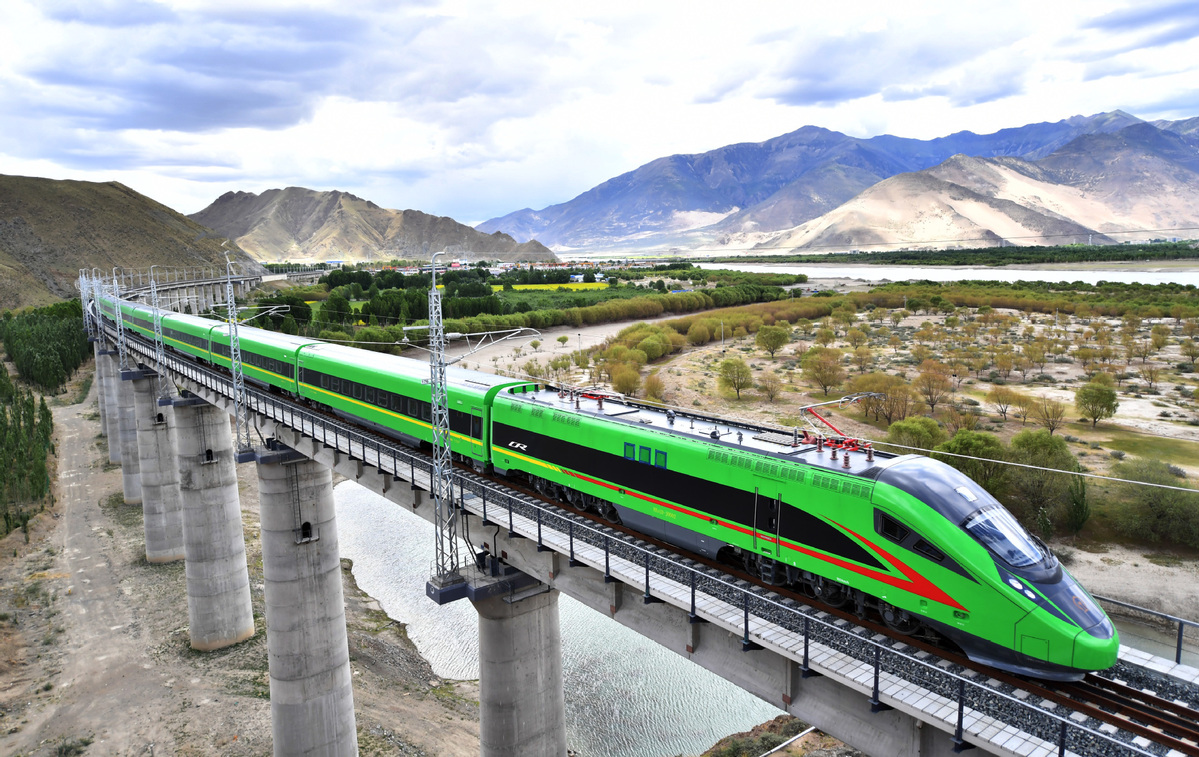 The Lhasa-Nyingchi Railway is bringing new opportunities for tourism in southeastern areas of the Tibet autonomous region.
The 435-kilometer railway links the Tibetan capital of Lhasa, Lhokha in southern Tibet, and Nyingchi in eastern Tibet. Since the railway started operations on June 25, it had transported more than 95,000 passengers as of Thursday, China State Railway Group said on Friday.
These three cities are geographically and culturally connected and are enriched with the plateau's geographical landscape and unique Tibetan culture. Before the railway opened, however, tourists had to spend most of their time on the road. Extended travel times forced tourists to spend hours moving between destinations.
With the launch of the service, travel time between Lhasa and Nyingchi has been shortened to three-and-a-half hours from some seven hours by bus. It takes only 70 minutes to travel by the new train from Lhasa to Lhokha.
The opening of the line also means Fuxing bullet trains are now available in all provincial-level regions on the Chinese mainland, and trains now pass through southeast Tibet for the first time in history.
Nyingchi, located in the southeastern part of the autonomous region, is famous for a thick coverage of virgin forests, snow-capped mountains, lakes, glaciers and ethnic cultural activities.
Nyingchi hosted more than 5 million visits in the first half of this year, an increase of 11 percent from the same period in 2019. The city garnered a revenue of 3.93 billion yuan ($607 million), up 7 percent compared with the same period in 2019.
Norbu Tsering, a tourism service center employee in the city, said he was surprised to see so many tourists this summer.
"I have seen groups lining up at tourist spots in Nyingchi, and tourists can be seen everywhere in scenic areas. It seems that there are many more tourists than in previous years," he said.
Norbu Tsering said the biggest reason is the train services.
"The trains are much more convenient and safer. Our village is not yet opened for tourism, but I am sure more tourists will come to see the snow-capped mountains, virgin forests and Tibetan traditional cultural activities here," he said.
A Pu, an internet influencer from Zayul county, Nyingchi, said on Douyin-the Chinese version of TikTok-that: "With the new train services, not only more tourists can visit our hometown more conveniently, but our fellow villagers can sell more of their local products and specialties to outside visitors. Two years ago, I had admired the bullet trains in other parts of China, and I wished my hometown could be accessed by them one day. Now my dream has been fulfilled."
The Lhasa-Nyingchi Railway is part of the planned Sichuan-Tibet Railway that will connect Lhasa and Chengdu, capital of neighboring Sichuan province. It also shares lines with the planned railway connecting Yunnan province and Tibet.