Trapped subway passengers tell of desperation
Share - WeChat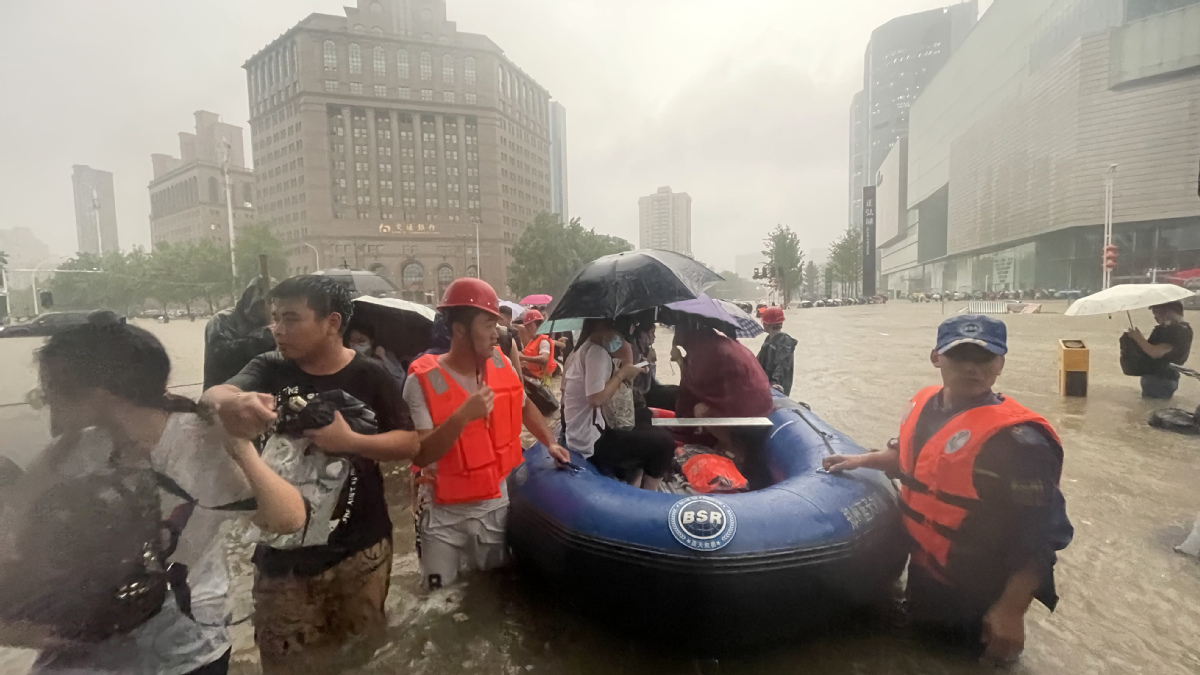 Inland cities need to prepare for possible disasters
Metro Line 5, the longest and one of the busiest subway lines in Zhengzhou, capital of Henan province, transports 500,000 commuters to their destinations every day.
As a torrential downpour swept the city on Tuesday evening, about 500 passengers were trapped in a flooded subway car on this line. Twelve of them died, five were hospitalized and the remainder were rescued.
Between 4 pm and 5 pm, Zhengzhou witnessed 201.9 millimeters of precipitation, an hourly record for the Chinese mainland.
A woman surnamed Li was just one of the passengers who experienced fear and desperation.
On Tuesday afternoon, Li left work early and headed for the subway. After boarding the train, she was not unduly worried when it made a number of emergency stops from time to time.
"Then the train made another emergency stop between stations and became stuck there. I could see the water rising and it began to pour into the carriage," she told China Youth Daily.
Following instructions from subway employees, Li and other trapped passengers grabbed a railing and waded through a passageway in the subway tunnel to reach a station just over 200 meters away.
The passageway was narrow, so passengers had to walk in a line to wade through the water in darkness. A few walking in front of the group managed to reach a safe area, but most of the passengers were forced to return to the subway car, including Li, as water surged fiercely through the tunnel.
As they waited anxiously to be rescued, Li saw that the water level was continuing to rise, eventually reaching as high as the passengers' chests and necks. They climbed on the seats to keep their heads above water.
Some took turns to help lift other passengers' children above their heads.
"I stood in the middle of the group. The water level continued to rise. Some people started to cough, some were breathing heavily due to a lack of oxygen, and some were shaking. The elderly, children and pregnant women were particularly affected by having to stay in the water for so long," Li said.
"I dared not tell my parents that I was trapped, so I only texted my cousins. I also started to arrange my affairs in case I died.
"I could sense the fear around me in the subway car. Someone tried to smash a window, but other passengers stopped him," she said.
"Everyone was trying hard to contact their families, friends and others for help."
Ding Xiaopei, who was also trapped in the car, posted a video on a social media platform asking for help. The footage showed the water rising high in the car.
"The rainwater is continuing to rise and my mobile phone is about to run out of battery. I don't know whether this will be my last post," she said in the video.
Ding, a reporter for a local radio station, worked in a temporary liaison role to update passengers on the rescue process and cheer them up.
As time passed, the passengers became quieter in order to save energy.