Evidence of Unit 731 atrocities on display
Share - WeChat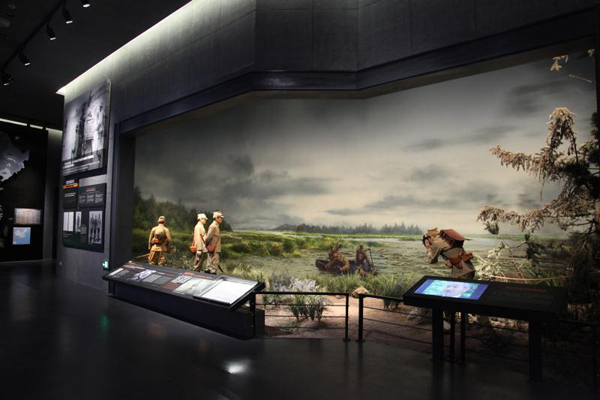 New evidence of Japanese atrocities during the War of Resistance Against Japanese Aggression (1931-45) has been released by a museum in Harbin, Heilongjiang province.
Evidence of human experiments and crimes involving biochemical weapons by Japan, including 113 artifacts, 554 old photos and 150 files, were put on display recently at the Museum of Evidence of War Crimes by Japanese Army Unit 731. Most of the items on display are being exhibited publicly for the first time.
The museum is devoted to examining the top-secret biological and chemical warfare research base established by Japan in Harbin in 1935 that served as the center of its biological warfare efforts in China and Southeast Asia.
"Most of the exhibits were collected during the recent archaeological exploration of a building," said Gao Yubao, director of the museum's ruins protection department. "The building was the core area for Unit 731 to conduct germ experiments, examine human anatomy, and produce germ weapons.
"There are also some artifacts we got from residents of the city. They are all critical and powerful proof of Unit 731's atrocities."
When the Soviet Union entered Harbin, Heilongjiang's provincial capital, in August 1945, the retreating Japanese invaders destroyed and buried most of the facilities that produced biological weapons, which reportedly included bubonic plague, typhoid, anthrax and cholera.
"The buried relics excavated by the archaeological team are also evidence of the Japanese army's destruction of evidence of its crimes," Gao said.
Jin Chengmin, the museum's curator, said: "We have carried out scientific archaeological exploration and clearing of the 731 site in the last few years. At the exhibition, we have also released a lot of details about the process.
"The relics and historical facts will tell the truth."
At the exhibition's inauguration ceremony, a group of students and teachers from the School of Marxism at Harbin Normal University said their visit was part of a special social practice lesson.
"The visit to the museum is an important part of our social practice and research courses," said Zhang Rong, a teacher at the school. "We hope to make students remember history and deepen their patriotic feelings."
Student Liu Fenghua said: "After viewing the exhibition, I had a new understanding of the history of the war. I will make more effort to learn history and contribute to the great rejuvenation of the Chinese nation."
During World War II, Unit 731 conducted experiments on people to test germ-releasing bombs and chemical weapons, among other atrocities.
Many civilians and prisoners of war from China, the Soviet Union, the Korean Peninsula and Mongolia perished at the hands of Japanese scientists. Some of them were children.
At least 3,000 people were used for human experimentation by Unit 731 and more than 300,000 people across China were killed by Japan's biological weapons, according to the museum.