Pineapples from Taiwan thrive in Fujian
Share - WeChat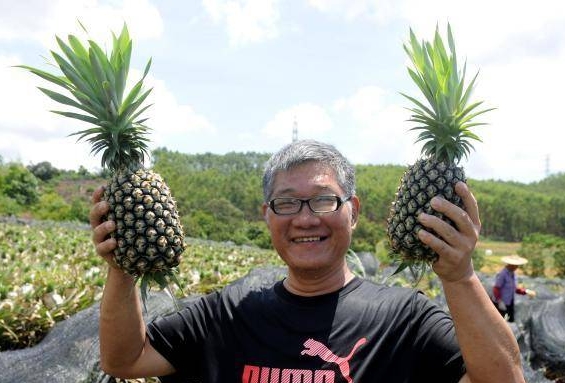 Wu His-Chi and Tseng Wen-Tzu are busy harvesting, weighing and packaging their pineapples, negotiating sales and making shipments from their plantation in Huxi town of Zhangzhou, Fujian province.
The couple, who come from Taiwan, started a cosmetics business in Zhangzhou in 1997. The company's performance is good after decades of development.
In 2017, they established the pineapple plantation, on which they planted four varieties of the tropical fruit from Taiwan.
"When I returned to Taiwan in 2017, I got the chance to taste pineapples at a farm owned by Huang Tien-Yi, who is the third generation of a pineapple-planting family," Tseng said. "I found the pineapples were really different from those on the Chinese mainland, so I had the idea of introducing it in the place where I live."
The couple brought Taiwan pineapple and a professional management team to Zhangzhou. After some experimentation they found success, with no difference between the two areas. Their confidence soared, and they began to expand the scale of the farm.
"The pineapple can be developed for different products — for example, candy, juice and skin care products," Tseng said. "Our company is striving to build an industrial chain for pineapples."