Plan sees Shanghai forging global ties in digital landscape
Share - WeChat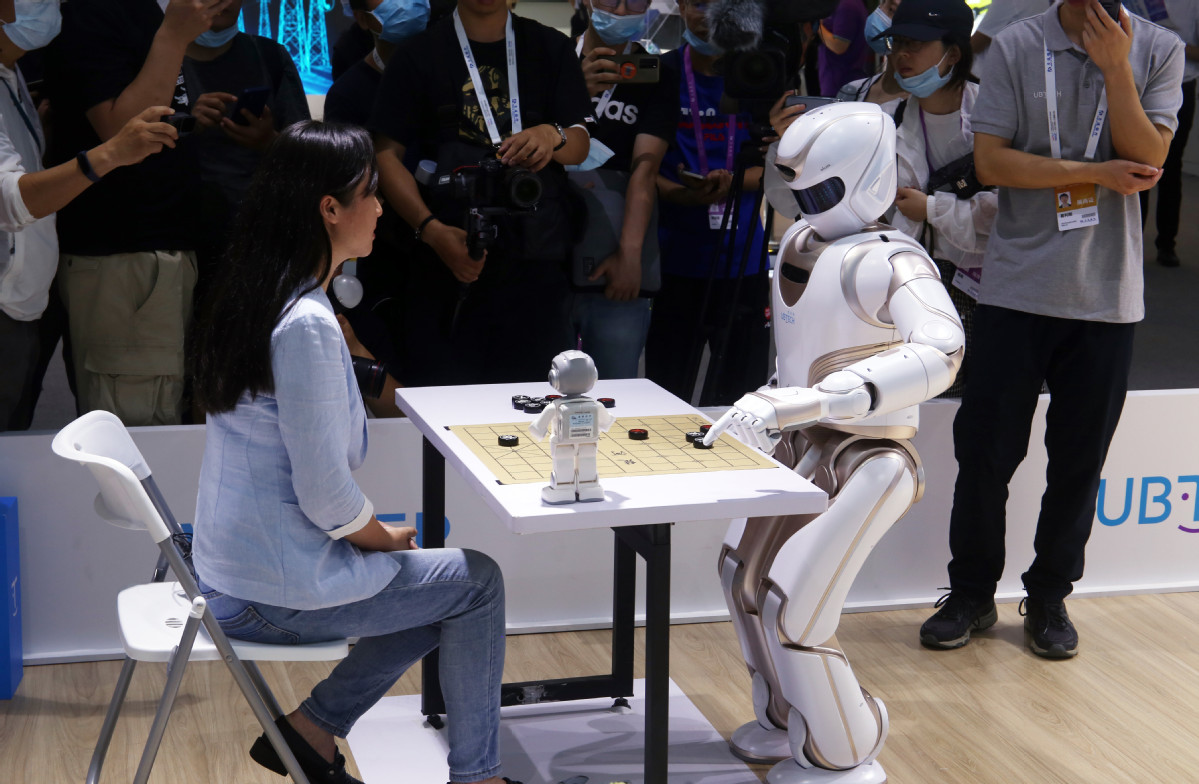 Shanghai's digitalization push has intensified with the unveiling of a master plan to build the metropolis into "a model city of international cooperation on digital economy" in three years.
The action plan will span three years-2021 to 2023-and target Shanghai's transformation into a world-class innovative digital hub.
Simultaneously, the city will seek to morph into a demonstration zone featuring the concerted development of the digital economy and the real economy, as well as pioneer an ecosystem that can drive digital transformation.
The directive, released during the closing ceremony of the 2021 World Artificial Intelligence Conference on Saturday, will manifest in the form of 12 special projects and 40 key tasks, local authorities said.
"The plan aims to bring forth both application scenarios and key technology breakthroughs," said Wu Jincheng, head of the Shanghai Municipal Commission of Economy and Informatization, the city's key industrial planner.
He also said Shanghai is looking to have its core digital economy value more than 600 billion yuan ($92.65 billion) and heralds 10 leading algorithms, 100 algorithmic products and classic application scenarios, and aggregate 100,000 algorithm developers.
Highlights among a host of numerical targets published included the achievements of over 100 key technologies, the formation of over 100 standardized algorithm-driven products, fostering over 100 smart hardware products, and creating more than 100 web traffic-driven enterprises with market value worth 10 billion yuan or more.
The value of AI shall be maximized only by putting customers and manufacturers at the core and serving a suite of daily life and production scenarios, said Dowson Tong, senior executive vice-president of Tencent, China's internet giant.
For instance, by combining its cloud computing and algorithm might, Tencent managed to shorten the quality inspection cycle at Shanghai Future High-tech Co Ltd from the previous 60 seconds using human labor to just several seconds. Tong said such an effort could save the company some tens of millions of yuan per year.
During the pandemic, Tencent's YouTu Lab, an in-house AI team based in Shanghai, devised a facial recognition system that allows high accuracy identification when people wear masks, said Zhang Lijun, Tencent's vice-president.
AI company SenseTime has just unveiled its full-stack SenseAuto Intelligent Automobile solution with a suite of AI-powered features that fuse computer vision and multiple sensors.
In addition to common traffic participants and road information, the solution also recognizes long-tail scenario elements such as vehicle-lane convergence and divergence, road signs and traffic light shapes, which are typical in China. Meanwhile, it promises multiple in-cabin entertainment functions that can be activated with voice commands.
"We strive to empower partners with our proprietary AI capabilities to help reduce innovation cost, reduce R&D cycles, bring an intelligent driving experience to end customers and form a win-win situation for the auto industry," said Wang Xiaogang, co-founder of SenseTime.
In terms of talent development, the AI Young Scientists Alliance formed during the first WAIC is gaining ground, where promising AI practitioners carry out AI-related projects through an incubation program called A-Class.
A batch of 17 scientists graduating from world-renowned institutions like the University of California Berkeley and the Massachusetts Institute of Technology joined the latest edition of the A-Class, pledging to make latest AI technologies applicable in a variety of industries.
"Shanghai's mature industry ecosystem, open policies and favorable business environment are making the city a magnet to draw AI talents," said Zhu Mingjie, an executive director of the alliance, who is also founder and CEO of AI startup CraiditX.