Application of cutting-edge tech on show in Shanghai
Share - WeChat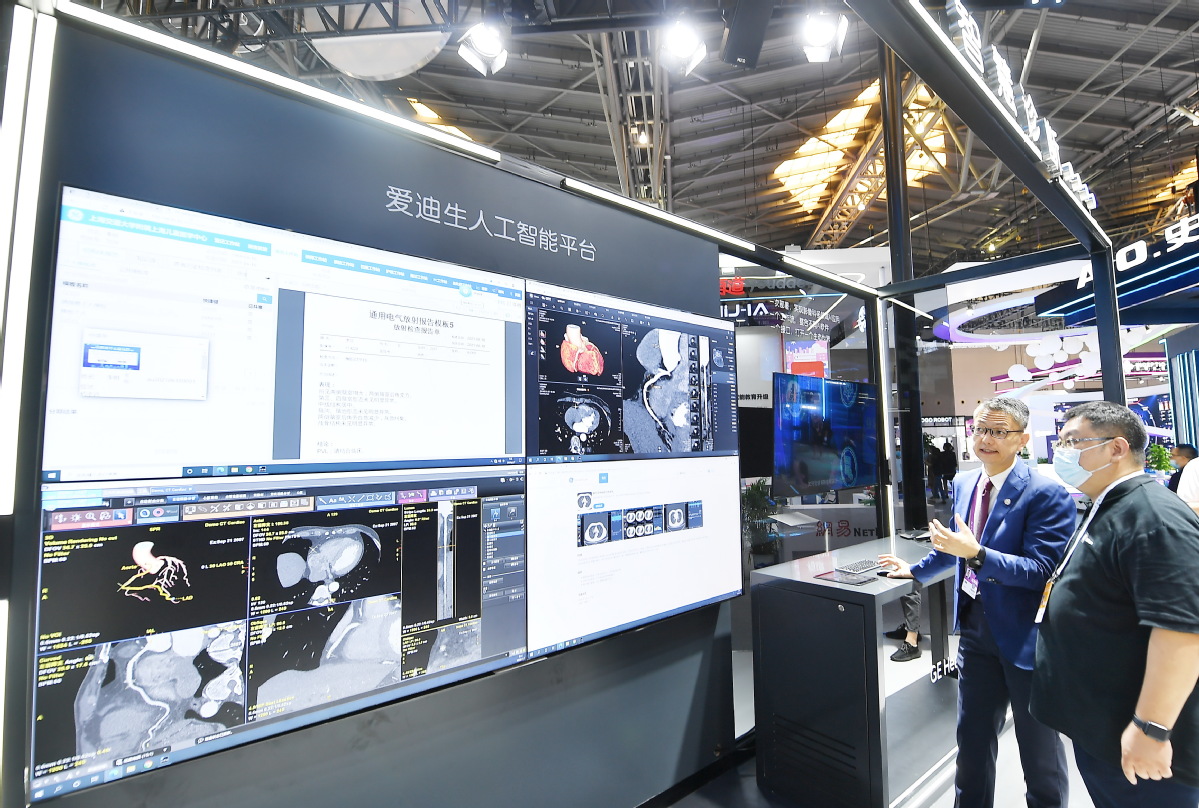 WAIC 2021 reveals metropolis' efforts toward goal of a major global AI center
From autonomous driving cars, unmanned convenience stores to a brain-computer interface which can help treat diseases, Shanghai is making artificial intelligence technologies and their applications more ubiquitous, and accelerating steps toward its goal of building itself into a national AI center with global influence.
With the kickoff of the World Artificial Intelligence Conference 2021, the metropolis has vowed to see the sector enjoy 15 percent compound annual growth so it can hit 400 billion yuan ($61.8 billion) in value by 2025.
Such a goal is in line with the city's digitalization drive during the 14th Five-Year Plan (2021-25). It should come about through technological breakthroughs, investments, public platform construction and policy innovation, said the Shanghai Municipal Commission of Economy and Informatization, the city's industrial regulator.
The WAIC 2021 symbolizes Shanghai's efforts on the AI front. The meeting from July 8 to 10 will see some 1,000 industry luminaries attend, including Turing Awardees Joseph Sifakis and Andrew Chi-Chih Yao, along with academicians and top business executives.
A dazzling array of AI-backed applications are being showcased during the event. For instance, at Shanghai's River Mall, people can stand to experience virtual mirrors at apparel shops where algorithms can give recommendation to customers on their best outfit without hassles of inadequate fitting rooms.
Visitors can also enjoy coffee prepared by robots, and grab a pack of chips at an unstaffed convenience store where the bill is automatically deducted through their phones when they leave.
Autonomous driving buses run test trials in select areas near the exhibition venue. Some of the bus-es run at around Level 4 or high autonomous driving. AI firm SenseTime provides the bus fleet coupled with augmented reality technology to give guests an immersive ride.
"Equipped with SenseAuto Pilot solutions, the buses follow a designated route and are most suitable to shuttle between work campuses and tourist sites," said Shi Jianping, vice-president of Intelligent Driving of SenseTime's Mobile Intelligence Group. "AR technologies also enable customers to view everything from graphics to videos from inside the vehicle."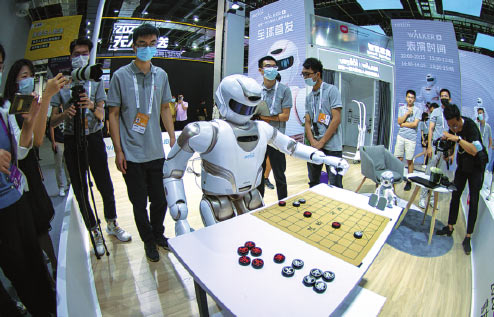 To beef up the application in transportation, Shanghai opened up 560 kilometers of roads to conduct autonomous driving tests in 2020. It issued 155 licenses to 23 companies eligible for such tests, with both figures topping the national numbers, the Shanghai Municipal Commission of Economy and Informatization said.
Other promising undertakings include a brain-computer interface technology that can allow minimally invasive implantations without the need for a craniotomy at the Shanghai Institute of Microsystem and Information Technology.
"The approach is critical to solving major brain diseases like Amyotrophic Lateral Sclerosis, and has shown good performance in the level and safety of device implantation," said Tao Hu, vice-dean of the institute.
Shanghai's bid to excel in AI sprouted in 2017 when the municipal government first released a document to bolster the development of the "next generation AI industry". By 2020, local authorities counted 1,149 firms as "key AI enterprises", whose scale reached 224.6 billion yuan.
The city has fostered a cluster of industrial zones located in Pudong new area and Xuhui district. This has attracted big tech firms like Amazon, Microsoft, Tencent and Huawei to dive into AI-related businesses.
Emerging players also said they benefited from the city's comprehensive industrial chain, rich application scenarios and innovative policies.
"Thanks to innovative policies, we managed to secure leading banks as our very first batch of customers, allowing us to massively adopt machine learning to the financial sector," said Zhu Mingjie, founder and CEO of CraiditX, an AI startup specialized in finance. During the WAIC 2021, the company is debuting a virtual digital agent it claims can raise efficiency in the insurance sector.