Researchers share results from ongoing municipal science and technology project
Share - WeChat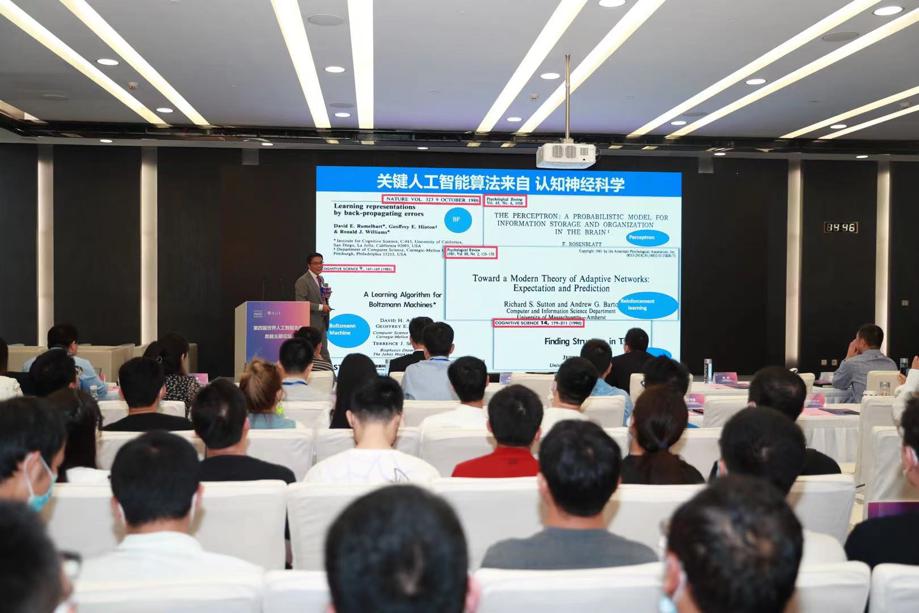 Shanghai has achieved major breakthroughs in future intelligent technology fields, including brain-inspired artificial intelligence algorithms, smart diagnosis and treatment of brain diseases, brain-inspired intelligent chips, and brain-inspired intelligence and engineering, researchers in charge of a major municipal science and technology project said on Saturday.
These results will help promote industrial upgrade, improve people's livelihood, and establish new applications to facilitate the building of a smart city. They will also support the city's ambition to become a highland of intelligent technologies with global influence.
Xu Ningsheng, the leader of the project, and other researchers published the initial results of the project at a brain-inspired intelligence forum on Saturday during the 2021 World Artificial Intelligence Conference in Shanghai. Xu is the chancellor of Fudan University and an academician with the Chinese Academy of Sciences.
The researchers said that the project, which was initiated in July 2018 and is led by Fudan University and Zhangjiang National Lab, has achieved significant progresses in terms of basic research, applied technologies and industrialization.
In the field of platform construction, researchers said that a world-class brain and brain-inspired frontier research platform has been formed with the approval of the National Medical Center of Neurological Diseases.
Regarding basic research, the scientists have developed a series of world-leading brain-inspired intelligent algorithms, discovered the small molecule compounds of the protein that causes Huntington's disease, and developed a string of new paradigms for brain science experiments.
Regarding industrial application, the project has reached practical collaboration with multiple enterprises and institutions in autonomous driving, smart grid, smart logistics, rail transport, and smart diagnosis and treatment, and nearly 100 patent applications have been submitted.
"We expect that one day people would be able to undergo a brain checkup just as easily as they have a physical checkup today," said Feng Jianfeng, director of the Institute of Science and Technology for Brain-Inspired Intelligence of Fudan University.
The municipal project involves nearly 1,200 scientists specializing in computer science, neuroscience, information science, clinical medicine, and biological medical engineering from more than 100 institutions of higher education, scientific research institutions, enterprises, and hospitals at home and abroad.