Welder recognized for forging innovations
Share - WeChat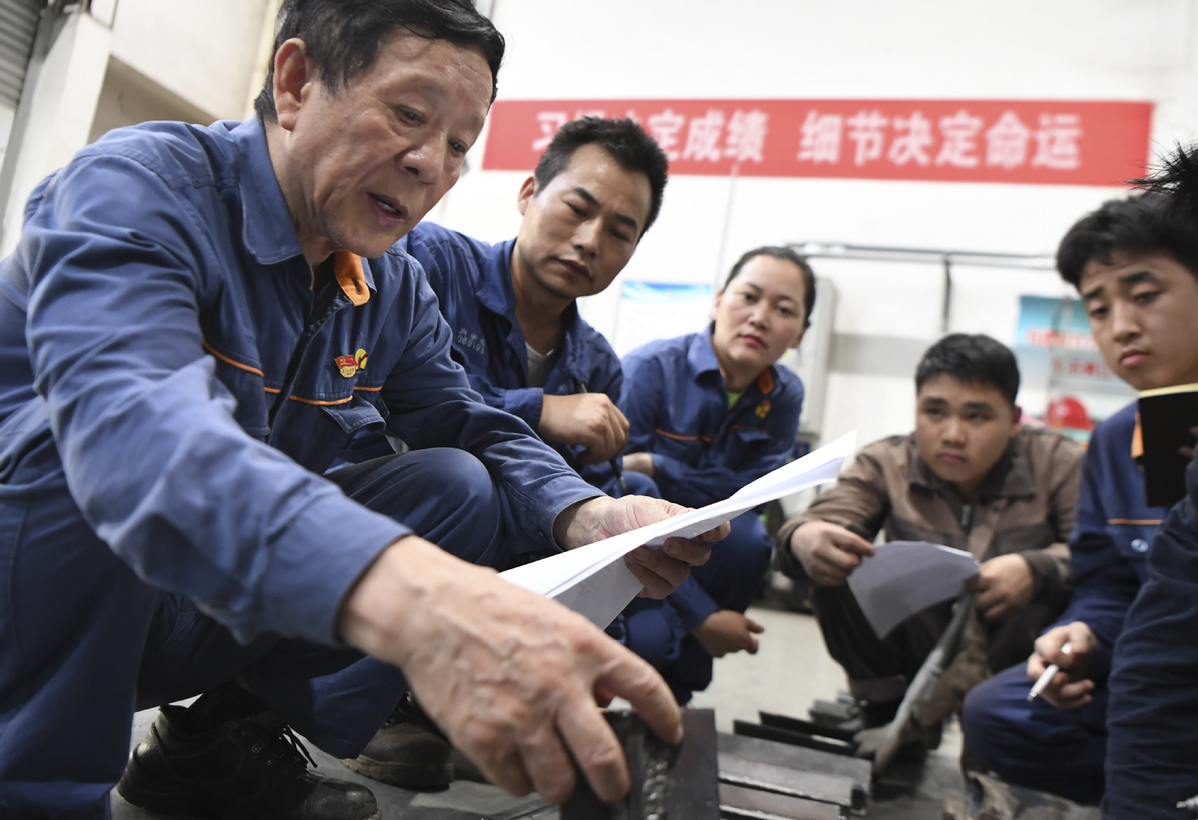 71-year-old inventor of welding techniques still in use delayed retirement to help company that made him a craftsman
With a surname that carries the meaning of "being patriotic", Ai Aiguo, a 71-year-old welder from Hunan province, has practiced his patriotism by promoting the nation's manufacturing industry for 50 years.
He was recently conferred with the July 1 Medal along with another 28 outstanding members of the Communist Party of China.
A former worker at what was known as the Xiangtan Iron and Steel Factory and is now Hunan Valin Xiangtan Iron and Steel, in 1969, the then 19-year-old Ai was a plumber. Welding was highly esteemed, but none of the workers at Xiangtan were considered qualified, so it was being undertaken instead by support workers from Beijing.
Ai carefully watched how these "Beijing experts" operated their oxygen and acetylene cylinders and repeatedly quizzed them during rest periods.
His interest and dedication eventually paid off when he was chosen as one of six candidates the Beijing welders planned to train to take over from them at the factory.
The training period was painstaking, not just because of the higher requirements for physical strength, but also due to the shortage of welding books and training materials. Whenever possible, Ai would borrow books for research and practice. He took six years to finish the course and was given his welding certificate in 1975.
Challenges and opportunities often coexist, and Ai seized an opportunity to improve radically by taking on a particularly difficult challenge in the 1980s.
In February 1984, the central government launched a campaign to develop new blast furnace tuyeres-nozzles through which air is forced into a smelter to raise temperatures-as high attrition rates among the country's existing tuyeres was severely hampering the productivity of the steel industry.
The most difficult parts of the project, due to the need to carefully control the high temperatures, were forge welding and casting red copper.
This work was due to be assigned to large-scale factories, while Xiangtan was only scheduled for simpler tasks.
Ai would not accept this division of labor and said that he and his co-workers were more than capable of welding red copper.
He then had to come up with a few ideas for how they could do that and proposed a welding method that remains popular today.
He also drafted a set of welding techniques, which finally persuaded the factory's managers to set up a working team to find solutions to the problems of casting and forge welding red copper.