Flowers leave a sweet smell in Chongming
Share - WeChat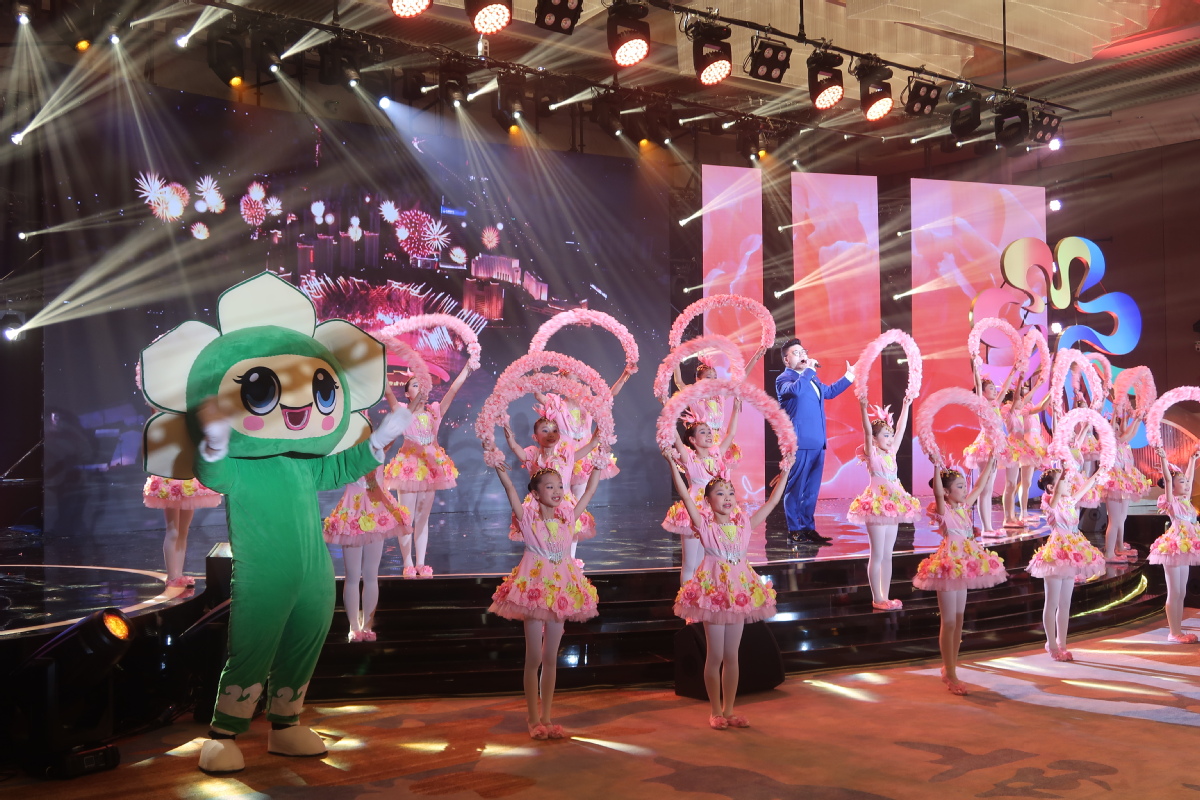 The 10th China Flower Expo concluded in Shanghai on Saturday, but its legacy will boost related industries on the host Chongming Island, which aims to become a force in international flower industrial chains by 2025.
Tang Zhiping, vice-mayor of Shanghai said, "The opening duration and scale of exhibits have set records in the expo's history."
A total of 189 exhibitors created 180 outdoor gardens and 64 indoor exhibitions for the expo that opened in May.
More than 20,000 flowers of 3,000 species were seen by 2 million people, and the virtual exhibition attracted 24 million online visits, said the organizing committee.
"The expo was made successful despite COVID-19 thanks to efforts from all the people and partners home and abroad," Tang said at the closing ceremony.
The venue for the expo will be turned into a park after maintenance is carried out in later half of July, when the major pavilions Fuxing Pavilion and Century Pavilion will continue to host flower-related exhibitions and part of the outdoor gardens will be kept open for tourists.
Gu Xiaojun, deputy director of the Shanghai municipal landscaping and city appearance administrative bureau, said, "The expo has made the 'flowery island on the sea' a name card for Chongming across the country as it's building itself into a world-class ecological island."
Several flower production bases have been built or are under construction on the island for the boom of flower consumption generated by the expo. In Gangyan township, a 1,160 mu asparagus field has been turned into flower planting field.
Chen Quansheng, deputy director of Chongming district agricultural technology promotion center, told Jiefang Daily, "We have made this place an experiment field to plant different flowers and 20 species suited to the local environment to be planted in large scale and sold on market in the future."
In Jianshe township, a horticulture center for bulb flowers, such as tulip and hyacinth, is under construction. it will have a 2,000-square-meter conservatory and six cold storages of 15,000 square meters.
Jiang Yong, chairman of the operating company of the center, told media that the construction will finish in October and the estimated annual output value will be 80 million yuan ($12.4 million).
The National Agricultural Science and Technology Achievements Transfer Service Center and a branch of the National Seed Industry Science and Technology Achievements Property Trading Center were also set up on Chongming duringthe expo.
Zheng Yichuan, deputy governor of Chongming, said the district, which has a diversity of agricultural resources, will put seed research and development, flower production and trade as its priorities in the next five years.
According to Zheng, the flower sector has grown fast in the past three years, with proportion rising from 0.6 to nearly 16 percent in the district's total agricultural production output in 2020.
"The expo has drawn a lot of investment in flower industry and in related rural development projects in Chongming," he said on a signing ceremony on June 25, when seven floriculture companies including Dutch flower breeding company Armada and Israeli flower innovation company Danziger inked strategic cooperation agreements with the district.
Chongming is currently the home to eight major floriculture companies whose total investment reaches nearly 2.5 billion yuan, and the district aims to become a highlight of flower industrial chain by 2025.
The expo also fueled the already hot leisure sector on the island, whose proximity to the downtown area and the good environment has made it an ideal weekend getaway for downtown residents in Shanghai.
The island has added more than 300 guesthouses since 2018. Wang Qiong, owner of a flower-themed bed and breakfast establishment "Flower Rain & Flower Side", said guests have kept coming since it opened early last year, especially during the expo.
"Growing up in Chongming, I decided to return to open the B&B when I learned the expo will be held in my hometown and I am so happy to see the island become a retreat destination for more and more people," she said.