A street of memories thrills spectators
Share - WeChat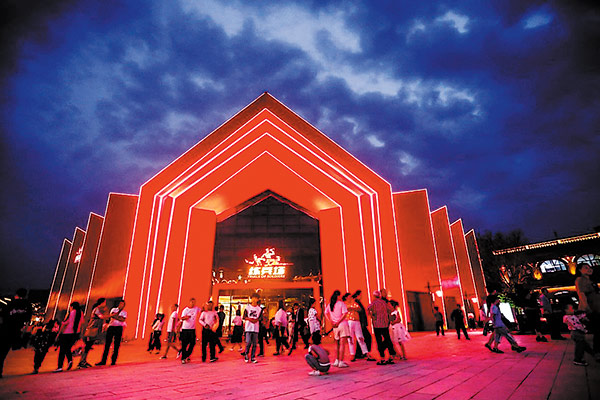 The performance area is over 4,500 square meters, and it can accommodate 300 people watching at the same time. Each performance is 45 minutes long, and rolling performances are carried out according to the flow of tourists. It uses the latest scientific and technological special effects to simulate real scenes, with the city's revolutionary history as the background. Four chapters sum up the experience-"a touching museum", "a seed of hope", "a windy and snowy road" and "an immortal flag". Part of the content makes full use of high-tech such as sound and light, real wind and snow, to create a multisensory interactive experience, allowing visitors to immerse themselves and relive the glorious years.
According to Wanda, the premiere on June 12 ushered in 12,412 people to watch. A tourist from Xi'an, Shaanxi province, says after seeing the immersive show, she was deeply touched by the revolutionary spirit reflected in the story. Tears moistened her eyes.
In the interactive military practicing ground, visitors can participate in classic scenes such as tunnel warfare and defending Yan'an, the largest live ammunition shooting range in the northwestern region with 24 targets. On the first day, the training ground registered 38,924 visits.
Li Qizhong, a Yan'an resident, says he was amazed by the red buildings and landscapes of the Red Street. "From the red-themed architectural assembly building, military training grounds and Long March theme trails throughout Red Street, I can relive the hot revolutionary years. I cannot help but receive a spiritual baptism," he says.