A street of memories thrills spectators
Share - WeChat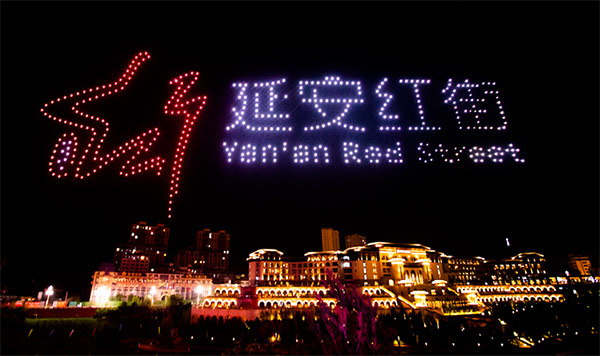 "At that time this place was full of cave dwellings. Now, it is full of high-rise buildings. In the past 40 years, these mountains were bare. Now it is great to see green mountains and clear water. Red Street is definitely a must for the local people to integrate their glorious revolutionary tradition into their daily life," he says.
Qin Wenlan, a tourist from East China's Zhejiang province agrees. "My mother is almost 80 years old, and she has a special affection for the revolutionary holy land. As soon as we arrived at the hotel in Yan'an, the waiter greeted us warmly and entertained us with dates and apples. I am also very happy to visit here to see the place where Chairman Mao lived with my own eyes."
The 1.5-kilometer-long street connects five red-themed squares from Meeting Square to Victory Square, symbolizing the 13-year glorious history of the Central Committee of the Communist Party of China in Yan'an. Red culture is prominent-the 148 merchants in the Red Street all operate with red cultural offerings. The management team ensured the street also offers a variety of functions, such as the Red Army Force-joining Experience Hall, Yan'an Art Museum, Red Memory Museum, Nanni Bay Production Museum, Red Coin Art Museum and the Red Wax Museum.
The large-scale immersive performance Back to Yan'an is one of the biggest highlights of Red Street. It is a Red Army situational drama created by director Zhang Dong. There are no seats in the venue and the audiences have to always catch up with heroes marching on the winding road to victory. Visitors can put on Red Army uniforms to have a more realistic experience.