Warehouse stores take on e-commerce
Share - WeChat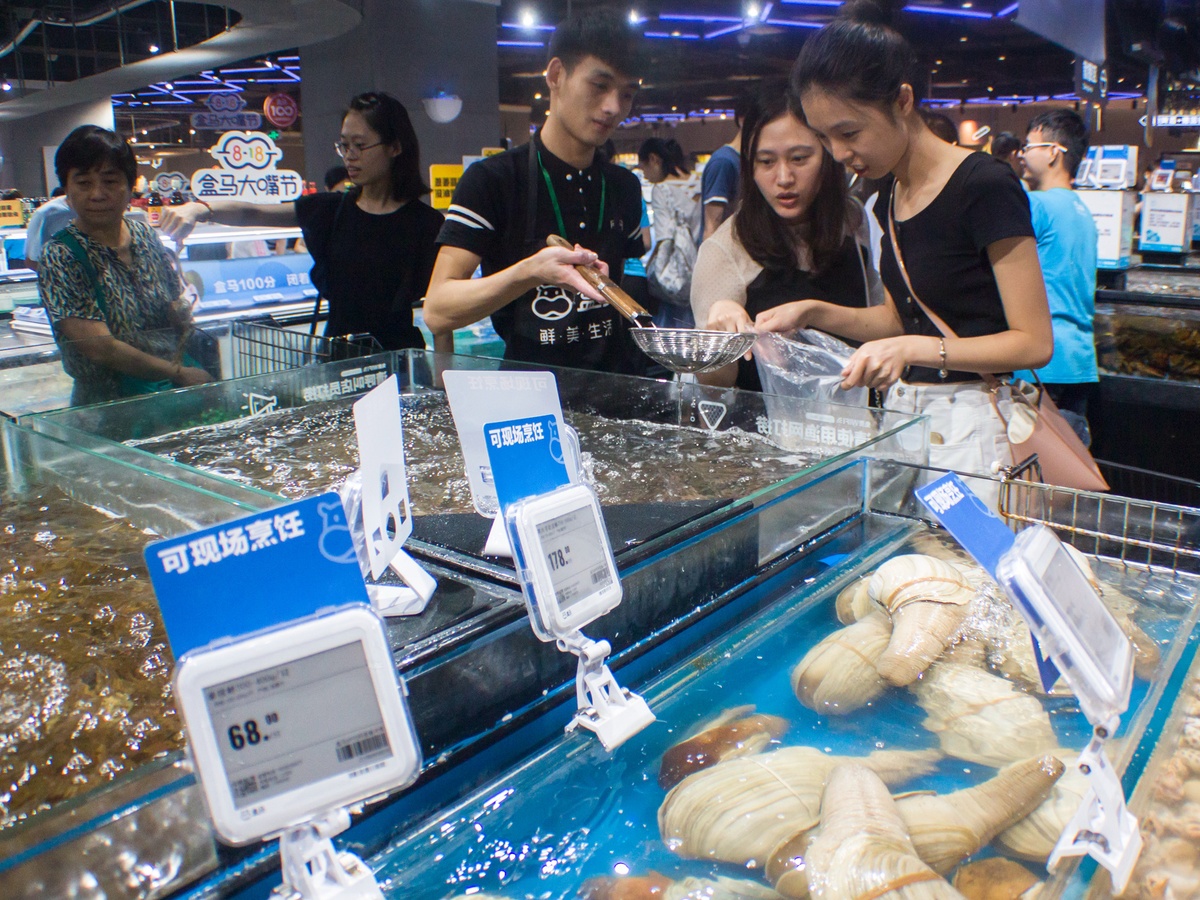 Members-only outlets mushrooming around country in response to challenge
Members-only warehouse stores are mushrooming nationwide, with two new Metro Plus stores-one in Beijing and one in Chengdu, Sichuan province-opening on Sunday and the launch of Hema Fresh X membership in Beijing in mid-June escalating a race among retailers that also include Sam's Club, a Walmart offshoot, and Costco, for a slice of the Chinese market.
However, the recent frenzy of transforming hypermarkets into membership outlets has triggered questions about whether it is the panacea for the struggling offline retail trade, which has lost ground to rapidly rising e-commerce amid the COVID-19 pandemic.
Located on the South Third Ring Road in Beijing, the Metro Plus store-in a renovated former hypermarket-saw big crowds and long queues on its opening day, even though membership costs 199 yuan ($30.80).
Many items, including blue lobster from France, cube-shaped water melon and pasteurized milk under its private brand, sold out on Sunday, said Chen Zhiyu, deputy CEO of Metro Commerce Group, which is now part of Beijing-based Wumart Group.
Covering 3,850 square meters and with 200 parking spaces, the one-floor outlet includes a cafe, a German beer bar and a children's play zone, all designed to create a place for shopping and leisure.
About 2,500 types of merchandise are carefully selected, with 40 percent of products imported or developed under Metro's private brands. Its target customers are urban women aged between 18 and 45 who are interested in quality products and a more convenient shopping experience for their three- to five-member families, said Zhou Yang, vice-president of Metro China.
Zhou said about 2 million of Metro China's 24 million members have paid membership, and their purchases generated more than 60 percent of its revenue last year.
The retailer has opened nearly 100 stores in 60 cities nationwide. In the future, Zhou said, it plans to transform all its existing stores into Metro Plus stores.
To stand out from the competition, Chen said Metro Plus has strengths from its deeply integrated digital shopping experience, which is powered by technology from collaborator Dmall (Beijing) E-Commerce Co.
Its digital transformation extends through in-store shopping, on-mobile-device selection, one-hour delivery within 5 kilometers and its entire operational system and supply chain, he added.
Jason Yu, managing director of consulting company Kantar Worldpanel Greater China, said e-commerce's expanded market share following the pandemic has put major pressure on brick-and-mortar retailers. That has seen membership-only retailing, which has proved successful for Costco and Sam's Club in China, become an answer for many retailers in the country.
Costco Wholesale of the United States has developed new projects in Zhejiang province, while Hema Fresh X aims to open 10 new membership stores this year. Sam's Club said it will open four to five new stores each year and expects to have 40 to 45 stores in operation or in the pipeline in China by the end of next year. The number currently stands at 32.
"The (membership-only) retailers want to build a holistic value proposition for their high value customers through superior offerings of products and service access and other added-value benefits," Yu said.
However, it takes more than charging membership fees or offering products in large packages to boost growth.
"A successful members-only warehouse requires a powerful supply chain, particularly in offering exclusive products, and a management perspective that values its members as long-term shareholders," Yu said. "It is a model that could be working in China but at the cost of short-term profitability. It is not a race for everyone."
Zhu Hong, 31, drove one hour and 20 minutes with her husband and daughter to shop at the first Hema Fresh X membership store in southern Beijing on June 18. The store covers 17,000 sq m and stocks 3,000 kinds of products.
She found many items at lower prices than in other members-only stores and spent 1,100 yuan on food and groceries, including beef and steak.
"I only hope they will open another membership store closer to my home," Zhu said. "It took us two hours to drive back that day."