Veteran recounts heroic tales of wartime
Share - WeChat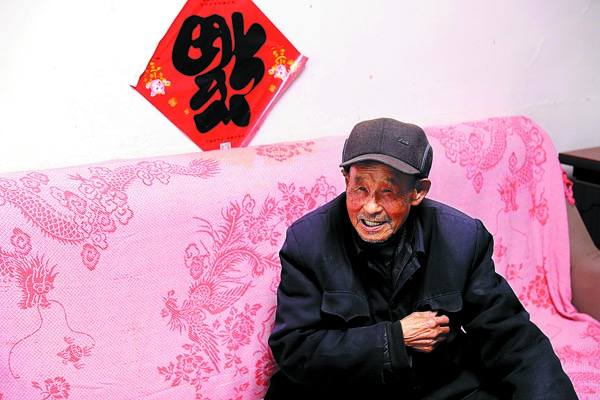 Wang Kechang, a 91-year-old former militia member from Zhucun village in Linshu county, Shandong's Linyi, possesses a true passion for telling young people touching stories about the war, in order to give them an insight into the "Yimeng spirit".
The spirit refers to the hard work, self-improvement and selfless dedication of the villagers living in the region around Yimeng Mountain areas.
When he was 18, Wang served as a militia member during the War of Liberation (1946-49), and was one of the more than 1.2 million people who supported the army at that time.
During the Huaihai Campaign, one of three major battles of the China's civil war, Wang often braved powder and shell to take supplies to armies fighting on the front line all the way from Shandong to Anhui province.
"People in our village supported the army in various ways such as collecting food for them, making shoes and taking care of the wounded," says Wang, adding that over 100 villagers joined the army.
At that time, the last bowl of rice was saved for the soldiers, the last piece of cloth was used for making military uniforms and the last son was sent to the battlefield, he recalls.
Wang attended the parade during the celebration of the 70th anniversary of the founding of the People's Republic of China in 2019, receiving the people's salute as a representative of those who supported the army.
He says that Zhucun has kept a special Spring Festival custom for 77 years. Every year, on the first day of Lunar New Year, villagers bring the first bowl of dumplings and some flowers to the monument of the heroes who died in the War of Resistance Against Japanese Aggression (1931-45).
A troop from the Eighth Route Army bravely fought against more than 500 invaders at Zhucun for more than six hours on Jan 24, 1944, which was also the eve of Spring Festival that year. The enemies were defeated, but 24 soldiers of the Eighth Route Army lost their lives.
The rest of the troop turned down a Spring Festival's eve dinner from villagers for fear of the trouble it might bring to the village after the fight ended. The next day, villagers came together voluntarily to mourn the 24 soldiers who died in the fight.
"Our good life doesn't come easily," he says.
Today, Wang and his wife run a general store in the village. "Great changes have taken place in our life," says Wang.
"For example, public security, the local environment and medical conditions have all been improved. We can also apply for reimbursement if we fall ill.
"I want to live longer," he says.
Wang watches TV every night, from which he learns about what happens on the global stage. What makes Wang even prouder is that his grandson now serves in the People's Liberation Army's rocket force.
Most Popular