Poor students score top marks thanks to financial aid programs
Share - WeChat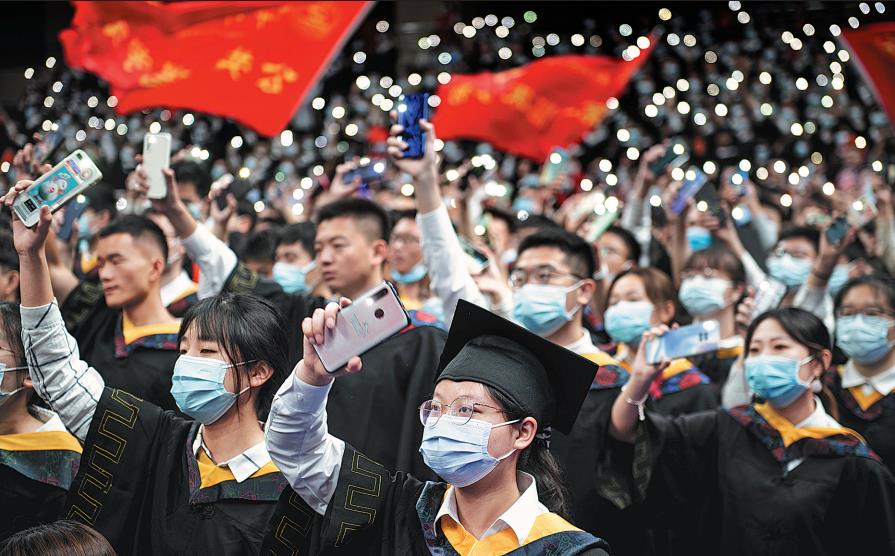 Expanding access to learning, building world-class universities part of plan to become global education hub by midcentury
Editor's note: To celebrate the 100th anniversary of the founding of the Communist Party of China, China Daily is publishing a series of stories on the changes and developments in various fields and industries.
When Alu Shabu was 15, he considered dropping out of school after his father and uncle passed away on the same day.
Born in a mountainous village in Ebian Yi autonomous county in Sichuan province, the impoverished ethnic Yi family was left with only their mother to rely on.
Shabu had a younger brother, a younger sister and three cousins, and with his aunt leaving the family, his mother had to support the two families of six children aged between 5 and 16, by running a convenience shop.
He was in ninth grade at the time, and thought about leaving school to help his mother. He was dissuaded by teachers, who told him that he could apply for government financial aid when he got to high school. In China, education is compulsory for nine years from first to ninth grade.
Good grades gained Shabu admittance to a well-regarded high school in Mianyang city, and his tuition fees were exempted.
During national college entrance exams in 2013, he scored 645 out of a possible 750 and was enrolled in Beijing Jiaotong University. All his relatives pitched in to scrape together 3,000 yuan ($463.5) to help support the first college student in the extended family.
Aside from interest-free loans, which covered tuition and dormitory fees, he was also able to get scholarships, grants and subsidies, to meet his living expenses.
Financial aid
Shabu was one of the millions of beneficiaries of the country's financial aid system for university students.
China established the national system for impoverished college students, higher-level vocational students and secondary vocational students in 2007, and in 2009, the government pledged to "not allow any student to drop out of school because of financial difficulties".
In 2011, with support from schools, public donations and increased official investment, a government-led financial aid system was established to cover students from the preschool to the postgraduate level.
All students undergoing compulsory education-primary school to junior high school-are now exempt from tuition fees and provided with free textbooks.
Moreover, a multifaceted aid program has been established for college students, which includes national scholarships, grants and interest-free loans, school scholarships and grants, subsidies for students from impoverished families, meal subsidies and tuition fee reductions and exemptions.
Additionally, a "green channel" has been established to allow freshmen with financial difficulties to register at colleges or universities, by offering interest-free loans to cover both tuition and accommodation.
According to the Ministry of Education, a total of 773.9 billion yuan was allocated to impoverished students during the 13th Five-Year Plan period (2016-20).
According to the National Center for Student Financial Aid, a total of 131.7 billion yuan in financial aid was allocated in 2019.
Figures for financial aid rose for the 13th consecutive year in 2019, reaching 212.6 billion yuan, 4 percent higher than in 2018.