Poor students score top marks thanks to financial aid programs
Share - WeChat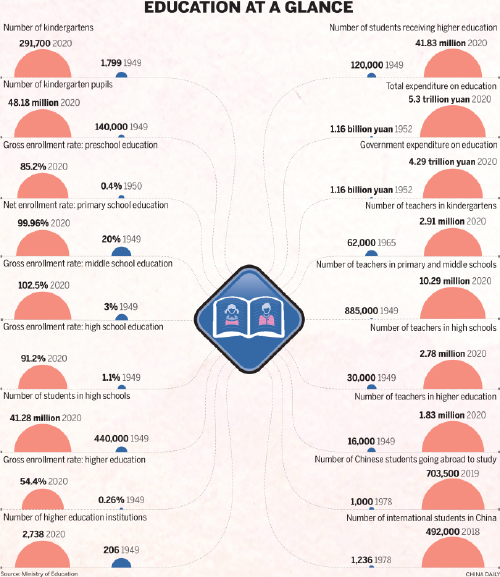 Positive achievements
Last year, China spent more than 5.3 trillion yuan on education, up approximately 5.65 percent from 2019, according to statistics released by the Ministry of Education. They indicate that about 4.3 trillion yuan, or over 80 percent of the total, came from government budgetary spending.
Around 1.4 trillion yuan was spent on higher education, up by 3.99 percent from the previous year. The country has made positive achievements in developing higher education, according to the National Bureau of Statistics.
Citing data from the seventh national census, Ning Jizhe, head of the NBS, said that education levels have continuously improved and that the number of people who have received or are receiving college-level education reached 218.36 million. This amounts to a rate of 15,467 per 100,000 people, an increase on the rate of 8,930 per 100,000 recorded in 2010.
The gross enrollment rate in tertiary education increased from 0.26 percent in 1949 to 51.6 percent in 2019, according to the Ministry of Education.
Hong Dayong, director of the ministry's Department of Degree Management and Postgraduate Education, said that 3.39 million students obtained master's degrees and 333,000 earned doctoral degrees in China during the 13th Five-Year Plan period (2016-20).
Three million Chinese students were pursuing postgraduate studies at domestic universities or research institutes in 2020, and the country has more than 460,000 postgraduate supervisors, up by almost 100,000 from 2015.
Lei Chaozi, director of the ministry's Department of Science and Technology, said higher education institutions have built more than 60 percent of key national laboratories and staff members account for over 60 percent of national high-level talent.
The country invested 782 billion yuan in scientific research and development at tertiary institutions from 2016 to 2019, he added.
Qu Zhenyuan, former Party secretary of China Agricultural University, said that there are two standards by which to judge the level of a country's higher education: enrollment rates and the number of world-class universities.
Under the strong leadership of the CPC, China has made notable achievements in higher education and in ensuring that all students have equal access, he said in an interview with Guangming Daily.
In 2017, the country launched the Double World-Class Project, which aims to build the world-class universities and establish first-class disciplines at a global level. The goal is to establish 42 world-class universities, and to have 456 world-class disciplines being taught at 95 universities by the middle of the century.
According to the plan, by 2050, the number of world-class Chinese universities and disciplines will have risen massively. The country will be at the top of world rankings, and will have a strong higher education system.
Qu said the new project seeks to cultivate world-class talent and achieve breakthroughs in world-class scientific research.
Although educational resources are limited, the Party has taken effective measures to improve the accessibility and quality of higher education, to make sure more people are receiving higher education and to advance the building of world-class universities simultaneously, he said.
In the latest QS World University Rankings, a study published by London-based educational analysts, Quacquarelli Symonds, two Chinese mainland universities, Tsinghua and Peking University, rank among the world's top 20 for the first time.
Fudan University rose three places to 31st and Zhejiang University rose eight places to 45th. Both universities achieved their best-ever rankings.
Ben Sowter, QS director of research, said no higher education system in the world has made the kind of achievements China has in the past decade, and that there were no Chinese mainland universities in the top 20 just five years ago.
Chinese universities have won global recognition and become world-leading producers of academic research, thanks to the investment of the Chinese government in higher education and its strong education development strategy, he said.