New theme park project showcases Sino-US cooperation
Share - WeChat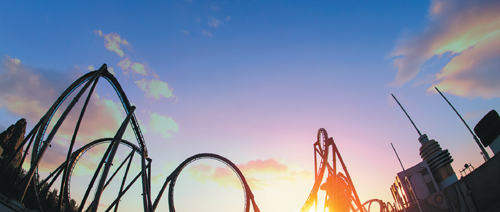 Opening of Universal Beijing Resort eagerly awaited
The long-awaited Universal Beijing Resort, which will be the largest of its kind in the world after its scheduled opening in the second half of this year, stands as a prime example of cooperation between China and the United States in recent decades.
The project was proposed 20 years ago, when the Beijing Tourism Group had the idea of building a Universal Studios park in the Chinese capital, as it realized that people were no longer satisfied with routine sightseeing and wanted to have other forms of entertainment.
Song Yu, chairman of the group, said in an exclusive interview with China Daily, "The resort showcases Sino-American cooperation, especially in the private and business sectors, despite the two governments' different political views.
"Relations between China and the US have had ups and downs in the past 20 years, but our project was finally nailed down and has become reality. This shows the deep trust between the Beijing Tourism Group and our US partner Universal Parks & Resorts, a business unit of Comcast NBCUniversal."
Entering the resort via Universal CityWalk, an open street with restaurants and shops, visitors could feel as if they had been transported to the US, but for a number of Beijing-style eateries, which blend perfectly with their surroundings.
The venue features the Universal Studios Beijing theme park, Universal CityWalk Beijing and two hotels-the Universal Studios Grand Hotel and the NUO Resort Hotel.
It is the first time that the US company has invested in a Universal-branded hotel worldwide, highlighting its confidence in the Chinese market.
The venue is owned by Beijing International Resort Co, a joint venture between Beijing Shouhuan Cultural Tourism Investment Co and Universal Parks & Resorts.
Beijing Shouhuan Cultural Tourism Investment Co is a subsidiary of Beijing Tourism Group, one of the leading players in China's tourism and hospitality sector.
"Different from other projects with such a big investment scale (dozens of billions of dollars), which are usually led by governments, UBR has been initiated and carried forward mainly by companies," Song said.
"This has brought obvious benefits and helped the two sides make full use of each other's advantages. It's a definite win-win.
"Beijing Tourism Group has a mature business structure, including tourist, culture, hotels and transportation units, which can integrate many resources for the resort's future operation. Our US partner has strong competence in cultural areas-especially entertainment, innovation and design-as well as rich operational experience in theme parks.
"The two companies are a perfect match. The central government has attached great importance to innovation products and has been very supportive of this project."