Festival promotes Sichuan cuisine worldwide
Share - WeChat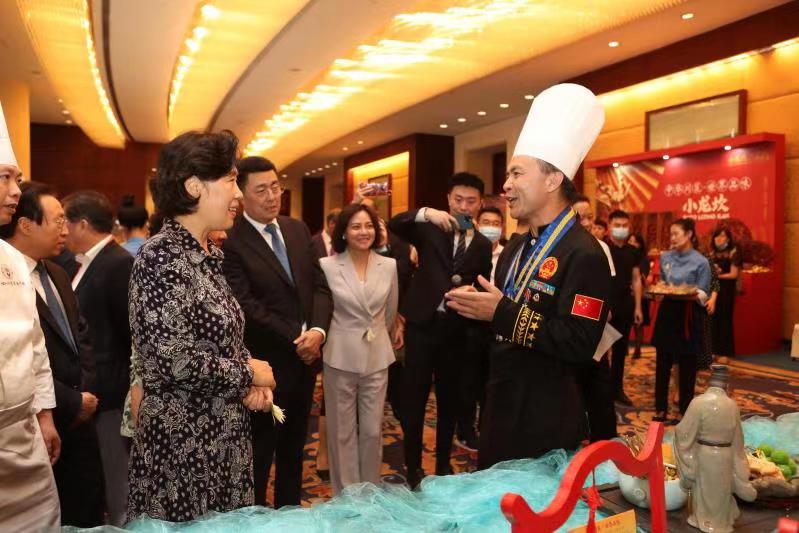 The Sichuan Food Festival, part of the sixth Sichuan Overseas Chinese Association Conference, was held in Chengdu on Monday.
A Sichuan food exhibition area set up under the guidance of the Sichuan Department of Commerce offered 20 famous dishes for tasting.
Drawing around 300 participants from home and abroad, the event aimed to promote Sichuan food and make it better known overseas, organizers said.
To display the time-honored Sichuan culture, festival organizers arranged traditional performances of dragon drum, martial arts, Sichuan Opera and changing faces.
Sichuan is known as a land of abundance and its capital, Chengdu, is the second in the world and the first in Asia to be named a City of Gastronomy by UNESCO, said Tian Xiangli, a member of the Communist Party of China Sichuan Standing Committee and head of the United Front Work Department of the CPC Sichuan Provincial Committee.
With frequent exchanges between Sichuan and other parts of the world in recent years, the province's cuisine has taken root all over the world and become a beautiful calling card for cultural exchanges between China and foreign countries, Tian said.
The Sichuan Food Festival is a key diplomatic brand. In recent years, the event has been held in foreign cities and at important foreign landmarks such as the Palais des Nations in Geneva, Switzerland, and Palais Niederosterreich in Vienna, Austria, with the participation of a number of Sichuan enterprises.
Leaders of visiting countries and important international organizations and Chinese envoys abroad attended the festival.