Chinese electric bikes silently ply streets overseas amid carbon-free revolution
Share - WeChat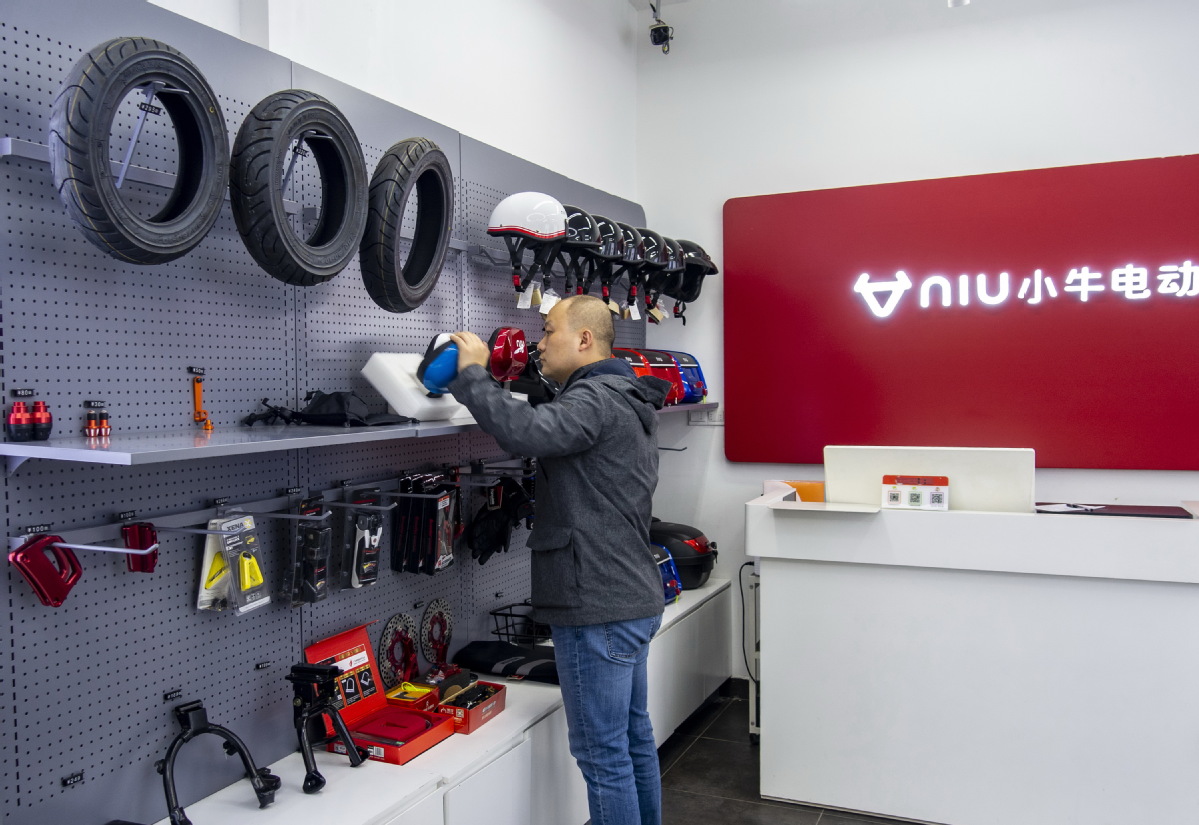 Chinese smart electric scooter player Niu Technologies is riding high on the streets of Europe and the United States and is looking to penetrate even more markets in the near future, CEO Li Yan said in an interview with China Daily.
"Globalization is no doubt one of our important strategies going forward. We are looking to beef up our presence in more countries and regions, including Southeast Asia this year," Li said.
Unlike other Chinese firms going global, Li said the Beijing-based company chose to first settle down in developed economies like Europe and the US, which boast strong capabilities in manufacturing and have very strict requirements for electric products.
"It took us nearly a year to remold the vehicle to suit local requirements in Germany, the first country we entered, which has extremely strict industry standards for e-scooters," he said.
By the first quarter of this year, Niu has expanded its presence to over 48 nations and regions and has over 120 stores overseas. Germany remains the largest overseas market in terms of sales, followed by the US, the Netherlands, Italy and France.
"At the same time, we see huge development potential in markets like Europe, as the majority of countries have been pursuing new energy and green development. Local customers are able to get subsidies if they buy new energy cars or scooters," Li said.
The European Union is on track to get roughly 33 percent of its energy from renewables by 2030. Its use of renewables varies significantly across sectors, including transportation and energy consumption.
Alongside plans to rapidly expand the number of electric vehicles on Europe's roads by 2030, the EU said it is planning "target-based measures" for hydrogen use in transport modes that will struggle to electrify quickly.
In addition to directly selling e-scooters, Li said the company is also expanding support for sharing businesses globally with 20 sharing operators in 13 countries providing SaaS solutions for shared electric two-wheelers.
"Compared with foreign companies in the field, a sound supply chain is one of our core competitive strengths. We currently make electric two-wheelers in China's eastern city of Changzhou," Li said.
"We are also doubling our manufacturing capacity to hit over 2 million annually from the second half of this year, up from 1 million currently," he added.
Since its founding, Niu Technologies has been striving to develop and use lithium battery technology. Compared with traditional lead-acid batteries, its lithium batteries have longer life spans, longer ranges and are more lightweight.
"Technology will be our other competitive advantage. The proportion of research and development expenses hit 4.3 percent of total revenue last year," Li said.
"We are the first lifestyle brand company in urban travel. Through Niu Inspire big data, we are able to analyze cycling data to generate a better experience for users," he added.
Its fiscal report showed that the company realized 547.3 million yuan ($85 million) in revenue in the first quarter, an increase of 135 percent year-on-year. The number of e-scooters sold reached 149,649, up 272.6 percent year-on-year.
Although the number of Niu e-scooters sold overseas fell 14.5 percent year-on-year, the company's international sales network expanded to 39 distributors covering 48 countries and regions.
"The international sales volume decreased mainly due to COVID-19, especially the recent lockdowns in Europe, and a more challenging environment for international shipping," Li said.
"But I am still confident in future growth, as people from around the world are actively embracing the two-wheelers," he added.
"Whether it is four-wheeled or two-wheeled, the oil-to-electric conversion of traditional cars has become an irreversible trend," Li said.
Niu currently has a streamlined product portfolio consisting of seven series. Its MQi and UQi models are the only urban mobility products that have won all seven major international design awards in the past 20 years, including Red Dot and iF in Germany, IDEA in the United States and G-Mark in Japan.