Monitors constantly track elephants, warn villagers
Share - WeChat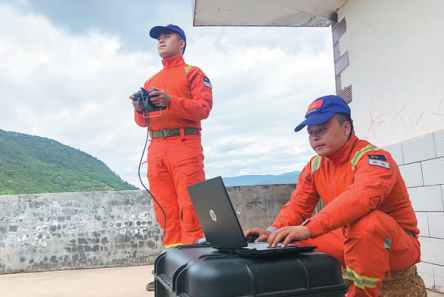 Monitors in Yunnan province have managed to closely follow a herd of wild Asian elephants that has trekked far away from its traditional habitat. They work around the clock, alerting communities that the animals are approaching.
The monitoring is not easy in the rugged, bush-covered terrain of Yuxi, Yunnan province.
"As a local saying goes, even though you see the mountain is just in front of you, the journey to reach it may exhaust your horse," said Yang Xiangyu, an officer in Yunnan's forest fire control service who heads the monitoring work.
The herd they are watching left the Xishuangbanna National Nature Reserve late last year and started marching north. In the past week, it has been roaming in a small area in Shijie township.
The herd has become an online sensation in China, as it's unusual to see elephants traveling that far north.
While 14 of them stay together, a male that left the herd on June 6 is still roaming alone. On Monday, the male elephant was 17.4 kilometers away from his group, according to local authorities.
Yang said his team, which began the monitoring on May 27, was greatly relieved by the arrival of eight officers sent from Dali, Yunnan, on Thursday, increasing the number of monitors to 20.
"It was not unusual for us to sleep for only two to three hours a day before Thursday," he said.
Yang said the area's constant rain in recent days has made the monitoring work a lot more challenging.
The rain has sometimes been so heavy that unmanned aerial vehicles don't work. In such a situation, monitors with infrared viewing equipment must traverse the rugged mountain region to continue tracking the elephants.
Danger sometimes comes suddenly. Once, when the monitors were taking equipment to a better location to continue their work, they found that the herd was on a road only 20 meters away from their car, Yang recalled.
"We turned off the engine and lights. All of us held our breath," he said, adding that they were lucky because the herd left just five minutes later.
About 100 heavy-duty trucks are on standby while the monitoring work is conducted. They will be used as roadblocks to prevent the animals from entering villages.
Zhang Shijie, a drone operator with the team, said the monitors are in close contact with local village committees and people in charge of setting up roadblocks.
Once the elephants approach a village, warning messages are broadcast using loudspeakers or sent via instant messaging apps, alerting people to take precautionary measures, he said.
The team's consistent work has brought local residents a great sense of relief.
"I had been scared," said 44-year-old Zhang Zhonglin, a resident of Nanshan village. However, because villagers were given an early warning every time the herd came down the hill while roaming, he added, "I feel very safe now."
Asian elephants, listed as endangered on the International Union for Conservation of Nature's Red List of Threatened Species, are under the highest level of State protection in China.
Thanks to the country's conservation efforts, the population of wild Asian elephants has increased from about 170 in the 1970s to about 300 now.