Drama tells arduous path of settlement
Share - WeChat Character's prototype recalls efforts to found village against all odds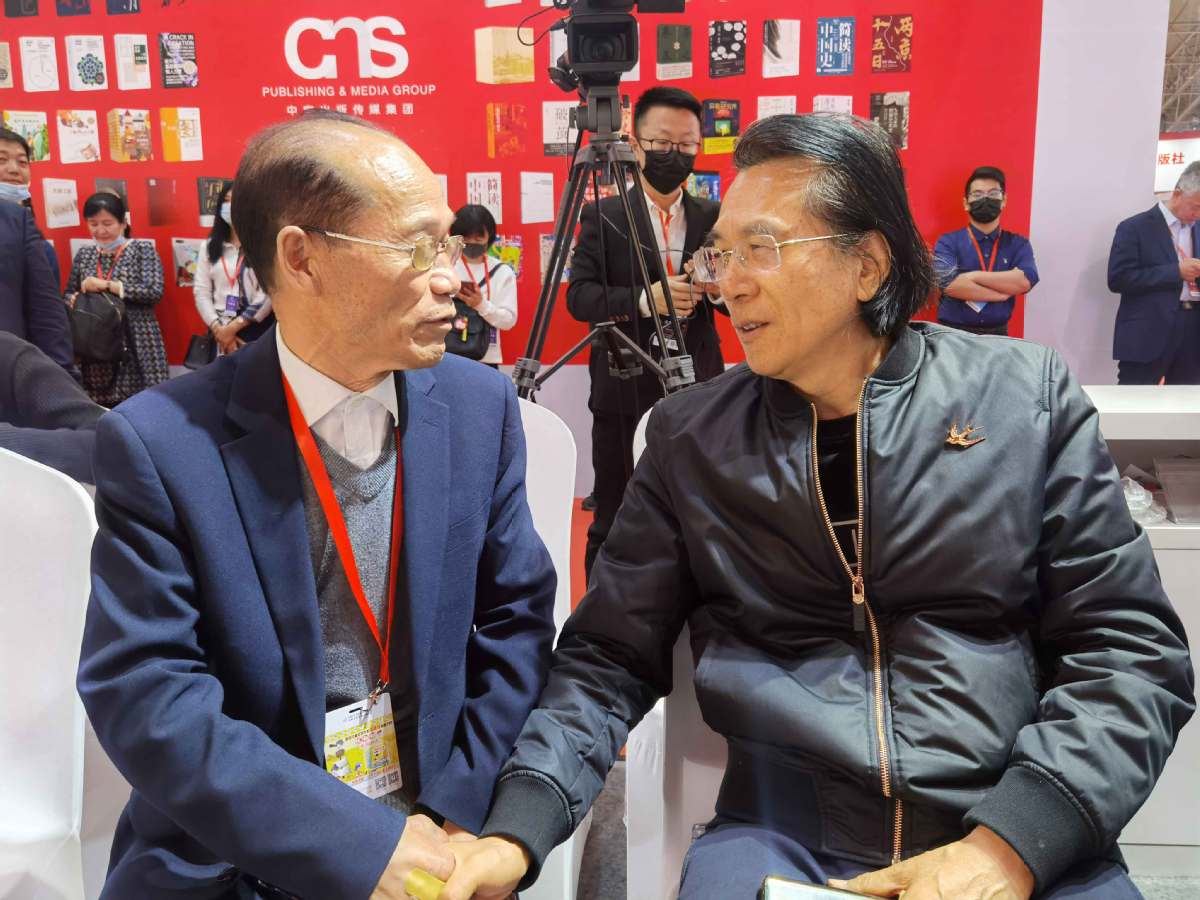 Xie Xingchang said the character in the popular drama Minning Town who was based on him was true to life, and that the actor played the role vividly. "Only our efforts were more arduous than the drama depicted," the 66-year-old said.
As one of the main protagonists in the show, a young grassroots official named Ma Defu leads a relocation program in southern Ningxia Hui autonomous region to help villagers escape poverty by moving them northward to a more habitable place.
Ma, played by Huang Xuan, a famous actor from Gansu province, won many fans for his devotion to the villagers and his struggles to make the relocation happen. Showing a photo of him posing with the actor, Xie said that to learn more about the real life events that inspired the show, which took place around 20 years ago, Huang visited him before shooting.
In 1997, Fujian officials visited Xiji county in southern Ningxia province and proposed that the two regions cooperate to relocate villagers from the deep mountains. Having graduated from a nursing school, Xie was more educated than others and recognized the opportunity to turn around their impoverished lives.
"I was excited by the news and was thinking about persuading the villagers to move out," Xie said, adding that a life beyond the mountains offered hope.
But the designated relocation site-an empty stretch of the Gobi Desert-did not appeal to him. There was nothing living in the place that would later be named Minning township.
In July 1997, the groundbreaking ceremony held in the desert in Yongning county near Yinchuan, in northern Ningxia, changed Xie's view of the proposal.
"Fujian would help us build our new village, not only by allocating funds, but by sending technicians to help us develop businesses. Suddenly, my perception of the place was totally different. I decided to move," he said.
Xie knew the arid land would not persuade villagers to move with him, so he picked corncobs and sorghum as he passed by farmland 4 kilometers from the proposed site of Minning township. "These crops proved the land was capable of growing grain," Xie told Xinhua News Agency.
After organizing two meetings, 13 households agreed to move. It took 12 hours by motorcycle to reach Minning, which was 400 kilometers from their village in Xiji. They slept on blankets the first night and began building houses the following day.
"A dust storm blew in suddenly in the evening, just as we were about to eat dinner. We tried to hold onto the ropes, but the storm blew away our tents and nearly all our belongings. A pot my wife held onto and a quilt were all we had left," Xie said, adding that he never forgot that first storm.
The storm also blew away the villagers' confidence in their new home, and some began to shout that they wanted to return to their former village. Xie took them to a nearby farm and vineyard, trying to persuade them to stay.
Later, he dug a dozen underground shelters with an excavator and used plastic sheets for roofing to keep out wind and rain.
The first houses were finished in the winter. Xie and the villagers moved into the mud houses and finally settled in.
Without electricity, there was little to do in the new settlement. Xie's family of seven ate noodles by candle light on Chinese New Year's Eve. "My wife and I were sitting in the desert and counting passing trains," he recalled.
As Party chief of what was then Minning village, Xie opened a clinic by borrowing money from a credit cooperative.
In 1999, under the pairing initiative, Fujian government lent villagers 3,000 yuan each and sent experts to teach them how to grow button mushrooms. Xie also set up two mushroom greenhouses.
The crop brought in a great deal of money, but the market became saturated.
"The villagers weren't able to repay their loans, so Fujian officials bought them for more than market price, stored them in a freezer and tried to export them to other places," Xie told local news portal Nxnews.
He began to grow goji berries and grapes, exploring other potential crops. Now, villagers grow a number of different cash crops, undergo training, leave the village for work and get involved in entrepreneurship, he said.
Since retiring as village Party chief this year, Xie volunteers as a guide at the Minning history museum. "When I brought villagers to the Gobi Desert to start businesses," he tells visitors, "I basically thought prospects were positive, but I never expected things to develop so well."