County witnesses stunning green success story
By WANG HAO,CAO DESHENG and HU MEIDONG in Changting county, Fujian | China Daily Global | Updated: 2021-06-10 07:01




Share - WeChat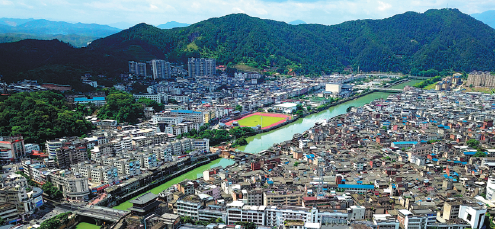 Villagers in Fujian respond to calls by central government
Changting, a county in Fujian province, is said to possess "Red genes" from the time it served as a Red Army base in the early 1930s. However, over the past two decades the county has also emerged as a role model in pursuing green development after resolving a decades-old soil erosion problem.
Its residents, who were stricken by poverty and poor environmental conditions, have been the immediate beneficiaries of the transformation, one of them being Fu Muqing, 52, a farmer from Shangjie village.
After acquiring more than 200 hectares of farmland, Fu, who grows high-yield rice on a large scale in Changting, has managed to attain a standard of living he little imagined 20 years ago.
The achievements he has made in his agribusiness have involved a considerable amount of hard work, as the mountainous village used to experience extremely serious soil erosion and water loss, as did the entire county.
Fu first tried his hand at developing industrial agriculture in 2007, when he contracted 3.3 hectares of farmland for a rice plantation. Since then, his business has continued to expand, in line with calls by the central government to promote the intensive use of farmland to develop modern agriculture.
He has succeeded to a large extent due to efforts by generations of locals to prevent soil erosion in the county. The bare mountains in Shangjie are now covered in greenery, bringing both environmental and economic benefits.
"We are now striving to follow government policies to pursue high-quality growth for a better life," Fu said.
A survey conducted in 1985 by the local government found that nearly 100,000 hectares of land in Changting were subject to soil erosion-one-third of the county's total area. The exposed red earth earned the area the nickname "flaming mountain". After decades of efforts, the county has undergone a complete transformation, with few traces of the past remaining.
Last year, the proportion of forest coverage in Changting reached 80 percent, with 16.23 million square kilometers of forest and 275.35 sq km of nature reserve, according to the local authorities.
Changting has a well-earned reputation for its efforts to control water loss and soil erosion.
President Xi Jinping has called for efforts to tackle such problems to be advanced nationwide by using the "Chanting experience", as China strives to build an ecological civilization in which sustainable development is key.
However, decades ago, life was markedly different in Changting. Locals said that in those days, the county was home to bare mountains, muddy water, barren land and poverty-stricken people.
Experts said natural factors such as landforms, climate, soil type and vegetation contributed to soil erosion locally, but human destruction of the environment made matters worse.