FAW looks to rev up auto sales this year
Share - WeChat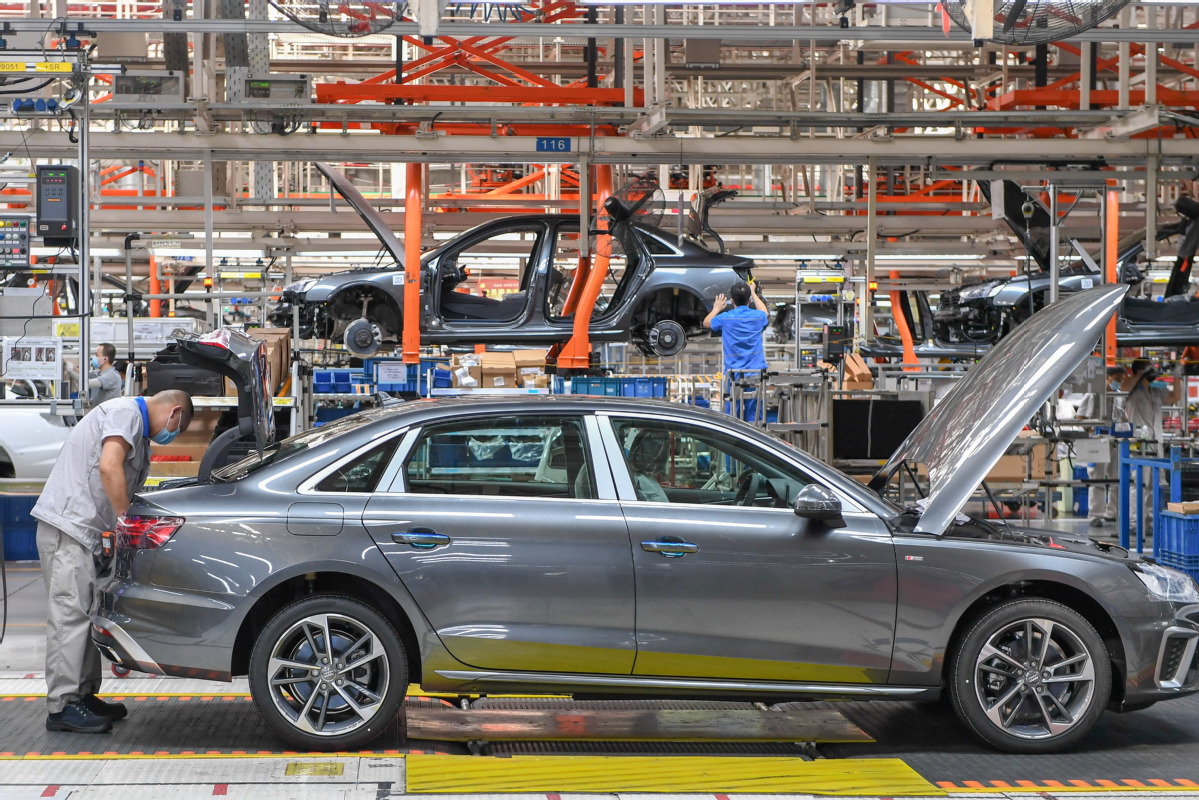 China FAW Group Co Ltd, a Changchun, Jilin province-based State-owned automaker, plans to boost its global sales by 7.9 percent on a yearly basis to over 4 million units this year, said senior executives.
They said opportunities will come from consumption recoveries in many regions around the world, China's long-term status as the world's largest market for electric vehicles and surging consumer demand for digital vehicles with more digital bells and whistles and customized services, making it especially appealing to the younger generation.
Liu Yigong, FAW's vice-president, said the company has already set up major research projects to compete with other established rivals both at home and abroad, and has invested in three new energy business lines-pure electric, hybrid and fuel cells-to push sales of its electric vehicles as well as establish a design center in Munich, Germany, and a research and development facility for trucks in Austria.
In the field of intelligent network connectivity, the company has been focusing on holding key technologies and stepping up the construction of an innovation and test base in Changchun for applying such technologies to remain competitive in the market.
As many foreign auto suppliers have further expanded their market presence in China-in particular in the fields of electrification and autonomous driving-FAW plans to invest 110 billion yuan ($16.2 billion) in new technologies and products such as new energy, connectivity and smart vehicles during the 14th Five-Year Plan period (2021-25).
Thanks to its growing investment in R&D, particularly in areas including modern design, digital and electric power-related technologies, Hongqi-one of FAW's pillar brands-posted rising sales in the first four months.
A total of 118,000 Hongqi vehicles were sold worldwide from January to May, up 116 percent year-on-year, he said, adding that the brand has also rolled out multiple high-end models as well as new energy vehicles.
Hongqi, or "red flag" in Chinese, is an iconic domestic sedan brand. Established in 1958, the brand is often used in parades during national celebrations.
Aside from seizing more market share at home, FAW launched four Hongqi models, including the H5 and H9 sedans, and the HS5 and HS7 SUV models in Saudi Arabia in mid-April. The vehicle group sold 46 Hongqi units to consumers in the country that time.
Yang Dayong, general manager of FAW's overseas business department, said Hongqi has accelerated its pace in overseas markets and in brand internationalization. Its overseas sales network covers the Middle East, Europe, Southeast Asia and other regions.
"In response to the country's dual-circulation development pattern and its call to take control of key and core technologies, FAW will form more partnerships with research institutes and companies in other sectors to upgrade its product range amid the wider industry shift toward developing intelligent connected vehicles," said Liu Zhongchen, director of FAW's office for deepening overall reform.
The dual-circulation growth pattern underlines that internal economic circulation will be the mainstay of economic growth from now on even as the domestic and external markets complement each other.
The brand will launch 17 new models by 2025 to cater to a younger customer base and thus cultivate a larger following, Liu said.
As the government has pledged continuous efforts to level the playing field for private companies and rolled out steps to broaden market access, FAW partnered with Contemporary Amperex Technology Co Ltd, the largest automotive lithium-ion battery maker by production volume in China, in 2020.
Amperex is a private sector company based in Fujian province. The two companies began running a manufacturing facility to produce batteries for electric vehicles in Ningde, Fujian province, late last month. The batteries manufactured at the facility are designed to meet the requirements of FAW's electric vehicles.
To maintain solid economic fundamentals, the government has emphasized the importance of focusing on the "six priorities" of safeguarding employment, people's livelihoods, the development of market entities, food and energy security, stable operation of industrial and supply chains and the smooth functioning of society.
Chen Bin, executive vice-president of the China Machinery Industry Federation in Beijing, said it is vital for China to boost exports in sectors such as passenger vehicles, electronics, clothing and foodstuffs as they involve large numbers of upstream and downstream industries with millions of workers.
A healthy growth of the automobile industry can benefit rubber material providers, refinery companies, glass, tire, steel, sensor, gearbox and battery manufacturers, as well as road project contractors, digital maps and insurance services, Chen added.