Restaurateur brings flavor of success to countryside
Share - WeChat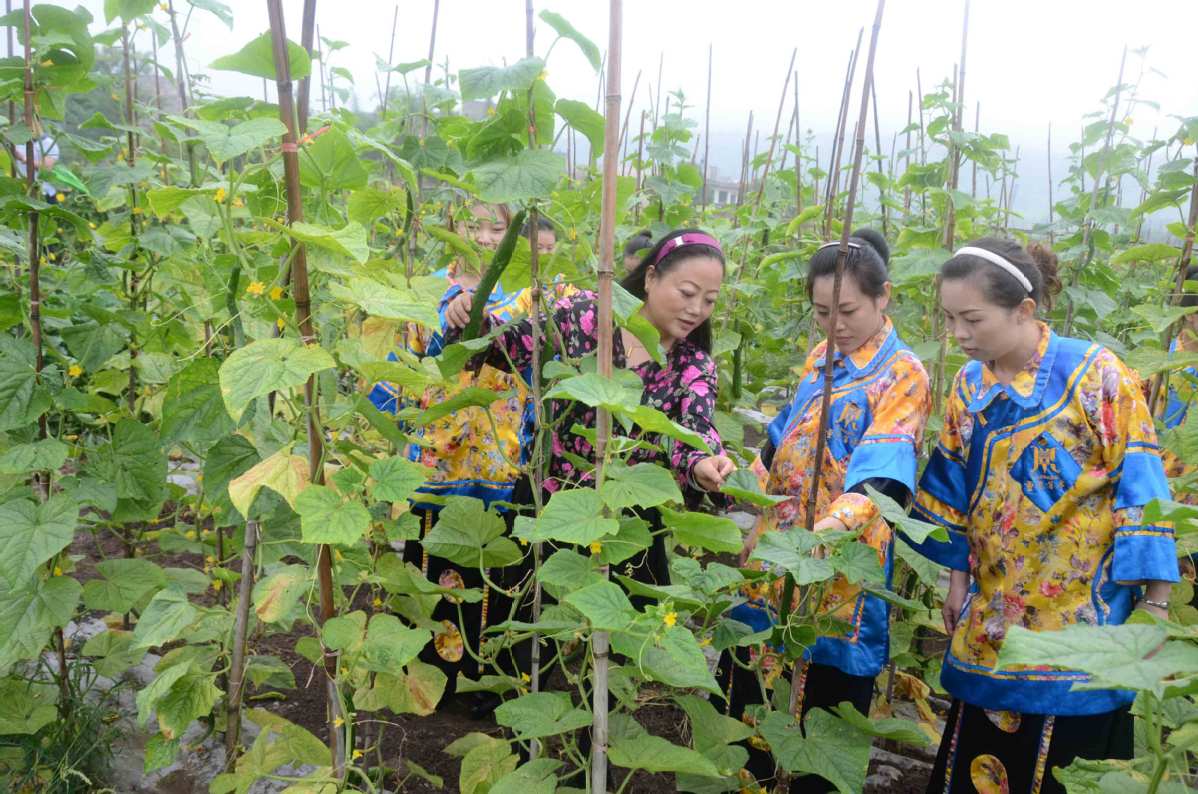 Chongqing, one of China's culinary capitals, is home to many famous women who run national restaurant chains. But Yan Qi is a little different from the rest.
"I am a social entrepreneur, and my company has helped thousands of rural families out of poverty," said the chairwoman of Chongqing Taoranju Group.
Founded in 1995, Taoranju began as a tiny restaurant with only five tables before growing into a large company employing over 20,000 employees dealing in restaurants, catering, cooking schools, rural tourism, agricultural product processing and finance.
Ninety percent of its workers are migrants from rural areas, 65 percent of whom are women.
Born in 1967 into an ordinary family in Chongqing, Yan is ambitious. She quit her job as a bank clerk in 1995 to start Taoranju. The poetic name is borrowed from Chinese literature and translates as'a happy and carefree place'.
"Catering is a labor-intensive industry and I believe in hard work," she said.
"I chose to open a restaurant because people cannot survive without food."
With little catering experience, Yan studied hard and smart. She invented a new dish-spicy fried snails-which became hugely popular and brought in her first million yuan ($157,000).
Her business achievements and contribution to society have earned the restaurateur numerous national honors.
In 2018, she was selected as one of the Top 100 Outstanding Private Entrepreneurs of China by the United Front Work Department of the CPC Central Committee and the All-China Federation of Industry and Commerce.
"Thanks to the good, pro-business policies of the government, I have achieved today's success. I should give back to society and help more people. That is my responsibility as an entrepreneur," she said.
In addition to running the business, Yan plays an active role in public affairs promoting the sound development of the food industry and participating in poverty relief work.
"Food safety is the most important thing in our industry," said Yan, who is also director of the restaurant association of the Chongqing Federation of Industry and Commerce.
In order to ensure food safety in its products and provide jobs for impoverished farmers, Taoranju has built its own supply chain in about 80 villages in poor rural areas. It also invested 5 million yuan to install monitoring systems in its restaurants to create what it calls "transparent kitchens" to reassure diners of the quality of the food they're eating.
Over the past eight years, China's remaining 98.99 million rural residents living under the current poverty line have all been lifted out of poverty thanks to the joint efforts of people from all walks of life.
"General Secretary Xi Jinping once said that poverty alleviation through developing industry is the most direct and effective way," Yan said. "It is also a long-term plan for enhancing the abilities of poor people, to help them find jobs."
In recent years, Taoranju has expanded its industrial chain and built over 30 agricultural and rural tourism bases in Chongqing's countryside, benefiting over 100,000 farmers.
In 2015, Yan joined the targeted poverty alleviation project initiated by the All-China Federation of Industry and Commerce, the State Council Leading Group Office of Poverty Alleviation and Development and China Glory Society.
Taoranju has partnered with 16 poverty-stricken villages in Chongqing and helped farmers develop industries. By the end of last year, the company had donated over 50 million yuan to the project, helping 1,957 people from 675 families.
Yan also has a dream to bring Chinese cuisine to the world. As a member of the National Committee of the Chinese People's Political and Consultative Conference, she has suggested that Chinese catering companies should take the lead to go overseas.
"Our restaurants can join hands and set up an Overseas Chinese Food Service Center in some countries, especially those with major Chinese investment or Chinese industrial parks," she said.
"Chinese food is major part of Chinese culture and we should introduce more of China to the world through our food."