A real costume drama
Share - WeChat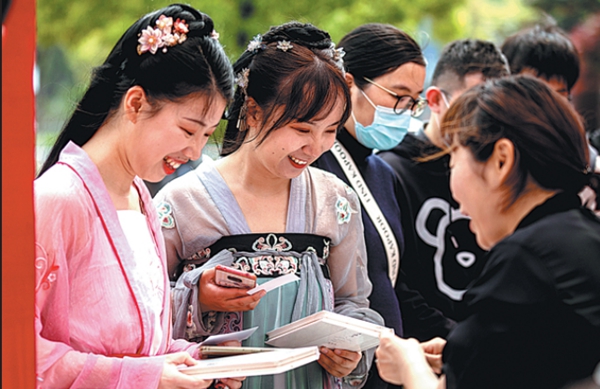 Major scenic spots offer chance to wear stylish hanfu and provide diverse activities to enthusiasts with a sense of style and history, Yang Feiyue reports.
Whenever Meng Ying wears hanfu, she will attract a lot of attention. And she loves it.
"It has never failed to turn heads and some enthusiastic strangers would even come and take pictures with me, especially when I hang out with my friends," says the 24-yearold Beijing resident.
Hanfu generally refers to clothing of the Han people before the Manchus reigned in the Qing Dynasty (1644-1911). The traditional costume often features a long flowing robe with long loose sleeves and a belt at the waist.
Meng tried on hanfu when she visited the Palace Museum about four years ago, after she spotted the trend catching on in scenic sites across the capital.
"It looked refreshing and carried a sense of ritual-sort of a tribute to history, especially against the right backdrop," she says.
As Meng's interests in the historical attire grew, she dived deep into relevant cultural elements and joined a few interest groups.
"It's interesting to see people discussing various aspects about hanfu and some of them even salute each other the old-fashioned way on the streets," Meng says.
According to Guangzhou-based market consultancy iiMedia Research, China's hanfu market has been growing rapidly.
The number of hanfu fans is expected to reach 6.89 million this year, and market sales to hit at least 10.16 billion yuan ($1.58 billion).
A report from business media outlet Yicai and Tmall showed that female consumers born after 1995 made up the biggest consumer group of hanfu in 2019, comprising 80 percent of all consumers.
Popular television dramas and social media influencers have also contributed to the hanfu craze. Many scenic spots have caught up with the hanfu trend and offer related services to tourists.
Most Popular