Download backlash
Share - WeChat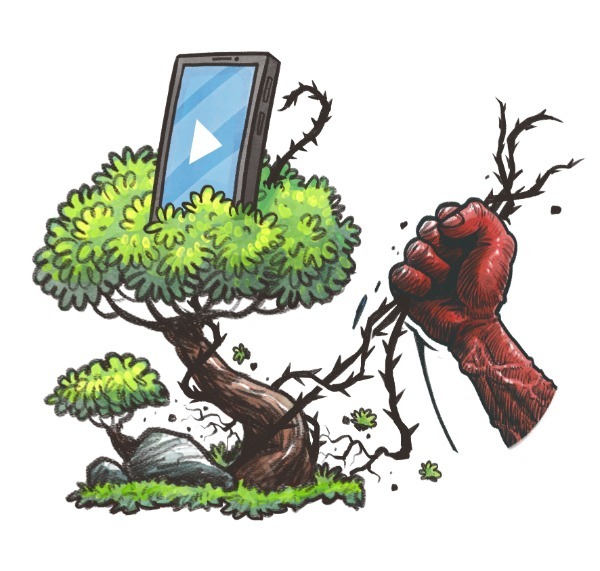 Li Xin, a 22-year-old college student from East China's Anhui province, started to create vlogs on the popular short video platform Douyin last year. Initially, Li considered it a hobby to shake off boredom during distance learning caused by the COVID-19 closure of campuses.
Through self-learning of video editing apps, the youngster who goes under the nickname "Xiao Bei "on Douyin has accumulated more than 1 million fans, with some of the most popular clips containing footage reedited from classic movies and TV series.
However, Li, who majored in material engineering, didn't realize that his passion for making short videos would have consequences.
Recently, a string of industrial protests and government crackdowns against copyright infringement of films and TV shows has received widespread attention, propelling videosharing platforms and public account operators to enhance scrutiny.
As a result, Li, like most vloggers on the country's most popular short video sharing platforms also including Kuaishou and Bilibili, has discovered the majority of his works which cover scenes from cinematic and television titles, have been removed.
Signifying China's latest round of determination and effort to protect intellectual property, the new storm to battle copyright infringement started in April.
More than 70 top industrial players-including 15 film and television associations, 53 production companies and five streaming platforms-jointly released a statement to ask for "collective and necessary legal action" against piracy or infringement to protect copyright.
The statement also appealed to all sectors of society to report, delete or ban clips concerning breach of copyright, as well as asking video-sharing platforms and such content producers to raise self-examination.
Quickly stirring up heated debate online, the statement resulted in more than 500 celebrities and veterans including A-list actresses Yang Mi, Li Bingbing and Zhao Liying signing their names to it on April 23. That and related topics earned 830 million clicks on Sina Weibo.
Two days later, the National Copyright Administration responded at a news conference to say that it will intensify its scrutiny of copyright infringement, through practices ranging from developing a system of handling complaints to urging short video distributors and producers to ensure using content with permission.
On April 29, the China Film Administration clarified their goal to fight against breach of intellectual property. A statement released on the regulator's website highlights it will continue to intensify the crackdown on film copyright infringement, especially short videos such as those titled "watching a movie within a few minutes".
China's huge movie market sees an output of around 1,000 feature-length films. Coupled with the huge amount of TV and online shows, more and more young people prefer to watch introductive short videos as they don't have enough time for a full viewing.
As one of the most prevailing forms of such videos, a type of clip called "watching a movie in five minutes" recaps scenes from a two-hour-long feature movie with the vlogger's voice-over and is usually studded with teasing reviews.
Deemed a simpler yet more offensive practice quite possibly involving copyright infringement, some short video creators chop movies and TV series into short pieces, and straightforwardly "transport" these clips on their accounts, using it as a shortcut to quickly expand their fan base.
A source, who is reluctant to reveal his name, says many of such video makers download movies from pirated websites or use software capable of recording features on streaming sites to obtain the footage.
"But a lot of such videos are just made for personal entertainment. Some would insert advertisement links in such videos or use these clips to increase their accounts' online popularity for profit," says the source.
As a result of the monthlong curb on short-video infringement, China's major short video sharing platforms have tightened up self-checks on such content, according to domestic media reports.
For instance, Kuaishou has newly labeled netizen-made "spinoff "or "remake" of movies and TV series as unoriginal works, reminding uploaders to avoid using unauthorized content. Bilibili has revised its copyright protection regulations, stipulating videos should obtain permission from the copyright holders as well as the stars appearing in the footage, according to media.
Despite the monthlong curb having an impact, some industry insiders and observers have a more complex understanding.
Wang Hailin, a veteran scriptwriter, reveals that he refused to sign his name on the statement when asked to join the over 500 established and renowned figures in late April.
Wang explains that he was aware of these controversial short videos three years ago, discovering that a large number of such clips was made under the encouragement of copyright holders in a publicity ploy.
But the rapid expansion of short video business has eaten up a big portion of the market share that previously belonged to streaming platforms, or "long-video platforms"-which mainly stream movies or TV series-after more and more young subscribers have shifted to the short video platforms.
Wang says he considers the statement has evolved to more like a "battle" between the streaming platforms and short video platforms to strive for market share, adding that he wishes the two sides establish an effective system to jointly protect copyright.
Statistics from the China Internet Network Information Center show that short-video watchers and subscribers have reached more than 870 million in China as of December, rising from 821 million in 2019, the year when short video consumers outnumbered those watching feature-length films for the first time.
Yin Hong, vice-chairman of China Film Association and a professor with Tsinghua University, says he believes the statement will speed up copyright protection but may harm ordinary internet surfers.
"Infringement usually refers to cases which use authorized content for commercial profit. It's hard to judge if a common website user who creates such videos should be considered as a breach," says Yin.
He predicts that authorities and platforms will explore more practical solutions and stipulations, suggesting they curb infringement as well as protect fans' enthusiasm to spontaneously promote quality work within their own short videos.