Veteran hid glorious past for decades
By ZOU SHUO in Beijing, ZHOU LIHUA,ZHOU LIHUA and LIU KUN in Wuhan | CHINA DAILY | Updated: 2021-06-02 09:17




Share - WeChat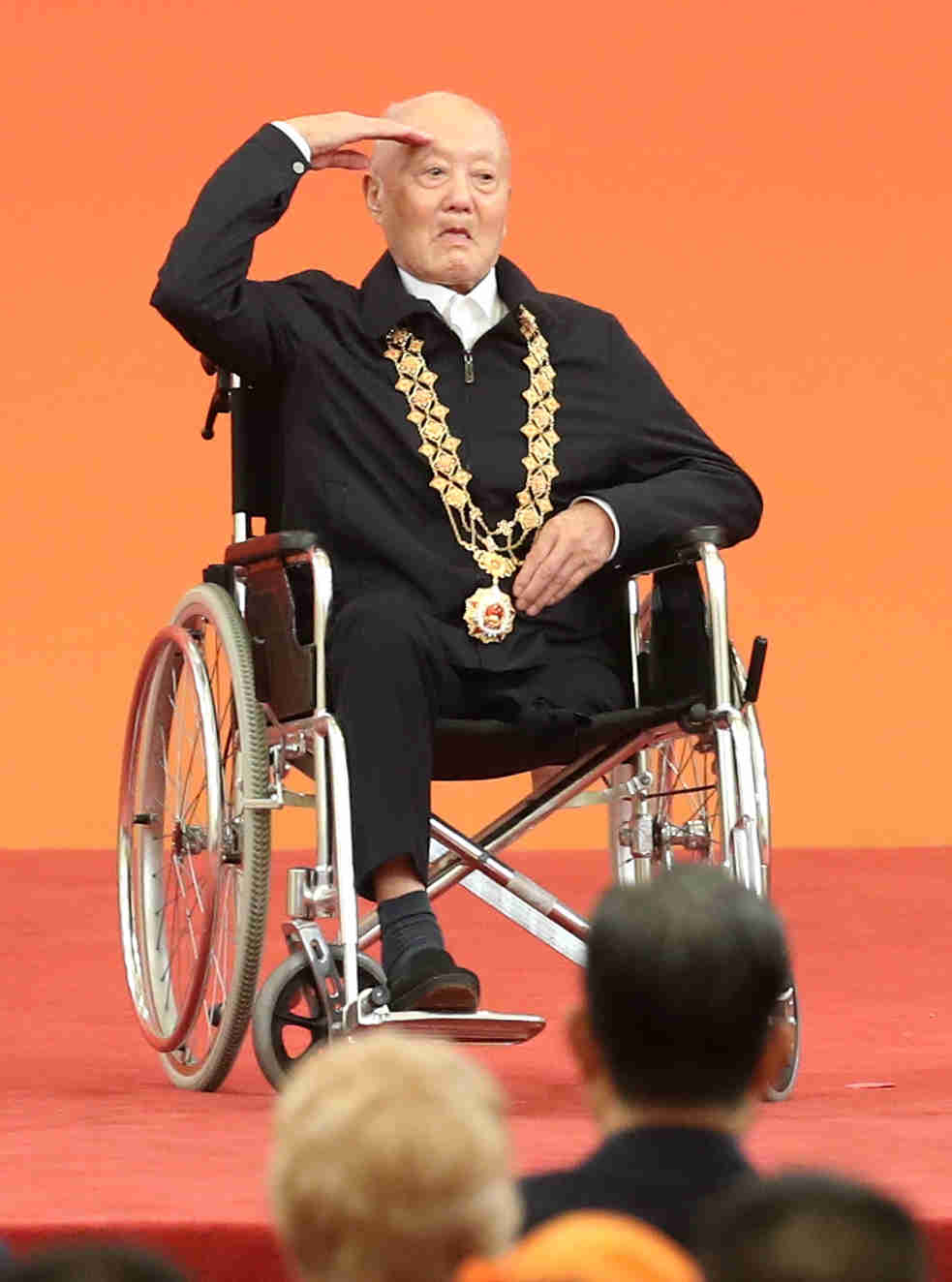 Silent 'Combat Hero' dedicates life to poverty relief work in remote county
For more than 60 years, 97-year-old Zhang Fuqing kept his past achievements in the military a secret, even from his family.
It wasn't until the local veterans' affairs bureau began collecting ex-servicemen's information in 2018 that his certificates and medals of honor were revealed.
Zhang was a soldier in the Northwest Field Army, one of the main forces of the Chinese People's Liberation Army during the Liberation War, which lasted from 1945 to 1949. He was awarded the Combat Hero medal twice, but he wrapped the medals and certificates in cloth and kept them in a leather box.
"Many of my comrades sacrificed their lives in the war. Compared to them, how could I take out any of the medals and show off my achievements?" Zhang said.
"One by one, they fell. I think about them all the time. I cannot forget."
During the Qingming Festival every year, a traditional Chinese festival to honor the deceased, Zhang quietly takes the medals out of the box and reminisces about his fallen comrades.
"I never told anyone. I have received so many honors and I am more than satisfied," he said.
Zhang fought in many battles as a commando. One early November morning in 1948, Zhang, loaded with over 30 kilograms of grenades and explosives, led a commando team of three on a mission to blow up enemy bunkers in Yongfeng, Shaanxi province.
Zhang destroyed two bunkers that day but was severely wounded in the head by a bullet. The other two soldiers died on the mission.
He never watches movies or TV shows about war and seldom talks about the battles he has fought.
"Most of the time, we did not wear shoes. There was no time for sleep. Tears and blood blended together, and lice were everywhere," he said.
When asked why he volunteered to be a commando, Zhang said that when he joined the Party, he made a vow to sacrifice everything for it and the people.
In 1955, he retired from the army and chose to work as a grassroots official in remote and mountainous Laifeng county, in Hubei province, even though it is more than 400 kilometers from his hometown in Shaanxi province.
Zhang's wife, Sun Yulan, said that when they first arrived in Laifeng, all they had was a quilt, a basin, a cup and the leather box.
She was shocked by the backwardness of the county, but Zhang said: "I was not afraid of dying on the battlefield. Tough conditions mean nothing."
He has since devoted himself to helping people in the county get out of poverty.
When he started to work as a village official in Gaodong village, he discovered that the mountainous village had no roads to the outside world, running water or electricity.
He persuaded the villagers to build a road and the local government to allocate money and resources for its construction.
With great effort, they built a 5-km dirt road, about 3 km of which ran along a cliff, allowing tractors to bring food and water to the village.
Nowadays, the village has shaken off poverty, and the dirt road has been transformed into a wide concrete one.
Zhang held different positions in Laifeng and retired in 1985. The family has always led a thrifty lifestyle.
After retirement, he underwent cataract surgery. Before the operation, doctors told him that his medical expenses would be reimbursed in full and that he should select the best artificial lens, but Zhang chose the cheapest.
In 2012, his left leg was amputated due to an infection caused by fever. As he did not want to be a burden to others, he began using an artificial limb less than a year later. He was 88 at the time.
"My children should devote their attention to work for the Party and the people instead of looking after me," he said.
His wife knows all too well how much hardship her husband has endured, how many times he practiced and how many tears he shed to be able to stand again.
"Now that I'm retired, I can't make as many contributions to the country as before. So I need to be as thrifty as possible," he said.
In March 2019, two soldiers from Zhang's former regiment were sent to visit him after learning about him from media reports.
They read him a letter written by all soldiers in the regiment. As he could not hear clearly, his wife repeated its contents more loudly closer to his ear.
To welcome his comrades, Zhang put on all his medals for the first time to show off his honors. Using all his strength, he stood up straight and gave them a solemn salute.
Seeing him now as a completely different person, Zhang's son said he realized that his father's only wish was to wear the uniform again and return to his beloved regiment.