Wild Asian elephant herd very close to Kunming suburbs
By Yang Wanli in Beijing and Li Yingqing in Kunming, Yunnan | chinadaily.com.cn | Updated: 2021-06-01 15:06




Share - WeChat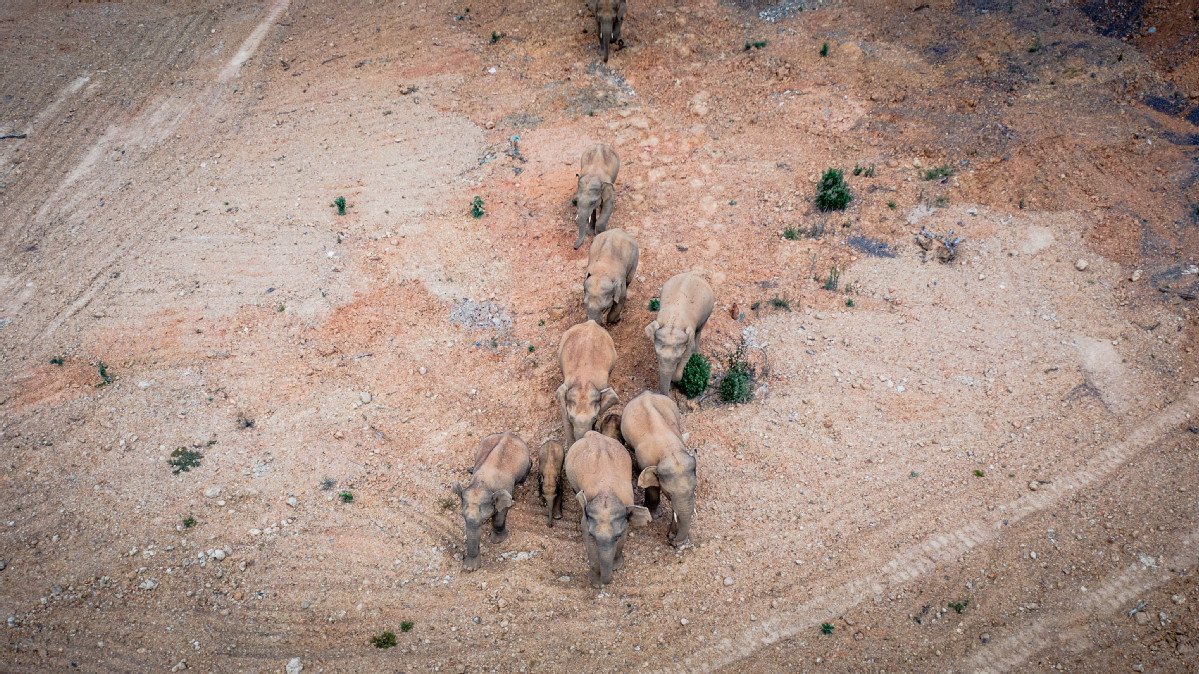 The 15 wild Asian elephants that have left their habitat in Xishuangbanna National Nature Reserve in Southwest China's Yunnan province are still on the move to the north and very close to the suburbs of the province's capital city Kunming.
As of Monday afternoon, the herd has traveled to Hongta district, Yuxi city neighboring with south Kunming, according to the Yunnan Forestry and Grassland Administration.
The location was only 20 kilometers away from Kunming's Jingning district and less than 100 km away from the capital's downtown area.
Forestry experts estimated that the elephants might continue to march north and very likely go through Kunming's Jingning district and Anning district.
The local government has sent alerts and conducted surveillance on the herd's moves around the clock. A total of 76 police cars and trucks, five diggers, and nine drones have been arranged for the surveillance and safety work.
The herd, originally consisting of 17 elephants in total at their departure time, was reported to have left Xishuangbanna last year.
Two members gained access to alcohol at a villager's home and got inebriated, then the pair returned to Pu'er, a city north of the Xishuangbanna Dai autonomous prefecture, leaving 15 elephants to continue their journey north.
Drones have been deployed by local authorities to monitor their migration and fire trucks are used to keep them out of the populated city center to avoid encounters between residents and the elephants.
As of Monday, the forestry department has fed the herd with 16 metric tons of food in an attempt to guide the herd away from the city's downtown.
The Asian elephant, which is included on the International Union for Conservation of Nature Red List of Threatened Species as "endangered", enjoys Class-A protection in China, the same level as that of the giant panda.
Yunnan is the sole habitat of wild Asian elephants in China. Before the 1970s, the species was threatened due to a number of factors, including a surge in the human population, reduced forestry areas and illegal hunting. The number of elephants dropped significantly.
However, due to determined protection efforts in recent decades, the Asian elephant population in China has risen from 170 in the 1970s to 300.