Massive hydropower dam to help country meet carbon neutrality goal
Share - WeChat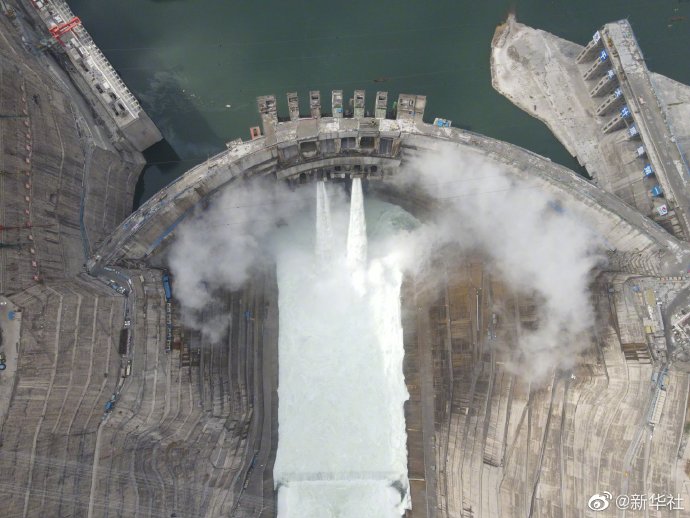 China has completed construction of the dam for the Baihetan Hydropower Station, which will be the world's second-largest in terms of installed capacity, after working nonstop for 1,510 days and nights and pouring enough concrete to fill the Great Pyramid of Giza in Egypt three times over.
Almost 8 million metric tons of concrete was used to finish the dam, which is 289 meters high, China Three Gorges Corporation, which built it, said in a news release on Monday.
The completion of the dam lays a solid foundation for the station's first generating units to go into operation as scheduled before July 1. It also signals that the massive project will be able to play its designed role in controlling floods, the company said.
Located on the Jinsha River, the upper section of the Yangtze, Baihetan straddles the southwestern provinces of Yunnan and Sichuan. Aside from generating electricity, the station will also help prevent floods, control flows of sediment and facilitate shipping.
A major source of power for China's west-to-east power transmission project, the station is also a key part of the flood control system in the Yangtze.
"It's a milestone project with epoch-making significance in the history of hydropower project development," the company said.
With a total installed capacity of 16 million kilowatts, which comes second only to that of the Three Gorges Hydropower Station, the new station is expected to make a great contribution to the country's efforts to see carbon dioxide emissions peak before 2030 and go carbon neutral before 2060.
Once it is in full operation in July next year, the daily output of the station is expected to be sufficient to meet the annual household power consumption of half a million people. Generating that much power every day over the course of a year would take almost 20 million tons of standard coal, China Central Television reported.
China consumed 4.98 billion tons of standard coal last year, according to the National Bureau of Statistics.
China Three Gorges Corporation said Baihetan has a more extensive network of underground tunnels than any other hydropower station. They run for a total length of 217 kilometers-1.7 times the distance from Beijing to Tianjin.