Expressway opens up route for agricultural trade
Share - WeChat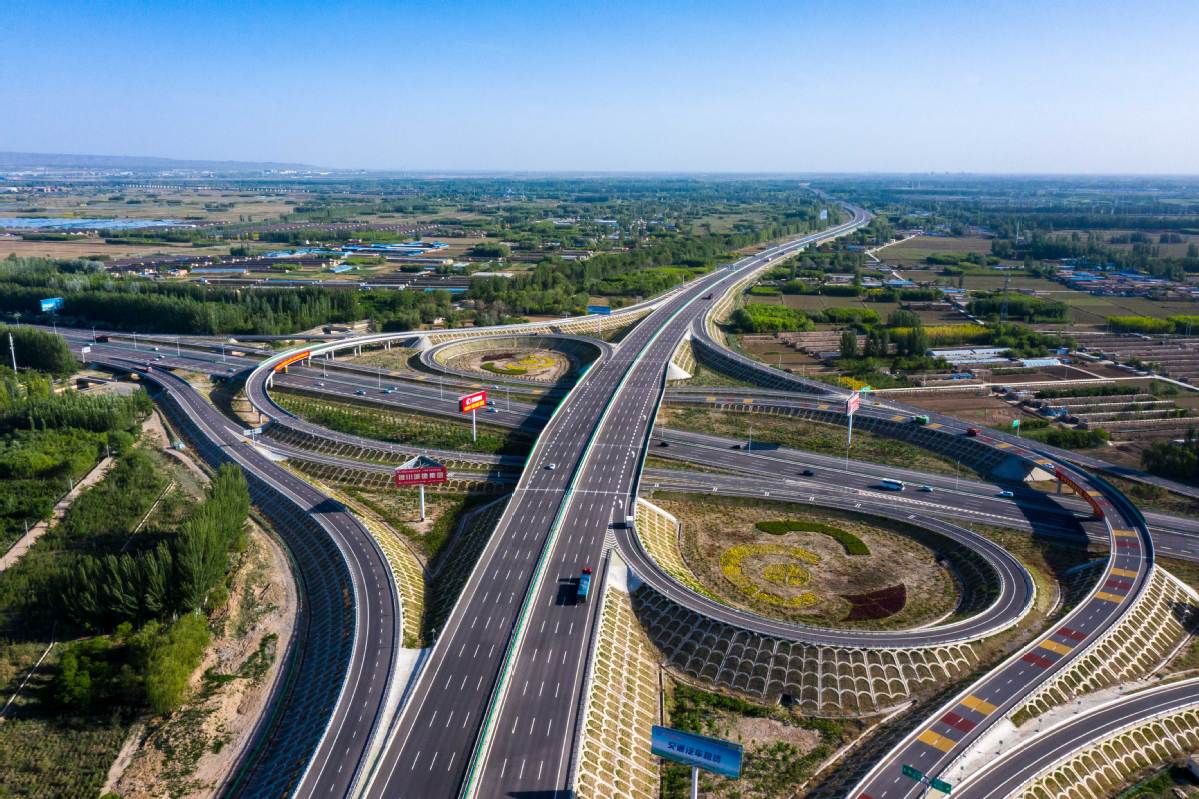 The 15-year-old Qingdao-Yinchuan Expressway has become an important channel for transporting agricultural products, including mutton from a distinctive breed of sheep, across northern China.
A vital part of the national expressway network, it starts in Qingdao, Shandong province, on the country's east coast, and ends in Yinchuan, capital of northwestern China's Ningxia Hui autonomous region. It passes through cities in the provinces of Hebei, Shanxi and Shaanxi along the way.
The 141 kilometers of the expressway in Ningxia has opened a window to eastern China for the region, and allows high-quality agricultural products such as a distinctive regional breed of sheep known for its high-quality meat to be delivered to markets across the country.
Several sculptures of the unique sheep stand near a toll station of Yanchi county, Ningxia. Raising such sheep accounted for more than half of county residents' per capita disposable income of 14,000 yuan ($2,180) last year.
The county raised 3.2 million of the sheep and produced 28,000 metric tons of mutton, 26.6 percent of which was sold outside Ningxia, according to Yanchi's agricultural and rural affairs bureau.
After purchasing sheep from farmers, an industrial group in the county processed them and sold the mutton to more than 50 cities in 28 provinces and regions, the bureau said.
"We can slaughter 1,000 sheep a day. The mutton products we produce are transported to Yinchuan via the expressway and then sent to other big cities," Huang Minghong, head of the group's processing factory, told China News Service.
"After the expressway opened, the time taken to travel from Yanchi to Yinchuan was cut from more than three hours to one and a half hours, so the mutton from Yanchi can arrive on consumers' tables more quickly."
Feng Yansen, a driver for the Yanchi branch of China Post Group, said that before the Qingdao-Yinchuan Expressway opened, freight drivers had to take the narrow and congested 307 National Highway, and needed to carry spades to shovel sand from the road. "The Qingdao-Yinchuan Expressway has speeded up logistics significantly," Feng said.
As China's biggest vegetable distribution center, the logistics hub in Shouguang, Shandong, can generate an average trade value of 30 million yuan a day, according to Shouguang Dili Agri-products Group. Nearly half the 10,000 tons of agricultural products transported from the hub each day pass along the Qingdao-Yinchuan Expressway.