Transport hubs to get more first aid facilities
Share - WeChat Transport hubs to get more first aid facilities
The Ministry of Transport and seven more central government ministries have issued a guideline to set up more first aid facilities at transportation hubs and provide first aid training for personnel working in the sector.
The work will be completed in phases during the 14th Five-Year Plan (2021-25) period, according to the guideline published on May 19. During phase one, which will last until the end of this year, the authorities will study and set unified standards for the equipment at the first aid facilities.
The first aid facilities at urban railway stations will be equipped with the necessary medicines and kits during phase two, which will last until the end of 2022. And during phase three, the authorities will promote the good practices developed during the pilot projects of the previous phases in other cities.
According to the guideline, people with first aid knowledge and skills will also be encouraged to use the equipment during emergencies to attend to passengers who suddenly fall ill. And the government will continuously improve relevant policies, laws and regulations to protect the rights and interests of the voluntary relief providers.
E-commerce penetration in rural areas to be increased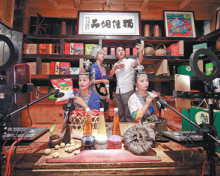 The central government will allocate more funds for rural areas to promote the high-quality development of e-commerce, boost consumption and cultivate a group of pilot counties with distinctive features.
According to a notice jointly published by the Ministry of Finance, Ministry of Commerce and the National Administration for Rural Revitalization on May 19, measures will be taken in pilot areas to reduce logistics costs, ensure the average annual increase in online sales is above the national average, and facilitate the smooth transportation of agricultural products to cities and industrial products to rural areas.
The funds will also be used to cultivate entrepreneurs engaged in e-commerce in rural areas, the guideline said. And more efforts will be made to offer special courses on product packaging, photography, sales through live-streaming and the operation of online stores, to returned migrant workers, college students and ex-servicemen.
Government to promote TCM overseas
China has unveiled a series of policies and measures to support national export bases to promote traditional Chinese medicine services and help TCM "to go global", according to a notice jointly issued by the National Administration of Traditional Chinese Medicine and six other departments.
Public organizations recognized as TCM export bases will be encouraged to provide TCM services for foreigners as special medical services, the notice said. So far, a total of 17 public organizations including the Guang'anmen Hospital of the China Academy of Chinese Medical Sciences have been identified as national export bases for TCM services.
The national export bases will also be encouraged to use their superior resources in terms of brand, techniques, talents and management to establish cooperation with social capital and jointly set up institutions that provide both medical and nursing services for foreigners.
According to the notice, special funds earmarked for foreign trade development and innovation in service trade should be used to boost support for the development of TCM service trade. The notice also said efforts will be made to support the export bases to promote TCM services among patients overseas by using various kinds of internet platforms at home and abroad.
And cross-border delivery companies will be encouraged to undertake international delivery services of TCM.