Revered liver surgery pioneer Wu Mengchao dies at 99
Share - WeChat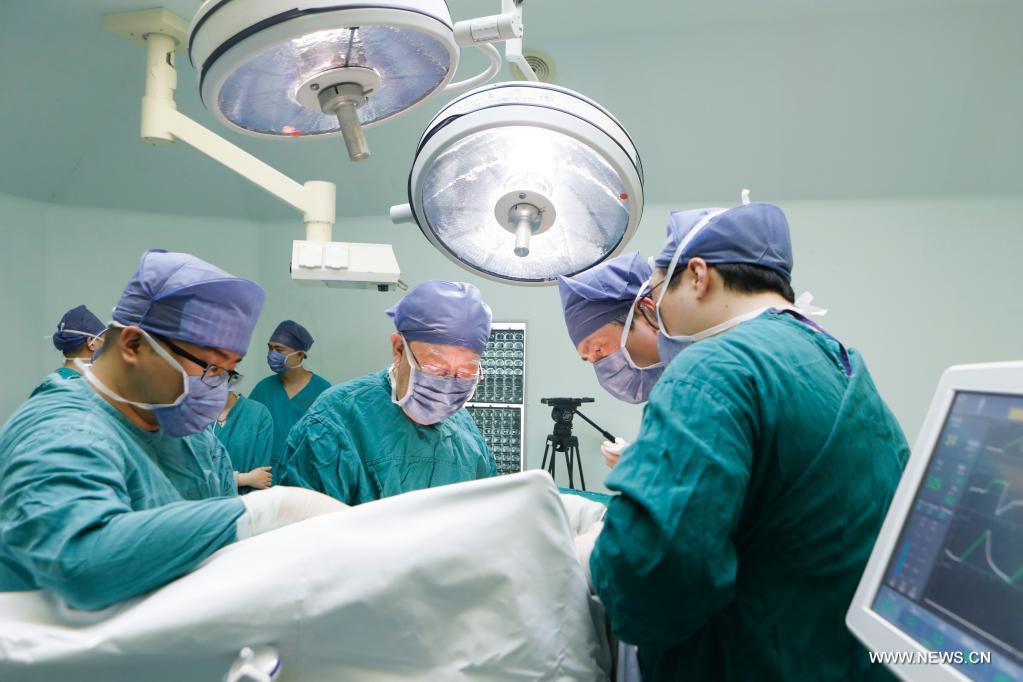 Pioneering physician
Despite his 1.6-meter height, Wu stood as a towering figure in China's medical community, widely celebrated for his pioneering spirit and bold ingenuity under the most difficult economic and social circumstances.
China in the 1950s had no theoretical basis or clinical research in liver surgery. In 1956, Wu heard from a colleague that a visiting Japanese surgeon said it would take at least 30 years for China to catch up with rest of the world.
"I wasn't pleased hearing this comment, so I made it my mission to propel China's liver and gallbladder surgery into the frontrunners of the world," he said.
Two years later, Wu published the country's first entry-level textbook on liver surgery that he translated from English to Chinese. During this period, not even being bedridden with severe dysentery could hinder his translation work.
He also created China's first anatomical models for studying liver arteries by melting table tennis balls in acid and injecting the plastic-infused liquid into a human liver to consolidate the structure from the inside.
The liver served as a mold, and after the organic tissue was removed, the intricate system of blood vessels and ducts was revealed like branches of coral. These models are still being kept in the exhibition room at the Third Affiliated Hospital of the Naval Medical University in Shanghai, a hospital specializing in liver surgery that Wu helped found and worked at throughout his life.
After creating and studying hundreds of intricate liver models, in 1960, Wu proposed a revolutionary idea that divided a liver's anatomy into "five lobes and four segments", a significant improvement from the two lobes model used by Chinese physicians in the past. The same year, Wu successfully performed the first liver surgery in China.
In the 1980s, he perfected a new technique of vascular inflow occlusion that can be performed at room temperature. The technique involves clamping the hepatic vein and artery to reduce blood loss and protect liver tissue during surgery, which is still being used by surgeons around the globe today.
Respecting patients
Wu said his mentor, renowned Chinese surgeon Qiu Fazu, often stressed that a doctor needs to have the moral standards of Buddha, and skills as deft as a heavenly deity. These quotes motivated Wu to hone his medical skills and ethics to exceptional heights, with meticulous attention to details.
Wu would warm his hands before checking on a patient, and help the patient dress after the examination. During routine ward visits, he frequently kneeled to place slippers next to the bed where it is most accessible for the patient.
After each operation, Wu would stay behind to carefully go over surgical notes and instruments. His students both deeply respected and dreaded Wu's punctilious work ethics because he would castigate anyone who made even the slightest mistake or had sloppy handwriting.
"The more I like my students, the stricter I treat them, because I want them to succeed and not make a mistake," Wu said.
In 2012, Wu was named one of the 10 most inspiring luminaries in China. The speech to present his award reads, "Sixty years ago, Wu built a surgery table that he never left; he held a scalpel that is still sharp today; his commitment to medicine still burns like a flame that never falters; he is a tireless workhorse, carrying patients, one after another, to safety."
Wu's funeral will be held at Shanghai Longhua Funeral House on Wednesday. From Sunday to Tuesday, there will be a mourning hall at the Changhai branch of the Third Affiliated Hospital of the Naval Medical University where visitors can come to offer their condolences.
On Sunday, many of Wu's students came to the mourning hall to pay their respects, with the youngest being 40-years-old and the oldest at age 86.
Yang Tian, 40, said he had learned much from his mentor, who would personally edit his research papers. Wu's three lessons of being a good surgeon, a good communicator and a good writer have played a major influence in his career, Yang told local news reporters.
Wu often said a doctor should enter the heart of a patient, and he would greet and ask how the patients were doing when checking the wards. "Patients would be more optimistic and energetic when they saw Wu coming," Yang said.
Yao Xiaoping, 86, one of Wu's earliest colleagues and students, said Wu is deserving of his title as the father of liver surgery in China because not only did he solved many challenges in the field, but also a majority of hepatic surgeons in China were his students.
Wu's health has deteriorated in recent years, and his passing is heartbreaking, but his spirit of caring and giving everything he has for the patient needs to be passed down, he said.
Wu Mengzhong, Wu's cousin and a traditional Chinese medicine practitioner, said his older cousin contributed greatly to their hometown's public health affairs, so much so that his teaching of "medicine is a science about using the heart to warm other hearts" has become a motto for local physicians.
"When Wu was half-conscious on his sick bed, whenever he heard the Fuzhou dialect from his hometown, he sometimes would open his eyes," he said, in tears.