'Stars' walk the red carpet as Shanghai Science Festival opens
Share - WeChat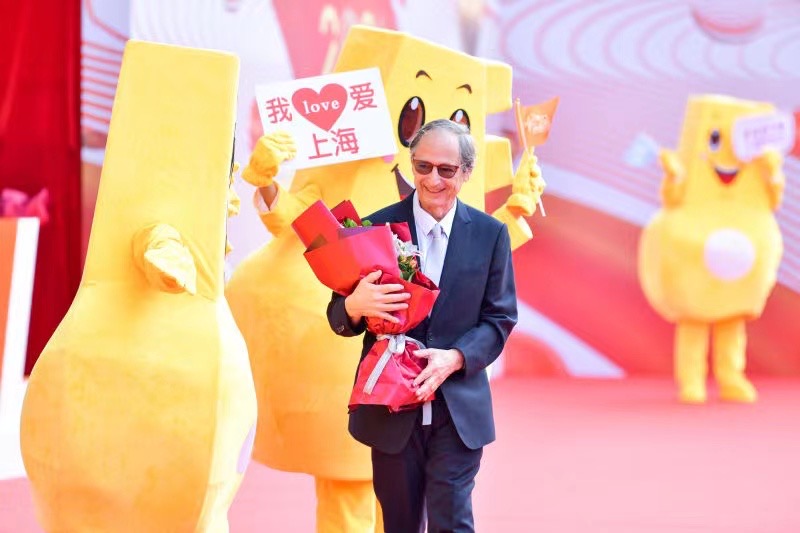 Dozens of domestic and foreign scientists, including academicians and a Nobel Prize laureate, walked the red carpet to mark the opening of the 2021 Shanghai Science Festival, at the Shanghai Science and Technology Museum on Saturday.
These scientific and technological talents covered a wide age range and represented the city's strength in the fields of medicine, aerospace, and vessel engineering, among others.
The first on the red carpet was 94-year-old Ye Shuhua, an academician with the Chinese Academy of Sciences and honorary director of the Shanghai Astronomical Observatory. Shen Zhiqiang, director of the Shanghai Astronomical Observatory and chief scientist for the Shanghai 65m Radio Telescope, one of the world's largest and most powerful telescopes, walked with her.
Red carpet stars included Ding Wenjiang, an academician with the Chinese Academy of Engineering. He has conducted research on advanced magnesium alloy designs for more than three decades and founded the Center of Hydrogen Science at Shanghai Jiao Tong University in 2019.
"Every scientific and technological worker should bear in mind to do a good job in scientific research that can effectively benefit economic and social development," said Ding, a recipient of the first prize of the National Prize of Technological Invention.
Michael Levitt, vice-chairman of the World Laureate Association and winner of the 2013 Nobel Prize in Chemistry, joined the red carpet walk as a representative of scientists from abroad who currently work in the municipality.
Levitt combines Newtonian classical physics with modern quantum physics and is one of the first computational biologists to conduct a molecular dynamics simulation of DNA and proteins. His research provided insight into new drug designs.
He moved to Shanghai in April and works with Fudan University to conduct research on computational biology.
"Shanghai's atmosphere of scientific and technological innovation is becoming better and better. I look forward to making a series of impressive scientific research progress in this amazing city," said Levitt.
Renowned Shanghai doctor Zhang Wenhong and his team representatives, including the director of the infectious diseases department at Shanghai's Huashan Hospital Affiliated with Fudan University, also were present on the red carpet.
Zhang, leader of the Shanghai team of experts that treated novel coronavirus cases, and his team did an impressive job of using simple languages to solve scientific doubts of people in the face of the COVID-19 pandemic.
The Shanghai Science Festival organizer said the event has become an annual exhibition hall of the city's scientific and technological advances and a carnival for the public to get closer to science. The event also is intended to become one of the world's first echelon with global influence.