All on home turf
Share - WeChat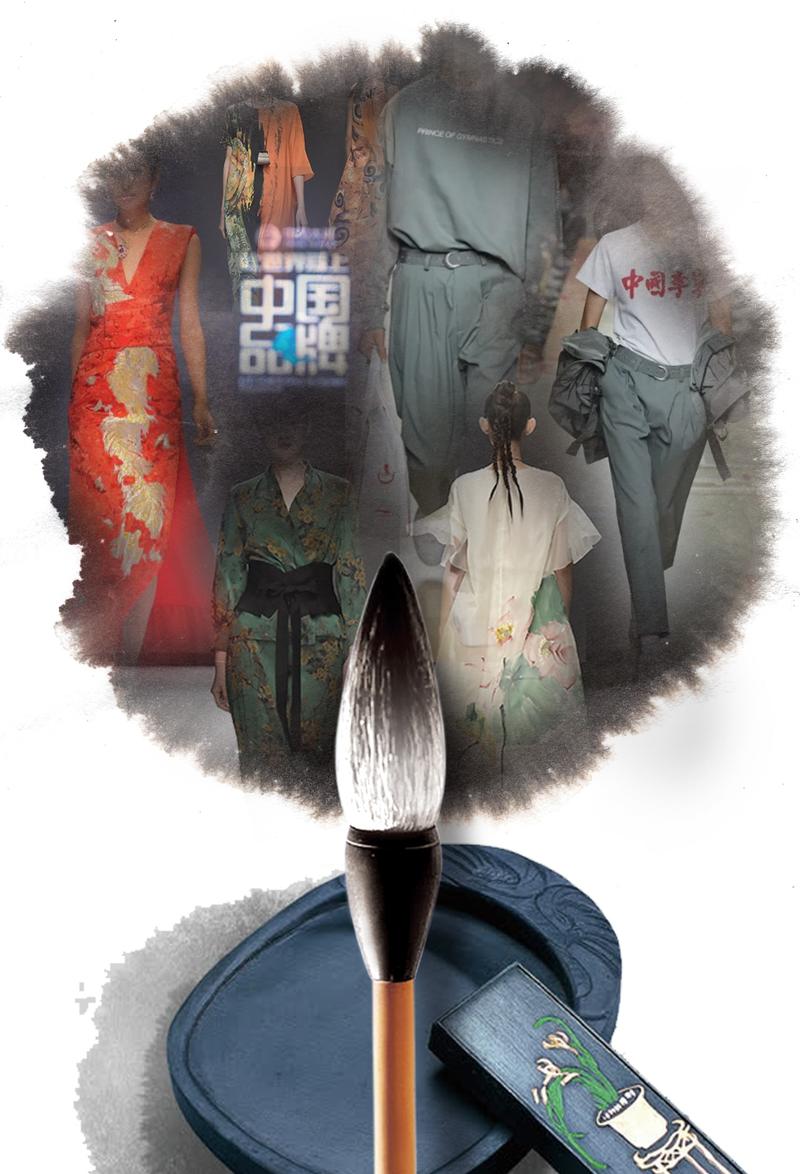 A new breed of smarter, leaner, and more innovative Chinese mainland labels is driving a consumer brand revolution in the country. Luo Weiteng reports from Hong Kong.
Hennes & Mauritz, Nike, Adidas and Uniqlo — some of the biggest Western and Asian household names in fashion clothing and footwear — have found themselves in hot water on the Chinese mainland for making groundless claims about labor conditions in Xinjiang Uyghur autonomous region and refusing to source products or yarn from the territory.
Chinese shoppers and celebrities have stood their ground, respectively vowing to boycott these brands and sever ties with them.
United States electric auto giant Tesla was accused of being "arrogant" in China following a spat with a customer who complained about a Tesla vehicle's alleged brake failure during the Shanghai auto show. Some argue that previous Chinese consumer outrage, including boycotts of Western brands like Dolce & Gabbana, Christian Dior and Balenciaga, hasn't had the desired effect. The consumer backlash comes at a delicate time as foreign labels face mounting pressure from a new breed of Chinese peers who are smarter, leaner, more innovative and more in tune with the whims and habits of the domestic market.
"The whole story adds a footnote to the local guochao trend," said Zhu Lei, a 29-year-old native of Sichuan province. "It isn't about whether foreign brands will eventually lose out in China. It's about getting more local consumers to accept homegrown products."
Zhu used to be a regular consumer of Uniqlo and Zara, but has thrown her weight behind Chinese fashion group Urban Revivo. She has been to the group's flagship store in the provincial capital Chengdu several times, but only recently realized that it's a homegrown brand.
Although Western media has tried to interpret the image disasters as a cautionary tale showing how precarious China can be for big foreign brands, she said she believes the days of foreign companies reaping their fortunes in the world's second-largest economy with scant regard for Chinese consumers' thoughts and passions are over.
"It's fair to say a wealth of domestic high-quality products allow us to vote with our feet and support them," said Zeng Yong, a 31-year-old manager of a pharmaceutical company in Jiangsu province. Would-be customers like him may have second thoughts about, or simply see no reason for buying Tesla in future. Rival mainland businesses — automakers, startups or technology groups — are potentially good substitutes.
"We're seeing a consumer brand revolution, both on the psychological and physical fronts," said marketing consultant Zhou Jianing. "If foreign mega brands, while raking in most of their revenues in China and with a large following here, don't bother to understand the guochao trend and see it as a real market force to be reckoned with, they'll soon be falling from grace."
"It's no coincidence the guochao trend is taking place amid China's economic transformation — from an export-led economy to one driven by consumption," said Joohee An, a senior portfolio manager at Mirae Asset Management.
Fueled by rising trade and political tensions between the world's two major ideologies, Chinese consumers' desire for local substitutes has accelerated, as growing patriotism pushes more of them to go for homegrown goods, An said.
According to a study by global consumer goods tracking and data group Nielsen for the second quarter of 2019, nearly 70 percent of Chinese mainland consumers preferred homegrown brands, coinciding with surging Chinese "nationalist" sentiment. Consumers in first- and second-tier cities are more eager to snap up Chinese brands, with 67 percent citing their passion for local traditional culture and symbols.
The coronavirus pandemic has added impetus to Chinese labels in winning over consumers. "Before COVID-19, the guochao trend was only related to stronger interest in Chinese culture and heritage. But after the pandemic, buying Chinese goods is a show of solidarity," said Gianvito D'onghia, managing partner of Creative Capital China and Altavia.
China label new fashion
"The 'Made in China' label is no longer just a symbol of where the product is manufactured. It now represents originality and craftsmanship," said Charlee Ree, founder and CEO of Hong Kong-based artificial intelligence marketing platform EternityX.
EternityX said the campaign performance for services and products with Chinese cultural elements is 38 percent higher than those of others.
More established and previously considered outdated brands, such as Li-Ning, Anta and Bosideng, are rebranding themselves to appeal to younger audiences, who aren't as attached to foreign names as their parents were. Historical or time-honored brands like White Rabbit candy, skincare brand Pechoin and Warrior trainers, are drawing on nostalgia to revive dormant beauties. New brands, including Hua Xizi (Florasis), Perfect Diary, Heytea, Wangbaobao and Zhongxuegao, are boasting incredible sales seemingly out of nowhere with their guerilla marketing strategies.
With Chinese consumers likely to continue buying locally and digitally, Ree said that guochao is forcing brands to undergo a digital transformation.
The meteoric rise of social and content e-commerce in China has renewed nationwide interest in local brands, with leading e-commerce platforms and online shopping festivals fueling the guochao craze, she said. In turn, it calls for brands to better understand the complex nature of the greater array of social and content platforms and tools available to carve out a niche for their products.
To successfully weave the heritage into the brand's DNA, the first step is to cultivate culture into an intellectual property asset and then push it out to discerning consumers through social media, suggested D'onghia.
For example, Ree has taken a beauty brand, Hua Xizi, that has woven a famous Chinese poem into its brand name. Founded in 2018, Hua Xizi takes reference from ancient Chinese recipes for cosmetics, using flower essences and herbal extracts to create cosmetics suitable for Asian women's skin. In addition to product quality, Ree said, its culture-based design of the packaging and online store helps in building their brand image. Its partnership with Chinese liquor brand Luzhou Laojiao on Valentine's Day 2019 extended its reach and visibility to an audience that Hua Xizi previously had never had access to.
Brands without the heritage have incorporated elements of Chinese history through crossover collaborations, noted D'onghia, citing Chinese makeup brand Perfect Diary, which developed a range of eyeshadow palettes inspired by geographical regions in China. The brand itself is a master of digital storytelling and content marketing on social media.
"Indeed, the Chinese market is too immense for any single brand to try capitalizing on all of it," said Ree. Currently, crossovers or inter-sectoral collaborations offer a vital means for brands to reach out to new consumers. A case in point is the Milk Candy Flavored Lip Balm from the heritage brand White Rabbit — the result of its partnership with Chinese skincare brand Maxam. The traditional confectioner also joined forces with fragrance brand Scent Library on a range of candy-scented products, whose limited-edition collection for sale on Tmall sold out within 10 minutes of its release.
"Co-branding is not simply putting A and B together. They have to see if their DNAs do match, and find an interesting way to mix the elements of both brands, and then convey it creatively from a design and delivery perspective," D'onghia said.
However, the fierce competition in collaboration can lead to unlikely pairings, such as the joint products launched by insect repellent brand Liushen and KFC China — a herbal-water-flavored KFC coffee drink and a coffee-scented version of Liushen's repellent.
The pandemic also inspired an unusual partnership between Chinese cold medicine brand 999 and domestic packaged-noodle brand RamenTalk to create a cold-care gift box that looked like the iconic, extra-large box of 999.
Co-branding 'a win-win'
Such mega partnerships emphasize creativity and innovation, making them attractive to young consumers. But success isn't possible without a keen understanding of the country's ever-changing consumer and demographic landscape. In this respect, foreign brands are at a competitive disadvantage, noted Zhou.
Ree said she believes that co-branding benefits both local and international brands. Global brands can win greater appeal with more culturally confident, patriotic consumers, while local products achieve a certain cachet of internationalism.
She cites the special joint capsule collections launched by Karl Lagerfeld and Tsingtao Beer, as well as a limited-edition makeup bag jointly released by Rihanna's beauty brand Fenty Beauty and Chinese tea shop Heytea, as vivid examples.
As almost every millennial-savvy brand is scrambling to launch guochao-inspired collaborations, giving rise to superficial, repetitive China-proud narratives, Zhou Zhendong, professor at the School of Journalism and Communication of Xiamen University, said today's guochao movement is taking a step beyond trending, overused Chinese motifs, such as brush calligraphy, Peking Opera facial masks, cranes, auspicious clouds and ceramics.
"The trend itself should elicit real cultural respect within and outside China, rather than reinforcing the stereotypes about Chinese culture among global audiences," he said. Dismissing the so-called international narratives, he said exporting China's culture and aesthetic boils down to the selection of cultural symbols and a basic logic of communication. Cultural communication, he pointed out, calls for "subtle rebellion" to go against the grain and obtain serious cultural reach.
He highlighted Mulan — the legendary tale of a strong Chinese woman who passes herself off as a man and performs heroic deeds — and Po from Kung Fu Panda, the big, lovable bear that make an unusual hero for a kung fu movie, as two success stories.
For years, there has been a gap between the "attitude of public opinion" toward Chinese and foreign fads, which resulted from a significant difference between the recognition of value of native culture and alien culture, said Zhou.
Riding high on the undertaking and goal to celebrate trendy indigenous Chinese labels, Zhou said he believes that consumers are now reaching a new height of public opinion on Chinese fads. Guochao-inspired products don't have to be packaged with "global narratives" to build up names locally or internationally. With the genuine curiosity about China's cultural heritage, brands native to the country can maintain their essential identity and look cool on the global stage.
"Despite an increasing number of hyped-up, guochao-inspired labels, I see few signs of consumer fatigue ahead. We've yet to reach the peak of sophistication and perfection in our journey of Chinese fads and China-proud narratives."